Lending Mystique and Charisma to your Dining Spaces!
There is no single design that can be called classically Italian and that is where its true beauty lies. Usually every Italian homeowner will try and strike a balance between functionality and using the home to depict a philosophy of life. Spirituality is deeply revered in Italy and hence the homes also are a representation of this aspect.
Myriad Looks
You can find an Italian home that looks straight out of Scandinavia. Or it could look like a typical French Baroque home or even a conventional British cottage! The styles are so myriad that it is impossible to define the true Italian interior design. However, there are many similarities in almost all homes decorated in Italian style. The kitchen and dining room are given special attention as people spend a lot of time in these spaces. Hence the importance of a buffet or sideboard can never be underestimated. Italians love entertaining and fine dining. They love to have guests over, cook delicious fare for them and entertain them. Hence sideboards are usually very delicately done up and have a central place in any dining room.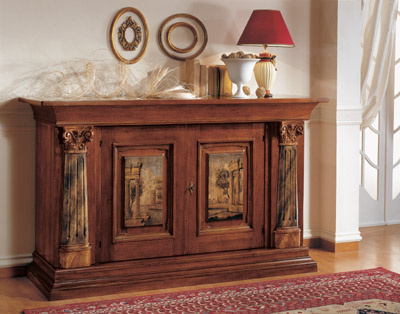 If you too want to replicate a typical Italian dining room setup in your home you could try combining a classic Italian sideboard, shown above, with equally antique dining tables and chairs. Try accentuating the sideboard with a beautiful lampshade. Or you could perhaps have antique paintings over the sideboard to lend a classic look. On the dining table try using white or beige cloth so that the sideboard stands out.
Modernistic Appeal
Today most people prefer the classic and antique looks in Italian furniture, especially when it comes to dining spaces. However, if your tastes fringe on the modern side then you could try using a three drawer compact Italian sideboard as shown below. This occupies lesser space and lends a more spacious look to any dining space. You could accentuate this buffet table by placing a small fishbowl on top to lend more appeal and character. Try putting dried flowers in a beautiful white vase on top and you have a total winner!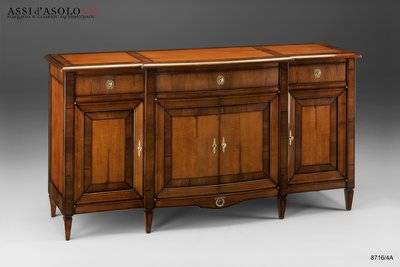 Bold Designs
Using bold colours and designs has always been a characteristic hallmark of any Italian home. Italians love paying special attention to detail and always display a lot of creativity in their furniture styles. There is always a real need to express the individuality of the homeowner in almost all styles and designs chosen.
Almost every bit of furniture can be truly customized and stylised in order to suit one's unique tastes and preferences. For example a beautiful compact, beige coloured Italian buffet, shown right, can truly stand out against a stark white background. You could have small windows and the entire room could be painted white. Even the curtains used could be made of a sheer white fabric. The sideboard will thus be a centrepiece and all guests will admire its design in fascination.
Wall Coverings
The range of wall coverings is also astounding as far as Italian design is concerned. A lot of emphasis is placed on using natural fabrics that are ornate and elaborate. Right from exquisitely made curtain materials to upholstery that reminds one of a bygone era, you can truly do up your home in authentic Italian style!
Tuscan Beauty
Do you love the usage of stone in traditional Tuscan homes? Then you should enclose your sideboard with a lovely area filled with exotic stones. Or you could have an intricately sculpted stone wall on the backdrop behind your sideboard. Try hanging an antique painting that has been weathered for added effect. For a dining space that has a country side style appearance you could use a fireplace made of Tuscan stone. You can place your sideboard opposite this fireplace so they complement each other perfectly. Terracotta tiling is a very popular trend these days even in the dining space. Again these are reminiscent of ancient Tuscan homes and you can replicate the same image in your own dining space.
Old style wood
For a truly authentic Tuscan appearance in your dining space try using a combination of antique wood and stone. For example a dining room buffet made of cherry, oak or chestnut is a classic combination. These can be stunning when made with a wax finish that has been dulled with time. The idea is to stick to natural colours while decorating the interiors. The usage of natural materials is always preferred when doing up an interior in Tuscan style.
Romantic Rooms
If you prefer the relaxed and romantic ambience of traditional Italian homes then you too can replicate the same effect. Unlike many American homes which focus on matched sets, Italian interiors focus on using favourite pieces in conjunction. So if you find a beautiful, antique looking furniture piece then by all means buy it. However do not go looking for another matching piece because most likely you will not find it! Instead choose to decorate your interiors using different pieces that complement each other and have a similar scale. This is one distinguishing quality and characteristic of an Italian home. Taking your time to purchase furniture and accents for your rooms is critical to ensuring an overall holistic effect. Another mistake is to try and modify ancient antique furniture of high value. Never mess with such furniture. Instead preserve it as is and use it as a centrepiece accent in your dining space. If you are an art aficionado then by all means purchase it. Most tastefully done Italian homes will almost always have an ancient art piece in the room.
Kitchen Accents
Placing a useful herb like parsley or mint inside your kitchen can do wonders in sprucing up the interiors. Plus it is a functional choice as well. You could even use a classic sideboard, as shown on the left, as a platform to place your herbs of choice. For example a few stems of chamomile flowers will enliven your sideboard like nothing else can! The fragrance of these flowers will soothe and relax your guests as they truly feel at home in your authentic Italian dining room!
Related Articles
Italian Cabinets
Custom Furniture
Italian coffee tables
Italian style beds