Modern and Classic Italian Beds
The heart of a bedroom is the bed. In any bedroom, the bed should form the centre of attention. The availability of an array of bedroom decors, wall designs and window treatments, at times influence us to employ a little too much of them causing the attention to drift away from the beds. The design style you choose for the bed need not always be very elaborate to attract attention. What is important though is that your bed should be able to hold its own as the center of your bedroom when all other bedroom fixtures and accessories are put in place.
The Plaza Leather by Alpi Italia, shown below, is a fine product that could interest you, and has a company devoted to pristine Italian furniture and accessories. Apart from stunningly attractive beds, the company also offers other furnishings and accessories for your bed room at affordable prices. These beds are capable of standing out prominently and will not get dwarfed and will look chic and in style even with minimal bedroom accessories and decors. The presence of these beds in your bedroom will not only add attention, but also style, elegance and comfort. Check out the best Italian furniture brands too!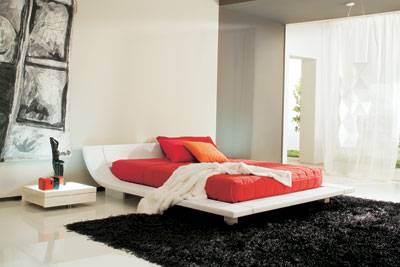 Plaza Leather by Alpi Italia
Antique Values
Italian interior decoration always holds a special value for antique pieces in an atmosphere completely devoted to tradition or even an accent note combined with contemporary design. When it comes to beds, antique head boards can still be found with over 200 years of antiquity. Normally, these pieces are quite imposing, made of oak or mahogany and should be placed in spacious rooms with relatively high ceilings so that they are properly housed. Brass or iron beds falling largely within the same age can also be found and some of them provide attractive notes in nostalgic style of home decoration.
The Italian style of bedrooms increasingly tends to rely on contemporary beds which generally are low-slung, and the design linear and restful. Spacious night tables and chest of drawers are part of the Italian bedrooms. Large closets designed to contain clothing and linen too form part of this design exercise. A finely designed Italian bedroom will look restful, relying on natural tones of brown, cream, beige and white creating a distinctive and sophisticated atmosphere.
Green Living
If you fancy green living, a bed with rounded wood bases looking like a rocker will be ideally suited for you. You could gain an insight into this range when you visit the Mazzalis. The woods are light colored and the design airy and bright. This company also guarantees that the wood used is obtained from areas of programmed reforestation and that the paints used do not contain dangerous solvents.
Wrought Iron beds
If wrought iron beds are your choice then Casatto has a good range of comfortably priced wrought iron beds capable of addressing several decorating needs. The company also offers Romantic iron beds. The designs are quite ornate, but do offer an attractive complement to an otherwise austere room furnished with lacquer of wood contemporary chests and night stands.
Tips to design your bedroom
A house is never complete without a bedroom, and the bedroom is a very private place where a lot of private activity takes places. The bedroom also provides comfort and freshness from the hectic activity of the day. The relaxation, the unwinding and the blissful oblivion into sleep are provided by the bedroom. We should therefore take special care to design and maintain this space to lend it a pretty and tidy look at all times.
A beautifully designed bedroom with appropriate decoration will provide you the warmth and comfort that is necessary to stay there particularly after long and tedious days. An unkept bedroom will be a source of irritation and can cause great discomfort.
The art and beauty value in your bedroom will reflect your personality. The following tips will be useful in designing a comfortable bedroom.
Consider the size of your bed room before deciding the design aspects. The bed room furniture as well as the decorations will have to be synchronous with the size of the bed room.
The bed that you choose should provide you excellent comfort and should ideally be ergonomically designed to suit your contour (and your partner's too).
Soft and pastel colors will be ideal for most bed rooms, because soft colors provide a wide impression in any room and provide a feeling of warmth.
The Windows and ventilation are important too. The ventilation should provide good air circulation, and at the same provide the necessary privacy. Ensure that your windows do not open into the living space of your neighbor and whenever possible avoid straight view from the surrounding population. Your windows can be decorated with a curtain in white or creamy color to give them the modern classic style.
A television set in your bedroom can come in handy oftentimes to enjoy your favorite programs in that lazy disposition.
Useful Accessories
Having created that beautiful bedroom in your house, you should now be shopping for the accessories. Depending on your taste and budget, there are several accessories in the market that can enhance the value of your bedroom. Several manufacturers offer a variety of Classic Italian Chest of Drawers, Dressers etc. to make your bed room more appealing and at the same time provide utility.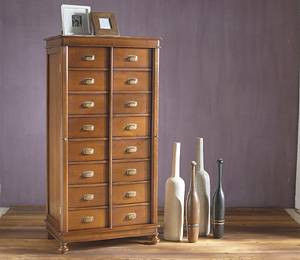 Classic Chest of Drawers
The chest of drawers can hold your personal belongings, valuables, medical supplies etc. while the lady of the house particularly will find the dresser to be of immense value to her. The numerous beauty aids and enhancers that she will be using frequently can be stored in an orderly manner for quick retrieval. The dresser will also provide a very comfortable zone for the lady/ladies to go through that long dressing up routine.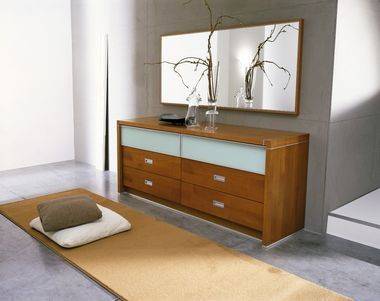 Modern Italian Dresser
The Classic Italian Chest of Drawers offered by Italybyweb.com could be an excellent starting point when you are considering various options to acquire a Chest of drawers. Similarly, the Modern Italian Dresser – Metropole from the same source can be used in your search for modern Italian dressers.
Related Articles
Italian Antique Furniture
Custom Furniture
Italian style beds