Italian Made Dining Tables
The dining table is much more than a place to simply eat. Italians believe the dining space should be treated with respect as it is a place for the family to congregate. Hence a great deal of emphasis is placed on the style and décor of the dining table. One of the firm favorites with Italians is the oval dining table. It reminds one of classic Italian style and interior décor.
Great décor
For accentuating an antique looking dining space nothing works better than a wood finish oval dining table. Italians love to use wood, especially oak and mahogany varieties, in their dining tables. Nowadays there are plenty of varieties in dining tables. You can select from casual, semi-casual to even formal varieties depending on the occasion and mood of the room. For a formal evening with high class guests, you could opt for a formal Italian dining table that combines style and class at the same time!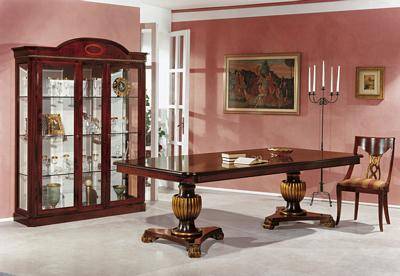 There are various sizes available in terms of dining tables ranging from small 4 seating ones, to 6 and even 12 seating ones. So, for an especially large gathering of guests the 12 seating dining tables work best!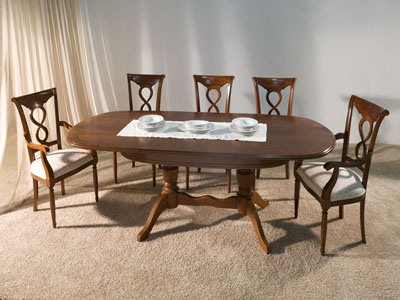 Interesting accents
If you thought that an oval dining table cannot be experimented with, then you are wrong! There is a lot you can do with an oval shaped dining table. Unlike a plain rectangular shape, which doesn't offer much interest, an oval shape provides plenty of scope. You could have a bottom rung placed under it, where you could place newspapers and magazines. This way your dining table doubles up as a reading space, too! Or you could have an extended buffet table attached to the dining table itself.
Thus you have a place to dine and keep all the food items. Or change your table's legs with a Classical style stone statue. You could have a statue of Atlas or some other mythological figures set in stone and then place it under the dining table as a support. However, such statues look great when the dining table is covered with glass instead of wood. However, wood is always a preferred choice with Italians. For a lighter, trendier look to the dining space try a smaller table to complement the room. Beige fabric on the chairs adds an element of contrast and interest to the room.
Airy ambience
Want your dining room to exude space and airiness? Then opt for a medium sized oval table. Then have large and airy window with sheer white drapes over them! This will facilitate more sunshine to enter the room and is in sync with the Italian concept of interior décor. You see, Italians have always believed in the power of nature and natural light. That is why every Italian home always makes the best use of natural ingredients.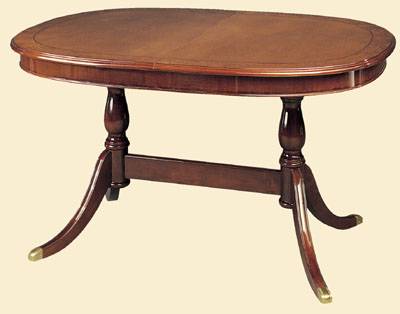 Whether it is in the use of natural herbs for cooking, or that of sunlight for illuminating the home and natural fibres in the home, every Italian home makes the best use of nature. Hence airy rooms are a must for your house if you wish to replicate the same authentic Italian theme in your interiors.
Ornate legs
Most Italian oval dining tables will almost always have a very ornate and intricately done up set of legs. Sometimes, it is just one central leg that holds the table in place, especially if the table is small in size. These legs will have elaborate shapes and designs carved on them for added effect.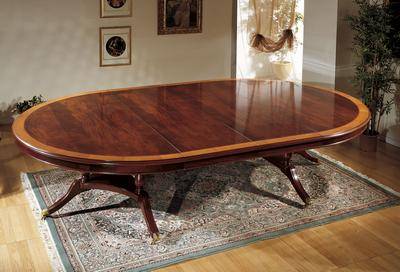 In fact the larger the size of the table the more are the options in terms of décor. You could double up the dining table as a place to showcase your favourite memorabilia! For example a cute white vase with orchids placed on such a beautiful table will surely make heads turn. Or if you prefer more subtle decorating methods try using an ornate bamboo lamp hanging above the table for added effect!
Trendy designs
Gone are the days when only an ornate and antique designed furniture piece would suffice in an Italian home. Today's consumers are finicky and hence want a touch of modern and antiquity. Therefore while you find a classical Italian wooden dining table on one side you also find a modern hip glass shelf on the other. You will also find bold themed sofas with animal prints or monochrome leather chairs that offset the chic element of the room. Italians love to blend in modern high fashion with their traditional values.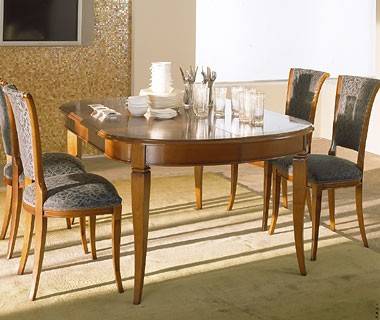 italian dining set furniture
Hence try to mix both elements in your interior décor as well. Think antique Italian Frescos coupled with modern glass TV stands or antique rocking chairs coupled with geometric patterned fabric to complement it! However, never try to change the appearance of your antique furniture. Let the classical remain intact and instead make changes to more modern furniture you have!
Classic Italian styles
Italians love to blend subtlety and classic style together. For example if a room has an excess of ornate designed furniture they will neutralize it with more modern curtains and drapes. Or else if they have an overdose of chic and trendy furniture in a room they will add a touch of the classical with heavyset antique chairs.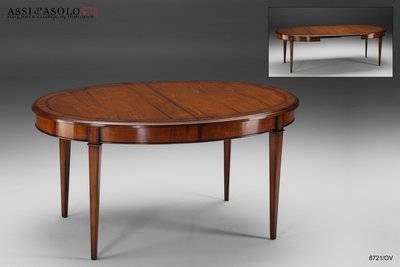 classic oval furniture italian
You can do the same for your rooms as well. For an interesting touch try mixing an ancient Van Gogh painting with a chic compact oval dining table. The whole concept behind a traditional Italian designed home is to blend in modern and classical elements properly.
Related Articles
Italian Antique Furniture
Italian coffee tables
Italian style beds