The functional approach to home decorating in Italy is nowhere more evident than in the contemporary design for tables and chairs. Obviously antique tables and chairs are still very much in style, but if your taste in home décor gravitates more towards contemporary design, there is a wide range of possible solutions. However, to simplify the situation, one may say that broadly speaking the solutions can be grouped into two large categories, those making use of wood and natural fibers and those making using of metal, particularly steel, and glass.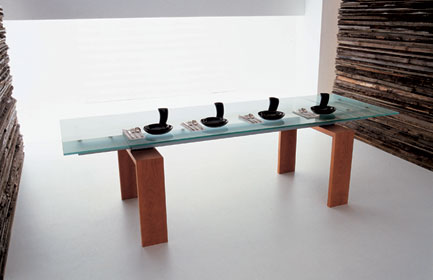 In the area of wooden furniture, light natural colors tend to be preferred. The manufacturer Biebi (www.biebisedie.it) offers delightful linear tables and chairs that provide bright and airy solutions to dining room décor. A decidedly more aggressive look is characteristic of the tables and chairs produced by Tonin Casa (www.tonincasa.it) where daring design lends a distinctive look to formal dining.
A novel approach to Italian home decoration is the dining room table produced by the important home furnishings company B & B Italia that is topped by a sanded crystal top and gives off acquamarine tones for an airy and relaxing atmosphere. An exceptionally elegant table called Nilo made of crystal and steel is offered by Kreaty (www.kreaty.com) that also has unusual accompanying leather chairs with linear steel supports.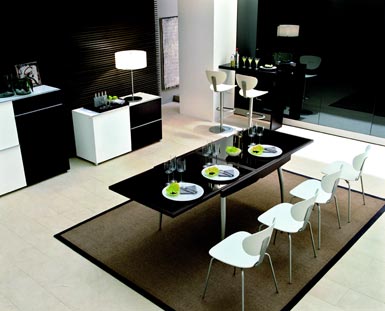 Innovative use of materials is also characteristic of the production of Calligaris (calligaris.it) that manufactures tables and chairs that combine the warmth and traditional look of wood with a synthesis of polyurethane compounds for lighter and more practical items. The tables and chairs thus manufactured using Light Wood Technology are of linear design, and are available in a range of natural colors. The names of some of the lines are Asia, Maxima, Side, Alterna, Mood and Class.
The use of steel in design of tables and chairs began in the 1920s with adaptations of the industrial material for household decoration. Subsequently in the post World War II period, other metals, particularly aluminum, gained a prominent role in decorating, replacing plastics in many home furnishing applications. This trend continues to date as may be seen in the numerous examples of tables and chairs shown recently in various Italian furniture exhibitions. These pieces combine design with functionality, clean lines, and add a distinctive note to contemporary décor. For example a large low slung round coffee table, called "alien", with a recessed center for collecting items is produced out of brushed aluminum by the company Cattelan Italia (cattelanitalia.com). Square tables of various heights made entirely of steel are produced by the same company, that also offers many other distinctive decorator solutions. Another company that produces attractive contemporary metal tables is Ycami (www.ycami.com) that offers for example a table called "Jolly" with an opaque aluminum surface, available in various sizes and finishings.
The company B & B Italia (bebitalia.it) offers, among its wide range of Italian furniture solutions, a sanded stainless steel bench called "Double Dip" that is suitable for elegant decorating either in or out doors. However, if your taste tends towards vintage designer chairs, there is a company Molteni (www.molteni.it) that continues to offer chairs that were the hallmark of cutting-edge innovation, such as those designed by Aldo Rossi in 1987, Alfa di Hannes Wettstein in 2001, Leon di Rodolfo Dordoni in 2003 and Luca Meda in 1998. A classic of the historic collection of Poltrona Frau (www.poltronafrau.it) is the all leather Italian armchair that was first sold in the 1930s. The modern version retains the historic design with technological improvement in the structure of the chair and the internal finishings.
And if you are fond of Italian designer traditions in tables, there is the linear table totally in crystal designed in 1984 by Vittorio Livi. This was the first table created from a single sheet of curved crystal. The table is offered by Fiam Italia (fiamitalia.it).
Italian dining rooms are some of the best furnished in the world, in terms of style, comfort, functionality and maintenance. If you want to bring a slice of Italian home decoration into your home, investing in an Italian dining furniture set would be just the way to do it.