Hallmarks of Great Classical Italian Furniture
All through history, Italian furniture has evolved and developed new furniture ranges, be it the post war era or the modern times. But the main here stay of all Italian furniture ranges has been the dining table. In the early traditional Italian furniture era, these tables were square and oval shaped. Built in solid wood, these tables occupied the centre of every dining room in olden Italy.
This tradition has lasted over the years and, even today classical Italian dining room tables are manufactured, marketed and sold throughout the world, namely in USA, Asia, Australia, Europe and Singapore. Dining tables in Italy bear signs and influence of the traditional, transitional and modern architectural and décor styles. Thus, Italian dining room tables can be simple with minimal decoration, multipurpose in nature. On the other hand, they can be huge in size with myriad intricate design work at the edges.
Italian furniture was duly inspired by the Church. This can be seen in the open style of furniture design. Italian furniture makers are not afraid to embrace the good aspects of other furniture style. Contemporary Italian round dining tables used veneer as a table finish. This is not a part of Italian furniture design. This concept has been lifted from American and Australian furniture (then known as Americas). In other words, there is no way of telling and specifying furniture design of Italy. It overlaps borrowing from fashion, politics, lifestyle changes, religion and spirituality, architecture, masonry, paintings and even other countries.
Wooden Dining tables: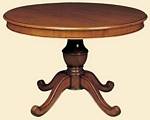 Modern décor classifies them as multipurpose dining tables as shown below. But in actual traditional Italian furniture design, they are deviations of the dining table. They are described as side tables, coffee tables, study tables and bedside tables. But modern Italian décor insists that these tables cater to the fast paced lifestyle of today.
These tables are small and portable like the one shown left. As such, they occupy less space and can be easily moved. They can be described as a single piece of leveled flat wood affixed atop an anchor base. These tables are made out of solid wood. In ancient Italy, they were used as removable furniture items in affluent households. The round table was characterized by a shiny Mahoney finished table top and many side drawers.
Features of Classical dining tables
The shape and size of the tables has evolved through the times. Discarding its original square shape, the Italian dining table is now round and small with only one anchor in the center holding the entire table. As such the table is characterized by:
Small size in length and breath
Flexibility and portability
Custom designed toppings – glass or tile plated
Finish of Mahoney, walnut, cherry or teak
Iron wrought intricate design work at the edges of the table – sometimes these designer dining tables had metalwork of copper wire
Side drawers with ornate small brass knobs in the shape of hooks
Some tables also had traces of antique silver beneath the glass topping
Collapsible table portions on the sides or in the middle owing to attached springs and screws adding to consumer comfort
The round dining room table could be purchased as a single piece or as part of the dining room furniture collection
The Regina Dining table collection: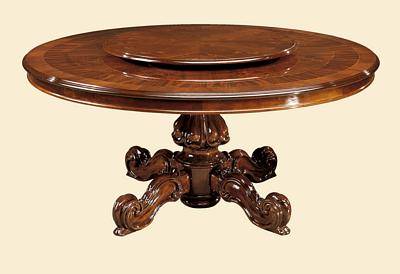 This round table above comes in three different sizes, a small family size, a big round table size for conferences and parties and a buffet sized round table. The table is made out of solid wood modeled on the lines of the Italian classic architecture. The table is characterized by its neat, straight lines of elegance. It is further accentuated with finishing's of walnut, cherry, pine and Mahoney. The buffet table has a choice of three or four collapsible side partings. The table is fitted with cups or balls of Teflon at the base of the anchor to avoid scratching on moving the table.
This idea was traditionally an integral component of Italian masonry that used this technique to remove any untoward wall decorations without leaving any telling marks on the wall. The big round table gained prominence during the Mussolini era. His official and personal homes were decorated with these round tables. Due to its size and elegance, the table is suitable for usage under any circumstance in any room. But the Regina dining room collection today forms an antiquated piece in museums.
Antique Silver table:
The antique silver table shown below draws inspiration from the Italy of royalty. The table can be described as a showcase piece. It has a glass topped finish with silver brushing underneath. Some antique round silver tables are further garishly decorated with iron wrought excessive design at the beveled edges. This table is extremely small and for purposes should not be classified as a dining table. The table comes with two antique silver dining room chairs. The table is not a flat piece of wood with an anchor base.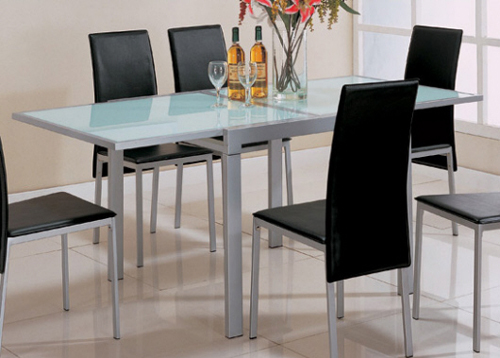 It is hollow in nature dating back to the traditional Italian religious architecture. Italian churches used to make hollow tables to store and secure wealth and documents. The antique silver table carries on this tradition. The table as such is 42 inches wide with the hollow cabinet occupying major portion of the width. The table also takes inspiration from the transitional Italian style architecture with padded, beveled intricately designed edges.
All Wood Dinette Collection:
This wooden dining room furniture comprises of:
A round dining table
Collapsible storage table cabinets
Two-four arrow shaped straight backed chairs
Cream tile leveled table top
The dining table is usually made out of wood. This furniture item belongs to the Modern Italian decor. It is thus multi faceted and minimalist in nature. This means that the table serves many purposes, acting as a dining table, a study table, a storage cabinet, newspaper and document stand. In addition, the table also makes use of environmental friendly products. All resources used in the manufacture are reusable in nature. The oak table is durable and resistant to any sort of physical or corrosive abuse.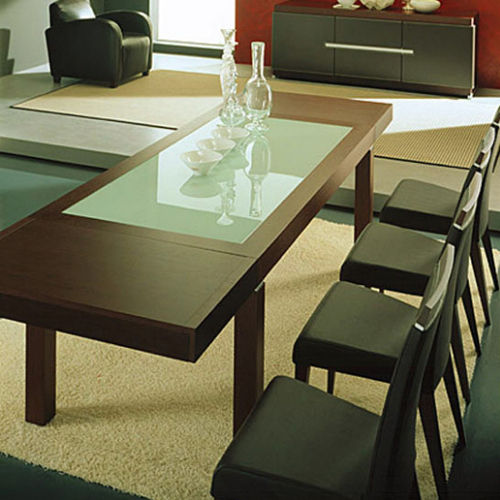 It lasts for several years and is highly popular among the working class. Its main feature is its butterfly-storage space which opens in the middle of the table. This gives the customer more flexibility with the use of the table. The table itself is 42 inches wide and 30 inches in height.
Related Articles
Italian Antique Furniture
Italian coffee tables
Dining tables
Side Tables