Italy motorcycle Tour: From Rome
Rome  and Tuscany
You can spend a few days in Rome: enjoy your night riding downtown, and take excursions to the outskirts of the city to places like Frascati and I Castelli Romani, or Cerveteri towards the north if you are interested in antique culture (Etruscan). When it's warm and you like mountains, you can also have a great day trip to the Parco Nazionale in Abruzzo ( Pesasseroli,Opi, Val di Sangro). From Rome,  you should then move north toward Tuscany, where pretty much any itinerary will be a great ride. (take the Cassia or if you prefer the sea route, the Aurelia, and ride North), stay in Florence, Siena or in many of the smaller antique towns that Tuscany has to offer like Pienza or San Gimignano.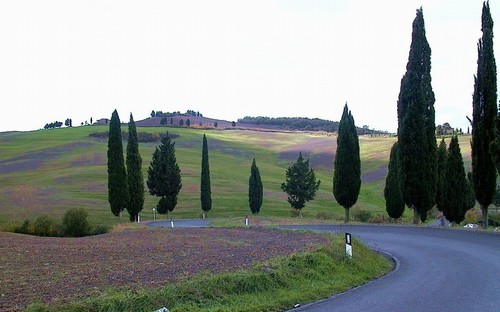 After Tuscany,  you can move toward Umbria and the hundreds of medieval towns that it has to offer. If the weather is good, you will have a great ride more or less wherever you go. From Umbria you can go back to Rome, and then head south  toward the stupendous Amalfi coast.
A variation:  if the weather is warm, but not hot and you feel like taking a swim you can always head toward Ischia and go to Sant' Angelo where warm natural springs (like the ones at Aphrodite Apollon) will allow you to swim much earlier during the season. Depending on the time you have available and your taste, you could always visit Pompeii. Avoid stopping in Naples and leaving a loaded bike on the street – most probably, you will have no need to unload it yourself again.
If you find a better combination of flights / bike rentals from Milan, there are also great rides in the northern lakes region and then on to the Alps and beyond: check out Venice, the Cinque Terre, Portofino: these are all great itineraries.
I personally like the Green Guide (from Michelin / TCI ) for indications of what to visit in Italy. You can grab it and see right away which town to visit – The star system to identify attractions is quite reliable and allows you to plan your trip on the spot.