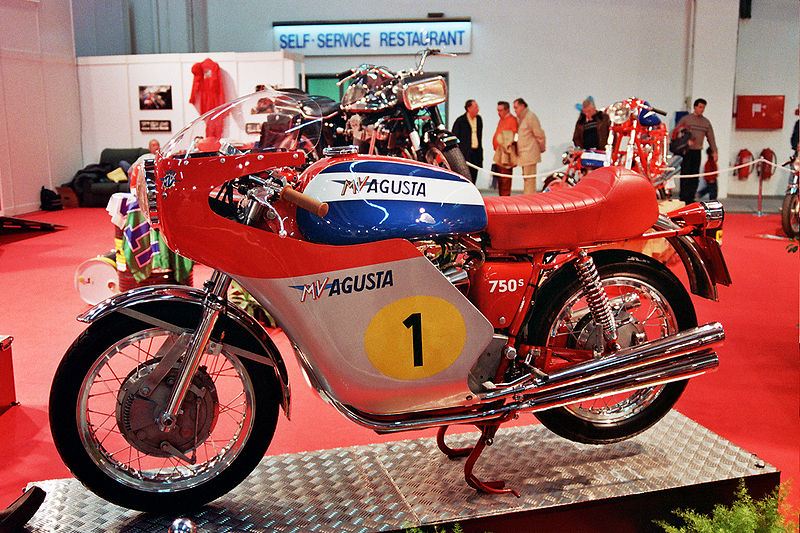 MV Agusta was founded on passion – mostly, the passion of one man, Domenico Agusta. The family already had an aviation company which was rather successful in Italy and Europe as a whole. The company was originally founded in 1907 by Domenico's father, Count Giovanni Agusta: truly remarkable, considering the first man had flown only 4 years earlier, in 1903. The company was very small through its first years, but in 1919 it was organized as Construzioni Aeronautiche Giovanni Agusta.
The Company's History
Most of the company's early work was maintenance for the Italian military, but it did produce several models of airplane and – after World War II – the Agusta became one of the most important aviation companies in Europe, mainly by building fantastic helicopters.
However, by that time, the motorcycle company was no longer connected with the aviation side.
The patriarch of the family, Count Giovanni, died in 1927, leaving the company to his sons, Vincenzo and Count Domenico Agusta. Together, they started a motorcycle business within the company in 1945: right after the war, as Domenico had already seen that the war was lost for Italy, and the company would have to do something to survive. They named their new venture MV Agusta – the MV standing for Meccanica Verghera, in case anyone ever asked you – and originally created the company to keep workers at the now-shut Augusta aviation business (it was to be revived later and go on to great success) working, as well as to fill the need for cheap and reliable transport in post-war Italy.
It was more than just that, though; it was something which both brothers enjoyed. They loved motorcycles and machinery, and they loved to work with their hands. It was a good match.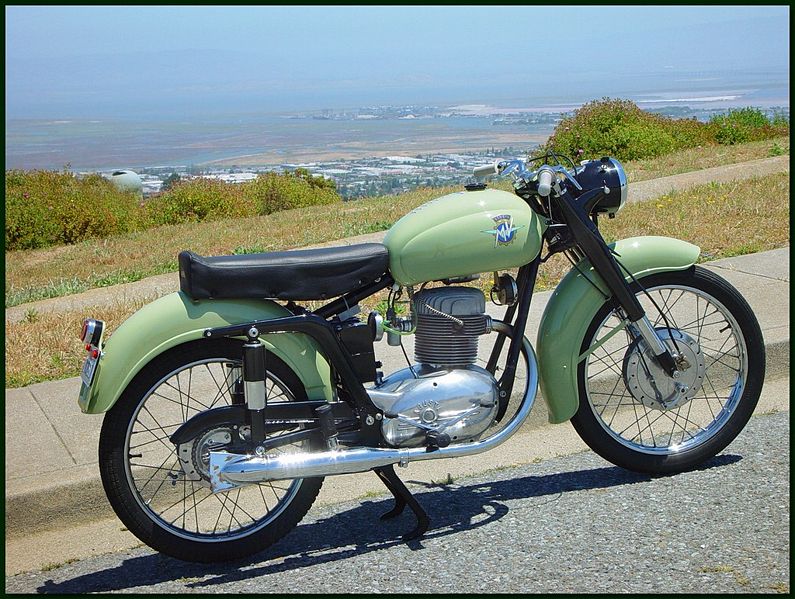 The first motorcycle they developed was known as the Vespa – yep, until Piaggio sued as they had already trademarked the name for their scooters. It was named this way as it was a tiny 98c.c. two-stroke and it buzzed like a wasp – thus the Italian word for wasp, Vespa. It was called the MV98 from then onwards and was the basis for a line of MV Agusta motorcycles. The little bike established MV Agusta as a motorcycle company. It was already ready to be released in late 1945, because the development had started in 1943, during German occupation.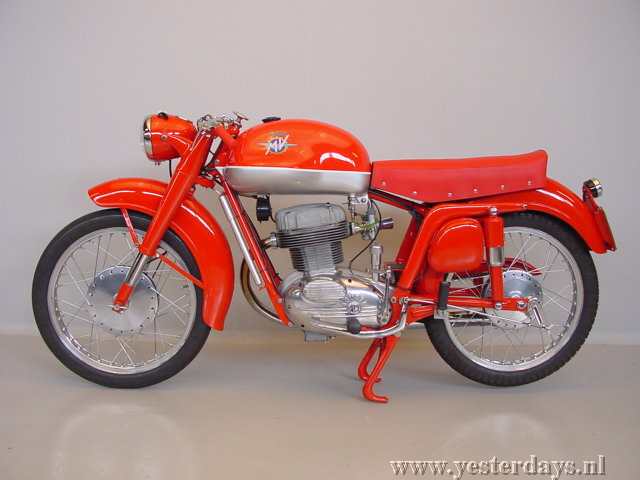 The MV Agusta and Racing
It didn't take long to Count Domenico to think of racing: he truly loved racing motorcycles. Soon after the company entered into competition, he hired Englishman Les Graham – the very first 500c.c. World Champion – to ride for MV Agusta. Graham led MV to sign Cecil Sandford, also from the U.K. Sandford won MV Agusta's very first World Championship in the 125c.c. class in 1952. It was the beginning of many titles in the FIM Motorcycle Grand Prix (now known as MotoGP). If you look closely at any MV Agusta motorcycle, you will see an emblem with stars contained within it: the stars are 37, to go with the 37 manufacturer's World Championships won by the company.
The next victories came in a slow succession, as MV Agusta took the 125 c.c. title in 1953 and 1955 and the 250c.c. in 1955. It was to get better, though, with the advent of the MV Agusta four-cylinder, four-stroke engine. It varied more than it may seem, but it was always a masterpiece of current motorcycle racing technology. The 'MV four' is considered a classic racing motorcycle and is now a very sought after artifact from what some call the Golden Age of motorcycle racing.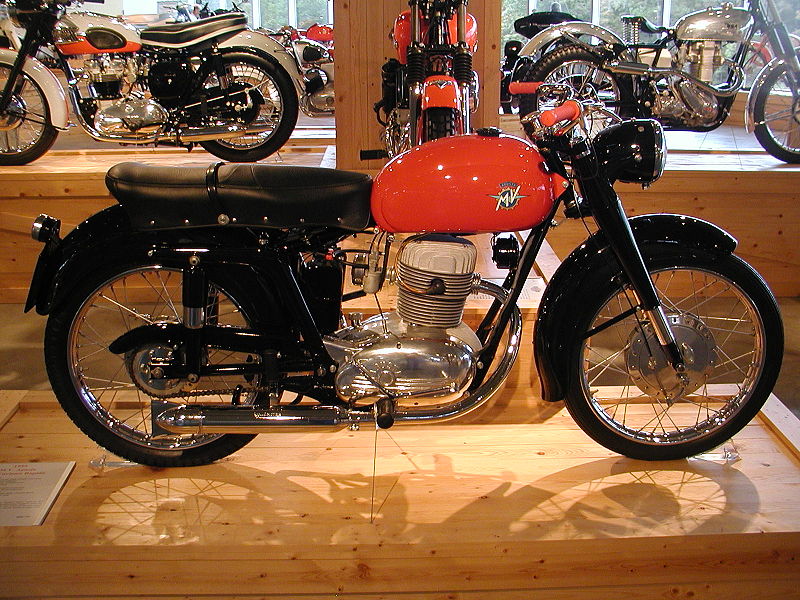 To allow the racing, MV Agusta produced street-going motorcycles and scooters, which they sold to the public. In fact, the only reason they actually sold motorcycles was to fund the racing effort that was so close to Count Domenico's heart. It should also be noted that, back in 1950, Arturo Magni and Piero Remor joined MV Agusta after leaving Gilera. This was to be important, as these engineers were largely in charge not only for the development of racing bikes, but also for that of street motorcycles. Their racing and the standard street bikes actually had little in common: racing bikes were basically unobtainable by the general public, with only a few exceptions. Among the general bike production of the MV Agusta, Italians certainly remember the Chicco scooter (1960), the 250c.c. and 300c.c Raid single (1957 – 1961), and the 175 CSTL Turismo (1953). These were all single-cylinder engines, as were many of the race bikes of the era. It was when the four-cylinder MV 500 Four hit the racing circuit that things really got interesting…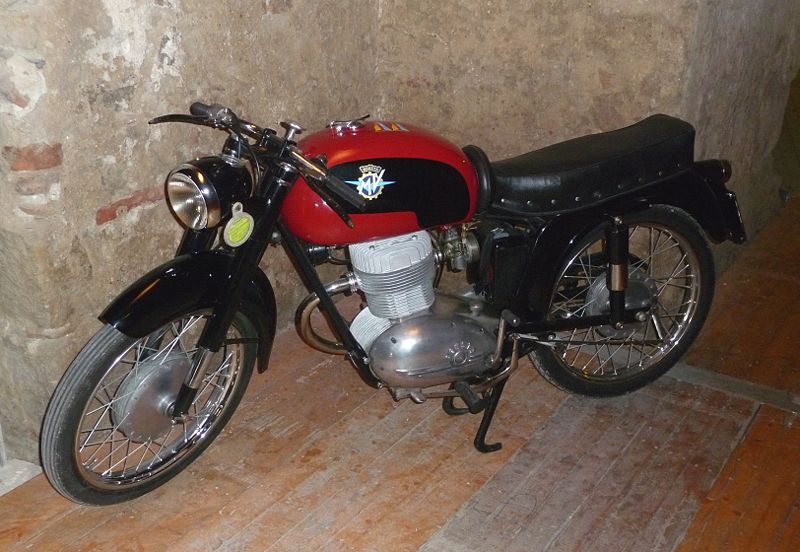 Remor and Magni had both worked at Gilera, and they had a very powerful and relatively reliable four-cylinder four-stroke 500c.c. racing motorcycle. It was known simply as the Gilera 500 Four and it had already won several races and at least six championships. These two new men at MV had intimate experience with this type of racing bikes, when they started to work at the factory. So, when Remor started to develop an all new engine for the Grand Prix races, he went with what he knew and designed the engine similar to the Gilera 500. In fact, in today's litigious environment, Gilera would have sued them and probably won, but that was 1950 and things were very different.
The MV 500 Four was a work in progress back then, but it was already on a path to greatness. It continued to get better each year, and the company took the technology used to perfection that bike to make the 350 Four, by simply sleeving down the cylinders. The 350 eventually had an engine made specifically for it, but the technological similarities were numerous between it and the 500c.c. version. It was not long after this that MV Agusta gained the services of a man who is – perhaps and depending on what Valentino Rossi does over the next few seasons – the greatest motorcycle rider to have ever lived.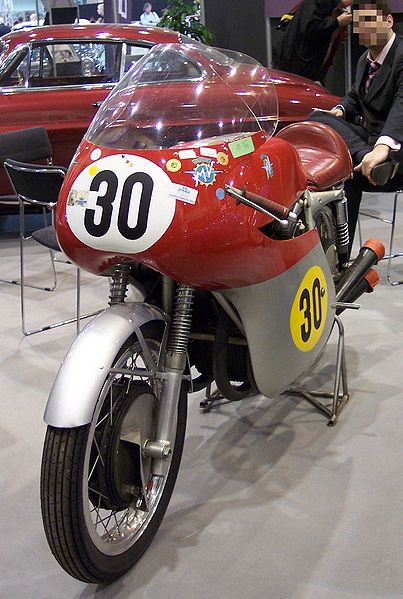 MV Agusta and Giacomo Agostini
Before we talk about him, though, we need to address his predecessors.
John Surtees joined MV Agusta in 1956 and raced his first race for them in his home nation of England. In that first year he also won the 500c.c. World Championship for MV. In fact, he retired from racing motorcycles while still with MV Agusta in 1960. During his time there, he won 7 championships for the brand and helped them develop their Blue Riband motorcycle, the MV 500 Four. After Surtees (still the only human to win a World Championship in both two and four-wheeled racing series) retired, MV Agusta also signed Gary Hocking and Mike 'the Bike' Hailwood. Hocking was not with them for long, as he retired in 1962 (and died a mysterious death in a Lotus F1 car), but Hailwood won four championships for the company and only moved on to Honda once MV had decided to sign the ultimate motorcycle racer mentioned above – the greatest of all time (GOAT), Giacomo 'Ago' Agostini.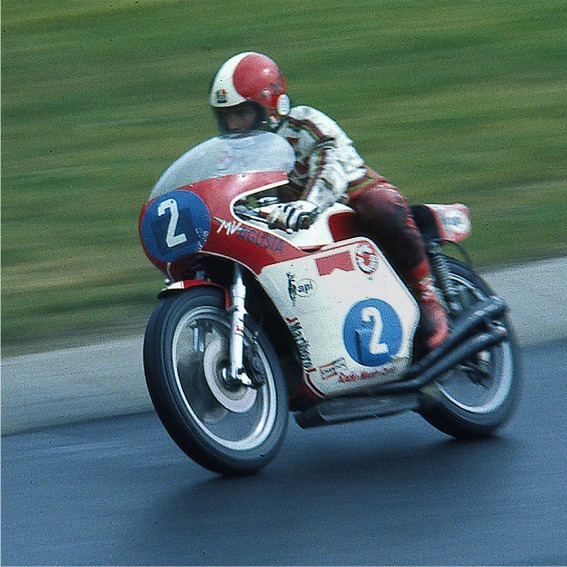 Early in his tenure with MV, and for a brief time only, Ago raced on a three-cylinder 500c.c. motorcycle. MV Agusta had to quickly develop a four-cylinder, four-stroke to compete against strong Japanese manufacturers, whose bikes had been getting more and more competitive. This is where all those earlier years running the MV 500 Four paid off. They used modern technology and experience with the earlier engines to develop an almost unstoppable 500c.c. Grand Prix motorcycle. During Ago's time with MV, he won 13 World Championships in the 500c.c. and 350c.c. classes. It is an amazing feat, which has yet to be equaled. Agostini still works with MV Agusta today, and you will often see him at international and Italian races, rallies, and motorcycle shows.
He is a living legend, and has a great sense of humor, too.
Ago brought a great deal of attention to MV Agusta. It cannot be denied that MV was already a very well-known and respected motorcycle manufacturer, but when Agostini was winning all of those races, people really paid attention. He left the team to join Yamaha in 1973. By that time, MV Agusta had a solid line-up of street-going motorcycles.
Continues on MV Agusta Part 2