Viva La Vespa! Still The Besta!
Whenever I see one of those classic putt-putts of yesteryear zooming down a busy street, I cannot help but reminisce about the two beautiful years I spent in Perugia, half a lifetime ago.
Within the trail of their vapor lie a myriad of sweet dreams and misty memories. Somewhere in an old photo album, tucked away in the abyss that is my house, there is a photo of me astride a "Sprint" (the blue Vespa model) that belonged to an old boyfriend. He took the picture, which is why I am alone on it, and also why I lost my balance and fell to the muddy ground just a few seconds afterward.
I still couldn't miss looking pretty classy though; falling off that tapered midsection and landing alongside the flared and rounded tail that inspired its name. Vespa is, after all, the Italian word for wasp, (the stinging kind, and not the humankind).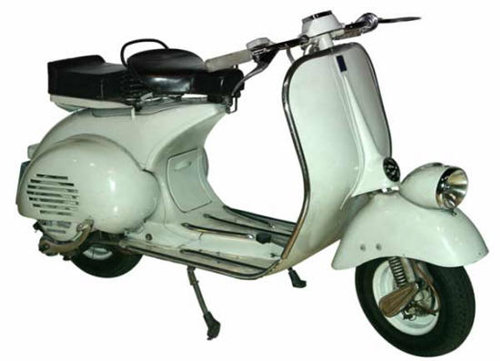 Vespa scooters: a bit of history
Italy is known for its unique art forms. Consider going for a family ride aboard a Vespa and crossing the street anywhere in Italy (with or without a Vespa).
I have heard older Italians speak of the lean days World War II when a family of four would pile on board a Vespa scooter. The father was the driver; the mother sat behind him and the children hung on for dear life at both ends. Crossing the street requires just as much skill.
There was once an old Italian movie whose entire plot involved a family crossing a busy thoroughfare, one at a time. One day I found myself in the middle of an enormous intersection where the traffic merged from three different directions and showed no signs of slowing down at the red light. I was eating a chocolate ice cream cone and licking on it more and more furiously with each passing second until a vigile (policeman) directed me to safety. I went to thank him and some of my ice creams splattered onto his white uniform. I wished I had been on a Vespa then to zoom away forever out of his sight and my embarrassment.
Vespa and the Italian scooter's revival
The Vespas and their arch-rival scooter, the Lambretta, have been pounding cobblestone and macadam all over the world for more than half a century. The manufacturers of Vespa commemorated their fiftieth anniversary in 1996 with a gala on the Italian Riviera and the grand opening of a Vespa museum at their corporate headquarters, near Pisa. Their revival in the United States has been a slow but steady cultural phenomenon. These two-wheeled equivalents to the Volkswagen Beetle are seen as often in advertisements and television commercials as they are buzzing up and down the streets of New York City. According to the US representative to the International Federation of Vespa Clubs, Rolf Soltau, there are currently forty-eight Vespa clubs throughout the United States that boast a membership of more than two thousand.
Vespa: style and history
The Vespa has a unique style that blends mobility with simplicity. It is as Italian as Spaghetti alla Carbonara and could be nothing else- ever! A masterpiece worthy of respect and rounded in shape, it is said, because the Piaggio plant wanted the scooter to resemble the chassis of a "good looking woman." Chauvinist? Well, as an American woman who lived among Italian men for more than two years I would have to say, "Yes, it is." There is also no doubt about the artistry and brilliance of the design.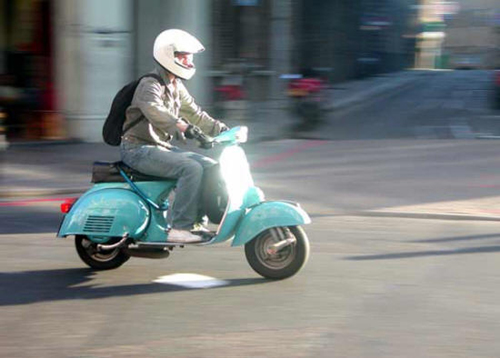 The Vespa moped was originally made by the Piaggio plant in 1946, which to this day still holds more than 40% of the small scooter market in Europe. The company was originally involved in the manufacture of aircraft before being nearly destroyed in World War II. Evidence of aircraft design can be found in the Vespa's rear-wheel mounting and single-sided front fork that was both typical of landing gear in the airplanes of the time. The Vespa's timeless engineering was the brainchild of Enrico Piaggio, president of the family-run metal company, and Corradino D'Ascanio, an industrial engineer who helped develop the helicopter. The scooters were cool then as a symbol of the reconstruction of war-torn Italy and they are cool now.
Crossing the threshold into permanent celebrity was certainly helped when the Vespa was used to transport Audrey Hepburn and Gregory Peck in the 1953 film, "Roman Holiday". The scooter was also featured in "La Dolce Vita" starring Anita Ekberg and alongside the likes of John Wayne and Sandra Dee in many old advertising shots. Cult status was finally achieved in the 1960s with the success of "Quadrophenia," the biggest scooter movie ever made.
Vespa is a way of life!
The Vespas have become a way of life, representing just the right blend of urban efficiency, Italian elegance, and unmistakable panache. They have even carved a niche in the dictionary, which is a true sign of cultural acceptance. One might remember Diane Arbus, the troubled photographer of the 60s and 70s and whose subjects were always quite disturbing and bizarre. The word "arbus" came to symbolize those two qualities to old Mr. Webster. Well, "vespiti" for Mr. Webster's Italian counterpart represents those who are a part of the Vespa lifestyle, and "vespazzare" is a verb that has come to mean: "going somewhere on a Vespa."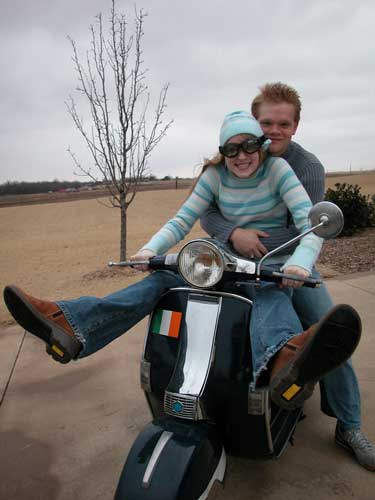 Vespa is vintage!
Vespa sales rose steadily until the 1980s. This was due to their two-stroke engines that did not meet emission standards. None have been imported since then which deems all remaining Vespas as "vintage." These 40-year-old scooters in the United States are becoming more and more valuable and harder and harder to find.
Most need some rejuvenation but, as an aging beautiful woman, they still retain the essence of what they once were. The Piaggio plant has introduced a new brand of Vespa for a new generation, but it remains as big a difference as that between a diamond and a zircon. The newer ones are called ET-4 (No, it is not another sweet little alien with a new number to phone home, but maybe it should be!).
The new Vespas are all segregated into service-only or "vintage" shops. These stores are not allowed to sell the new Vespas and for that one must visit, I am afraid, what can only be termed a "Vespa Boutique". Even then, they are hard to find except on the black market. Although these ET-4's have received rave reviews, they are just not the same as their older counterparts. Cities such as New York where Vespa enthusiasts still congregate for frequent excursions will never be the same either. I wish them all a happy zooming to wherever it is that fools rush in and wise men (and not so wise men) fear to tread.
Long live the Vespa for it is still tha besta!!!