Italy in May by Motorcycle including Rome, Naples and Amalfi Coast in Ten Days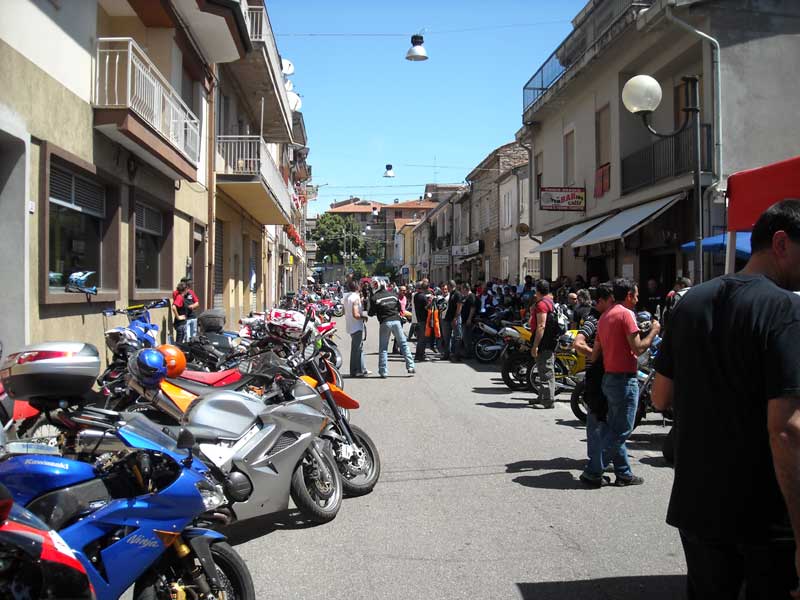 Question: We are two couples who want to ride for 10 days in May, in Italy, either North or South of Rome without hitting the big cities. Looking for coastal itinerary with some mountain rides and interesting sights, small charming hotels and good food and wine. Would like the BMW R 1200 RT and we are experienced riders. Can you provide self guided itinerares and the motorcycles. If so, please advise price, charges and the itineraries.
Italy in May by Motorcycle including Rome, Naples and Amalfi Coast in Ten Days
When Traveling by motorcycle in Italy there is one important rule to remember: Follow the weather. For example the Abruzzo mountains are great under sunny weather but under bad weather they are cold and miserable on a motorcycle. If the weather is bad you might want to spend a day or two more in a large town like Rome – and be ready to move as soon as the weather improves. If you are Traveling in the beginning of May and you would like to do some sea-side activity, the sea water will be too cold north of Rome. Therefore plan your trip with a lot of flexibility and weather will not be a problem since it can change dramatically in short distance in Italy.
The following itinerary is for 9 days – day 10 is to be spent as an extra day in your favorite location:
Day 1: Explore Rome. If this is your first time in Italy, you will want to spend more time here if possible. Either add a day here or at the end of your trip – but don't expect to see everything in such a short time.
Day 2: Head for Ischia by leaving Rome via the Pontina toward Gaeta and then head to the Island of Ischia. The Island has the great advantage of offering many hot water sources and it is beautiful and warm already in May
Day 3: From Ischia, take the ferry to Naples ( but do not leave your motorcycle unattended in Naples) where you can spend an extra day if you like. A Mount Vesuvius excursion or a visit to ancient Pompeii or Herculaneum are just a few options.
Days 3,4,5: After exploring Naples use the next few days to explore the island of Capri and the Amalfi coast. Take the ferry to the Capri before heading to Amalfi, making sure to visit Sorrento and Ravello. May is a great month for this part of Italy – forget July and August because it will be hard to find a place to stay and the bus traffic along the coast will be terrible. By Day five you will have a few options for the remainder of the trip.
Days 5,6,7 Option 1: Head south toward Paestu , Velia and Golfo di Policastro Maratea and see some of the Calabrian coastline with its beautiful La Sila Mountains on the way.
Days 5,6,7 Option 2: Head southeast toward Potenza, Matera and especially Alberobello where you can enjoy the Trulli area. You can also spend some time in Gallipoli or Otranto at the seaside again and then head back toward Abruzzo.
Days 5,6,7 Option 3: Head east toward Barletta and visit the beautiful Gargano peninsula, spendinga couple of days there before heading the Abruzzo region.
Days 8,9: If the weather is good go back by crossign the beautiful Abruzzo mountains toward Scanno, Rivisondoli, Roccaraso and Pescasseroli.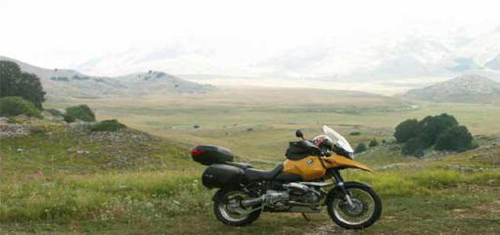 Another option is from the Gran Sasso side toward campo Imperatore, of course only if the weather is good. This will be a fatastic mountain ride. If the weather turns bad you go back toward A16 and then North with A1 stopping maybe in Cassino.
To add days to the trip: You could easily add extra days in Rome, Naples, Capri, Ischia, Calabria or Amalfi.
If you feel like riding longer distances and have a nice 10 days trip just go to Sicily and go around the island. Sicily is a dry climate with weather in May averaging only 3 days of rain – that means that you have 90% chance of having good weather
-Paolo Nascimbeni
P.S.- If any reader as a question about an Itinerary I will gladly to ( try to ) answer. Please write to [email protected] or post on our facebook group.