Tuscania is located in the Lazio region of Italy in the province of Viterbo. The town is spread over an area of 208 sq km and has a population of 8100. There are several legends that are debated upon on how Tuscania in Lazio, Italy had been founded. According to one legend, the town had first been founded by Ascanius where he had found twelve pups. See what to visit in Tuscania, Viterbo, Lazio, Italy.
Tuscania in Lazio, Italy
Evidence suggests that Tuscania had first been inhabited since the Neolithic times but the main town was built around the 7th century BC. During the Etruscan times, Tuscania gained much importance due to its strategic position in comparison to the surrounding areas.
Attractions in Tuscania in Lazio, Italy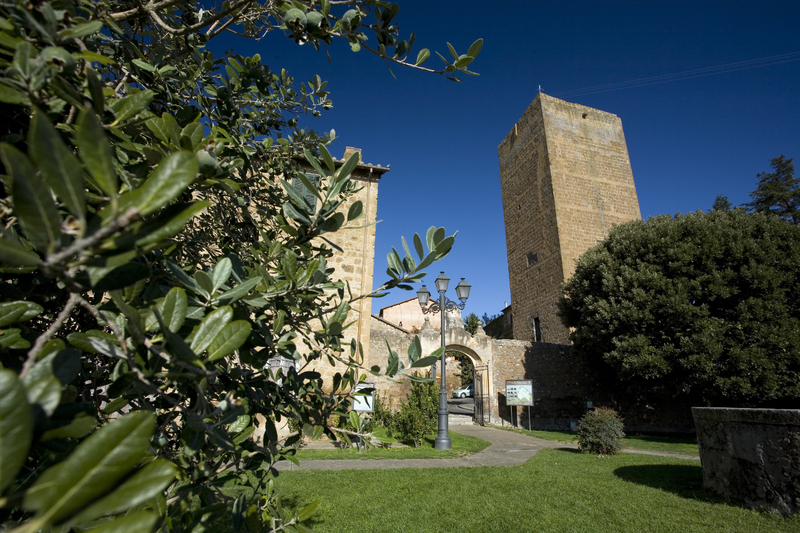 Church of San Pietro
The church of San Pietro in Tuscania is known to be one of the most beautiful churches in the region of Lazio. The church was originally built in the 8th century and was later renovated during the 11th and 12th centuries. The church of San Pietro is mainly famous for its unique architecture and its interesting façade. The church has beautiful rose windows and trifons, which are three-headed carvings. Inside the church, there are elegant decorations and beautiful artworks.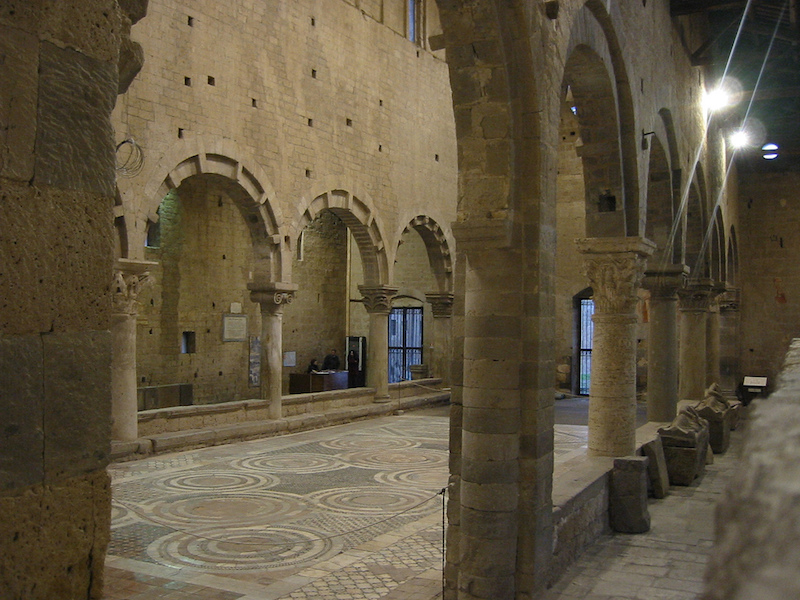 Santa Maria Maggiore
The church of Santa Maria Maggiore is also an interesting church to visit. The church had been built during the middle ages in Tuscania. The church is quite small in size but has an interesting façade. The architecture of the church is Romanesque and there are some fancy images on the façade of the church. Inside the church is a single nave with two aisles that are divided with large columns and sculpted capitals. There are two free-standing columns placed at the entrance of the church. The design of these columns has been copied from the Temple of Solomon in Jerusalem.
Ancient Walls
The ancient walls of Tuscania were built in the town during the medieval ages. Most parts of the town are still relatively undamaged and the façade is still original. The walls were originally built along with tall towers to protect the palaces of the wealthy residents of the town.
The Etruscan Museum
The Etruscan museum has a large collection of items that were found in the nearby areas that are dating back to Etruscan times. The tombs that were discovered had been found with various ancient objects which are now placed in the museum. There are several sarcophagi and other archeological objects in the museum.
Getting to Tuscania in Lazio, Italy
Tuscania is located quite close to Viterbo so getting down to the town is fairly easy. Visitors that are coming to Tuscania from Florence can take the Autostrada A1 motorway and then exit at Orte Orte – Viterbo and then exit for Vetralla and from there arrive in Tuscania. Visitors coming from Rome can take the Cassia North to Vetralla and then follow directions for Tuscania. Another way to reach Tuscania is by bus. Regular buses leave for Tuscania from Rome, Viterbo, and Florence and from other smaller towns in the area so it is quite easy to get tickets.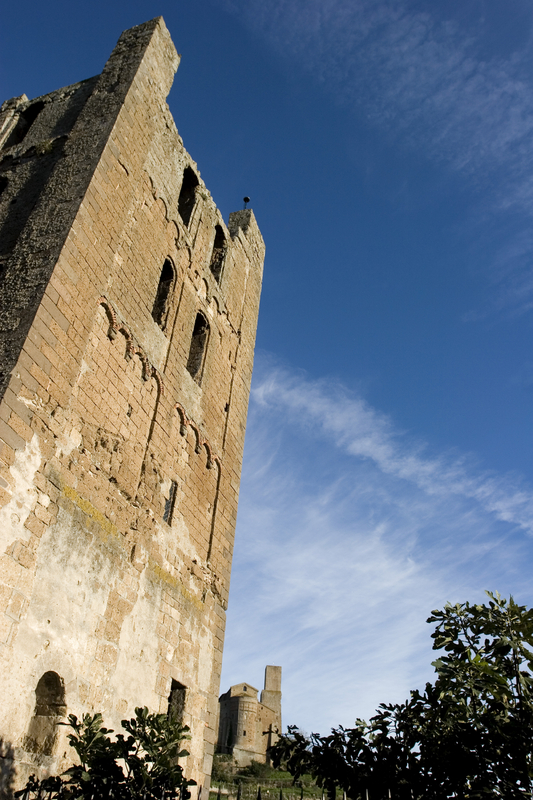 Moving Around the Town
Tuscania is not a very difficult place to get around. The center of the town can be explored on foot since it is quite compact and is enjoyable for walking around. Visitors can also use the local buses to reach the other areas of the town. Information of schedules, bus routes and tickets are available easily all over the town. Those who have their own cars can drive around easily. Except for a few areas, parking and traffic are not much of a problem. Many tourists also prefer to rent scooters to explore the town during their stay in Tuscania.
Stay and Accommodation
Tuscania is not a very large town, but there are ample choices in terms of hotels and Bed & Breakfasts. Tuscania attracts quite a lot of tourists from the nearby towns and cities which is why over the years a few hotels have been established in the town. However, because of its proximity to Florence and Rome, most people prefer to stay there and come to Tuscania only as a day excursion. There are a few hotels and some old villas and houses which now offer rooms for rent to tourists. These are mostly family-run establishments and have a very homely atmosphere. Some of the most well known hotels in Tuscania are Hotel Tuscania Panoramico, Hotel Al Gallo and Locanda Mirandolina Bed & Breakfast. Other than these there are several agritourismo and country homes which can be rented by tourists. These properties are mainly located in the outskirts of the town.
Eating in Tuscania
There are a few good restaurants and pizzerias in Tuscania, most of which are quite traditional in nature. The restaurants in town are quite small and are mostly family-run businesses that have existed in Tuscania for years. The food served is mostly traditional Italian dishes and some dishes which are typical to this region. Some of the well known places in Tuscania that are popular among the locals are Locanda di Mirandolina, La Torre Di Lavelo, Palazzo Ranucci, Valle Degli Etruschi, La Palombella and Pizzeria San Agostino. Other than these, there are a few bars, delis, and cafes in town that serve sandwiches, light lunches, pasta dishes, and various other appetizers as well as drinks and coffee.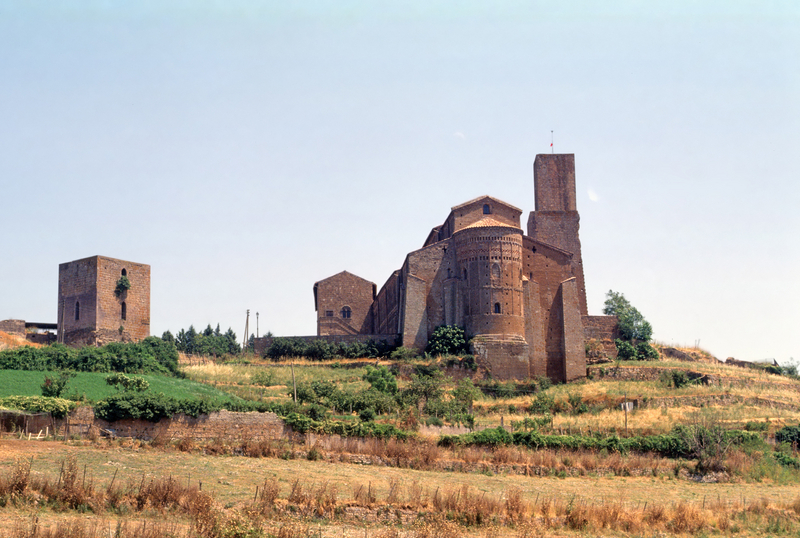 Shopping in Tuscania in Lazio, Italy
Tuscania has a handful of places where visitors can shop. The shops that are located in town are mostly where the locals do their everyday shopping, and only very few are especially for tourists. Visitors who want to shop in Tuscania should visit some of the shopping streets here that sell local brands of clothes, shoes, leather items, and bags. These shops sell clothes that are quite inexpensive. Apart from these the weekly open-air markets are the best places to visit for those who want to interact with the locals.
Lavender fields in Tuscania, Italy
Since 2011 on the first weekend of July Tuscania celebrates the "Lavender Festival". During the weekend the town dresses in lilac, and the plant is everywhere, from decorations to food and cocktails. If you've been thinking about where to find lavender fields in Italy… Well, Tuscania has some of the most beautiful lavender fields in Italy!