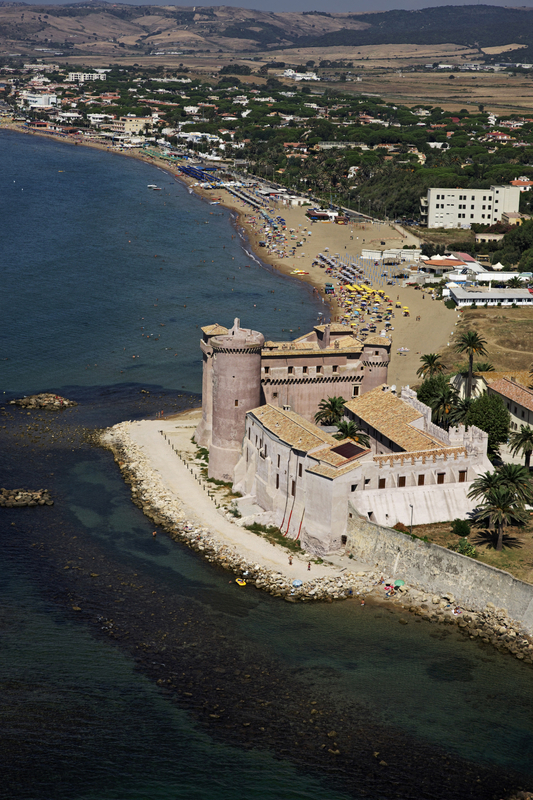 The Castle of Palo or the Castello di Palo is a medieval fort located in Palo in the Ladispoli municipality. The castle is today owned by the Odescalchi family. The castle stands overlooking the sea wherein the ancient time the Etruscan town Alsuim had once stood. The castle had originally been built for defense and the manor is the only structure that is fortified along with the Flavia tower which had been built during the 16th century as a watchtower. The manor itself is imposing and large and still in good condition. A beautiful dense forest surrounds the castle in an area of around 140 hectares.
The History of Castle of Palo
The castle dates back to the year 1500 when it was built on the site of an older medieval castle which had been called Palus because of the extensive swamps which were present in the surrounding areas. Several important people had stayed in the castle over the centuries like Flavio Orsini, Pope Sixtus V, Pope Paul III, Felice della Rovere Orsini, Pope Alexander VI, and Francesco Orsini.
After the castle had been purchased by the Odescalchi family it was sold to the Duke of Genoa and later to marquis Carlo Loffredo from Trevio. However, in the year 1870, the castle was again returned to the Odescalchi family. The castle remained with the family since then and the family took to the cause of restoring the castle and using it for the interest of the locals. The castle was rented to local merchants who recruited field cowboys and local peasants.
The castle along with its massive walls had come to be regarded as a safe refuge and provided protection in the village to shepherds, peasants, and artisans. In the year 1888, the prince decided that the summer vacationers and the residents of the town should be resettled. Along with the help of Vittorio Cantoni, a noted engineer, the strip of land between the two streams of the area was carved up to make a settlement which is today known as Ladispoli. Today the castle is privately owned.
Ladispoli
The first evidence of the human presence in the area dates back to the Neolithic period around 3000 BC. The first remains that have been found in the area are arrowhead from the Late Neolithic area which were found in the swamps of the Torre Flavia. Ladispoli stands on the location of the old Alsium port which was an Etruscan city in the area. The main square of the city is Piazza Marescotti which has been renovated recently in the year 2005 and has been dedicated to the well-known Roberto Rossellini.
There are several interesting places to visit in Ladispoli which include a wildlife oasis in the municipality of Palo which was established in the year 1980 and is managed by the WWF. The Wooden Bridge is a bridge which has been opened up in the year 2007 on the Regina Elena waterfront.