Rome is a nice place to visit, but I wouldn't want to live there. I mean, let's be honest. Sooner or later we all have to get back to work. And the prevailing atmosphere in your typical eternal city is, well, it's just not conducive to that. Not even when the only work you are doing is following a travel itinerary. Why go back to "work" when you can spend every single day here marveling at one astounding masterpiece after another? Why go shopping for groceries when nothing you cook will ever taste as good as the Roman cuisine you can find at that little trattoria around the corner? Why brush your teeth or make your bed in the morning when, wait, hold on. Let's skip that one. I guess what I'm trying to say is that there is simply too much to see here. And YOU will NOT have an eternity to see it. This also applies to the circa 280 fountains you-could-find-in-Rome-if-you-had-the-time-to-do-so-but-you-won't-so-don't-even-think-about-it, of course. Beside the fountains, Rome is a real museum of Italian monuments, so be ready to explore one of the most beautiful dream destinations in the world!
Trevi Fountain,Rome.
Five fountains are enough. For starters, anyway. Believe me. I know all about your typical, over-ambitious Roman holiday plans. And the following fountain micro-tour will give you a good idea of how hopeless and undertaking it would be to try and "see everything" here. Get realistic. A handful of these Roman fountains will be more than enough to shatter your illusions and break your will. And what is worse, they will whet your appetite for more. But don't despair. You can always come back again. And often will. If you have any sense you will, that is. So let's get started.
5 Fountains not to miss in Rome
Start with the Trevi Fountain (Fontana di Trevi). Why? Haven't you ever seen La Dolce Vita? If you go to Rome without having visited the Trevi Fountain your friends and your family will stone you, that's why. It is one of the most famous Italian landmarks and certainly its most famous fountain. It's well-hidden (at the Piazza di Trevi, of all places) and one often hears the thing before actually discovering it. It's huge and cools the air, set up as it was against a pre-existing building in 1762. Neptune reigns here upon his shell chariot, pulled by tritons and the large figures on the sides are said to represent health and fertility. The massive basin is filled with the coins (tossed from behind) of all of those who wish to return to Rome again some other day. You guessed it, there are lots of coins here – and the city collects them every night. It was designed by Nicola Salvi and completed by Giuseppe Panini, commemorating the completion of the Acqua Vergine aqueduct.
Continue from here on to the Fountain of Triton (Fontana del Tritone). Created by Bernini in 1642, this Baroque masterpiece, located at the Piazza Barberini, is certainly one of the most beautiful fountains in the city. This strange figure, half man and half fish, crouched upon his gigantic clam shell, supported by dolphins, has been blowing jets of water into the valves below for over three hundred and fifty years. And he doesn't show any signs of slowing down, either. It's a bit loud, there's a lot of traffic here, but it's a fantastic sight.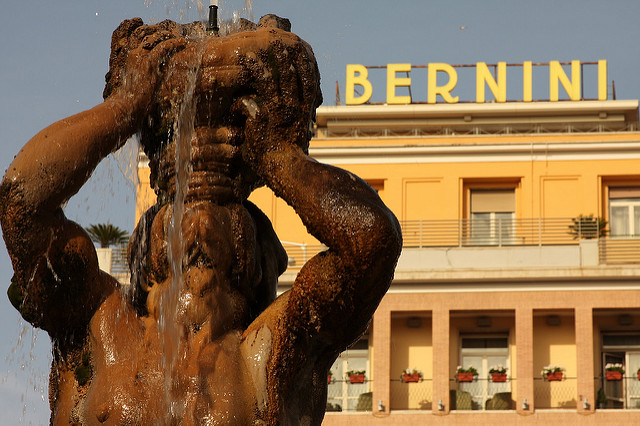 Move on now to the Piazza di Spagna. The Barcaccia (the old boat or bark) is located directly before The Spanish Steps and is my personal favorite. This Bernini sculpture and fountain was his first fountain and stands out from his other work because of its modesty, giving it an appeal all of its own. No crashing torrents of water here, just a slow, pleasant gurgle and the image of a half-sunken ship. Finished in 1629, The Barcaccia is considered to be one of Rome's earliest examples of the Baroque style applied to a fountain.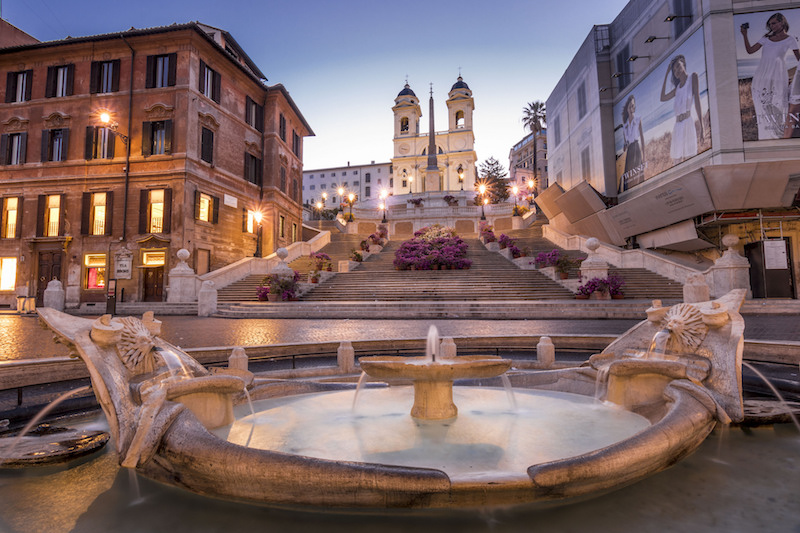 And last but most certainly not least, stop by the Piazza Navona. And bring a lot of time with you. You wouldn't think by looking at the place that they used to hold chariot races here (Stadium Domitian), but I guess a lot can change in two thousand years, right? What hasn't changed much here since the 17th century however is the beautiful Fountain of the Four Rivers (Fontana dei Quattro Fiumi). This is Bernini's symbolic representation of the world's greatest rivers: the Ganges, Danube, della Plata and Nile. It's up to you to figure out which one is which (no, the Mississippi wasn't included so don't ask).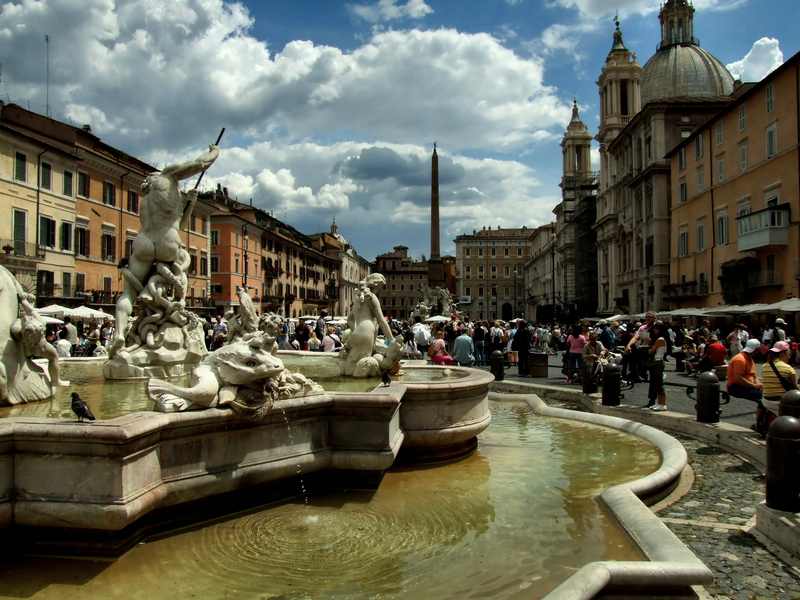 But that's not all. On the southern end of the Piazza Navona you can also enjoy the Fountain of the Moor (Fontana del Moro, also by Bernini) which, very much like the Trevi Fountain, depicts a sea scene with a representation of Neptune. Here he stands in the middle of a group of sea creatures and is surrounded by four Tritons, all blowing water out to their shells. You should take the time to walk around the fountain and spend some time looking at each figure to appreciate the contrast between the various figures and these two great fountains, as well. And while you are at it, enjoy the Fountain of Neptune (Fontana di Nettuno) "next door", a 19th century addition, the sixth fountain of this collection of five (your bonus). At these fountains were filmed some of the best travel movies too!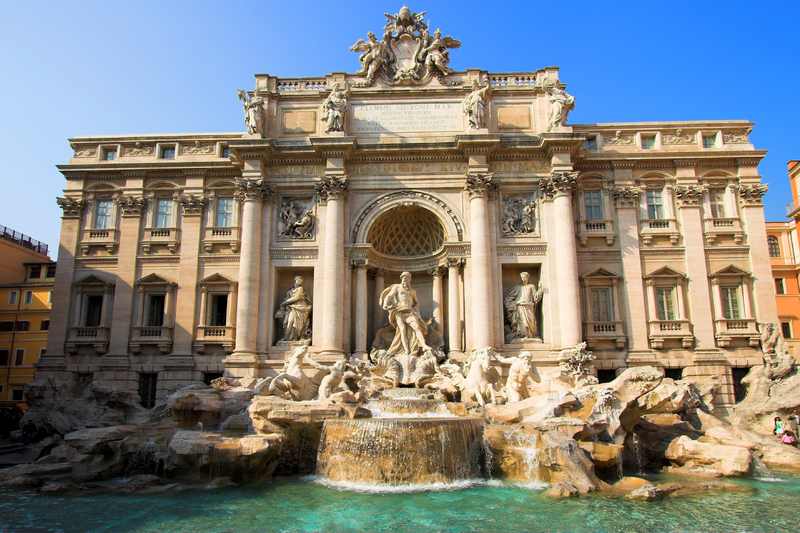 So, off to Rome with you. And once you've been there and seen all of this, then, at the very latest then, will you understand why you might need up to twelve long hours just to look at five little fountains. You just can't pull yourself away from them.