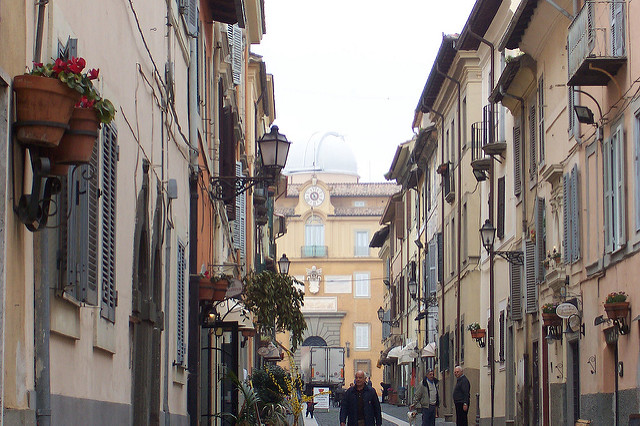 Millions of people every year travel to the Eternal City to drink in her history, art and culture, but right outside the city lies a series of small towns that are equally worthy of exploration. These towns, only about 10 miles outside of the city, cultivate a unique atmosphere with their marvelous food, wine, and rural traditions. This magical place is called the Roman Castles (Castelli Romani), although there are neither castles nor walls. Instead what you will find are towns, lined up side by side for at least 50 miles. Almost right in the middle is the most beautiful of them all, Castel Gandolfo; built over a volcanic lake, it is also the location of the Pope's summer residence.
Castel Gandolfo, Italy
Castel Gandolfo is the place where the Pope receives heads of state and dignitaries during the summer months when he seeks a reprieve from the heat of Rome and Vatican City. Although, it must be noted that the entire Papal palace and the town's main square are actually the property of Vatican City, and therefore compose a foreign land smack dab in the middle of Italian villages.
Even odder is the fact that the town's city hall and post office are located in the main piazza, making Castel Gandolfo the only place in the world with its city hall built on foreign soil. Besides the geopolitical curiosities, Castel Gandolfo is a remarkable place with many great restaurants placed up high so as to offer amazing views of the lake below.
Next to Castel Gandolfo is another small jewel, Nemi, which also has its own lake. Although smaller than Castel Gandolfo's lake the one in Nemi is also of volcanic nature. If you look at the two lakes from above they form a number 8. Nemi is of very important historical value, as it was where the Romans used to race ships and it is also the place that the Roman emperor kept his "villa boat."
Some of these ancient ships were recently recovered and placed in a museum, right on the shore of the lake. Nemi is also famous for its strawberries, which can be eaten all year long. Nearby, there is also the biggest park in the region. Known as Pratoni dal Vivaro this park is acres of forest and grass, known for its horses and as the home of one of the most important Olympic horse centers in Italy, a very exclusive club.
Frascati and Grottaferrata in Castelli Romani, Italy
Just a few miles from the park you'll find the town of Frascati, internationally renowned for its wine, which while not as refined as other Italian wines are quite popular overseas. Frascati has a nice piazza right underneath the huge palace of the Aldobrandini family, which is a true royal residence that has not been maintained as it should have been.
Moving away from Frascati, we encounter Grottaferrata where you'll find a wonderful old Abbey in which ancient Christian Orthodox Greek masses are celebrated. Grottaferrata is also the home of some very wealthy people, whose villas and mansions are scattered and hidden all over. Marino is next, not particularly impressive, but famous for its grape festival, held once a year in October when the town celebrates its grapes and wine. If you happen to be in Marino during that time you'll get to see city fountains spilling out wine rather than water. One unique thing about Marino is that its natural water supply is slightly sparkling, meaning you'll get quite an exclusive drink from the tap.
Albano in Castelli Romani, Italy
Further down the road, there are the towns of Albano and Ariccia. Albano is basically the former ancient Roman city of Alba Longa, which is legendary as the home of the mythic Romulus and Remus, the twin brothers who founded Rome. Passing Albano and the extremely high bridge of Ariccia and you will arrive in Ariccia itself. The joy of Ariccia is that this small town has really retained its original style.
Ariccia is very famous for its porchetta, typical food of the area (entire pork is roasted on a spit and then eaten in slices) so well-known that people will drive in especially from Rome to eat it. While Ariccia was built on a hill, it also spills down to sea level where a large industrial area has developed. This site is very important for the Italian industry, indeed, it is one of the most important industrial sites in the country. Several plants are located here, including those of Johnson and Johnson, but the real wealth comes from the hundreds of mid-sized companies that flourish here, the backbone of the Italian economy.
Velletri, Italy
Velletri is the last town, a bit further and more detached from the others, but no less important. The courts for the entire area are located in Velletri while the nearby town of Lariano is famous for its bread.
It takes no more than a day to visit all these cities and it's really worth the trip if you're in Rome. A great plan would be breakfast in Velletri, after which stop in Ariccia to sample some porchetta. Move on to have lunch in Castel Gandolfo and enjoy the lake before eating some strawberries in Nemi. Take tea or eat ice cream in Grottaferrata and then head on to a lovely dinner in Frascati before returning to the city.