A half-hour drive from Rome, you will reach the beautiful Lake Bracciano and feel like you are in another world.
Largely considered to be one of Italy's most important lakes, Bracciano is also the second-largest in the Lazio region after Bolsena. And it's not just tourists who flock to Bracciano, but Romans as well. The locals are often looking to escape the hustle and bustle of the big city and Bracciano, with its natural beauty and ban on powerboats, is just the ticket for some relaxation, sunbathing, and water sports like canoeing.
The lake is kept calm and clean because it is protected, both as a part of the area's national park and also because it is a water reservoir for Rome. You won't regret the quick drive or train ride from the Eternal City to discover this lake, surrounded by greenery and olive groves, quaint villages, and the imposing Orsini Odescalchi Castle.
Origins of the Bracciano Lake
Lake Bracciano can trace its origins back to the intense volcanic activity that took place in the area between 40,000 and 60,000 years ago. This activity led to several small volcanoes created in the vicinity of the modern-day lake; the caldera that was created by their eventual collapse is now occupied by Lake Bracciano. In some places around the lake, you can still spot some tell-tale craters.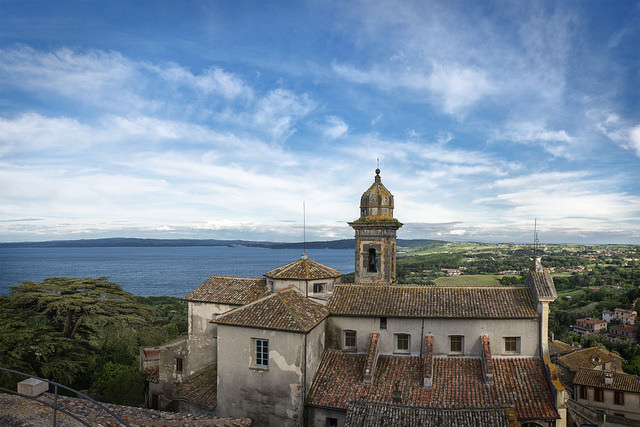 Popular destinations around Lake Bracciano, Italy
Bracciano
One of the most important towns along the shore of the lake, Bracciano is where people flock to enjoy water sports like sailing and to see gorgeous structures like the town's medieval castle. Castello Odescalchi is located on top of a hill, shadowing the land below, and is a popular spot for lavish events like weddings. Tom Cruise and Katie Holmes swapped vows here and more recently American Beauty's Mena Suvari held her wedding reception at the castle after saying "I do" with her Italian beau in Vatican City.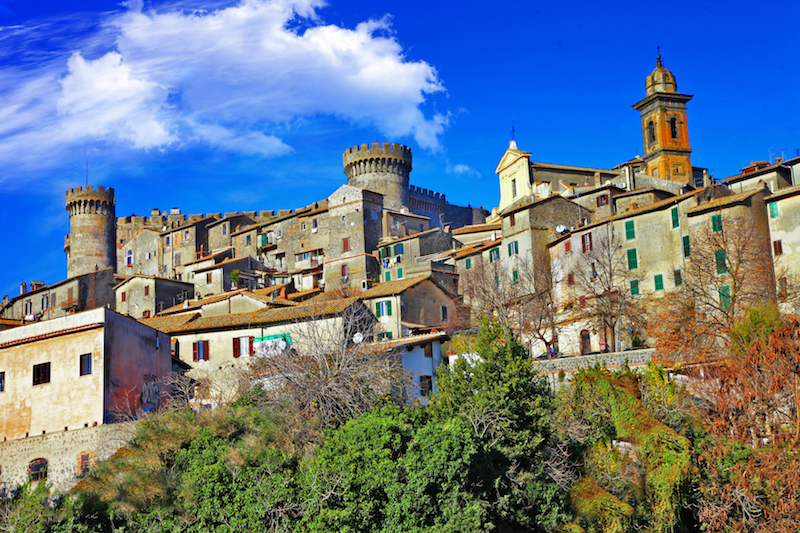 The church of San Liberato is located only 3 kilometers outside Bracciano and had once been a part of Forum Clodii, a Roman settlement. Today the church is surrounded by a herb garden and is part of the English-style gardens of the Villa San Librato, which had been designed in 1965 by Russell Page for Donato Sanminatelli. The ancient ruins of Aquae Apollinaris, a complex of various Roman baths, are also located close to the villa.
Near the lake, you can visit Vigna di Valle, the current home of the Aeronautica Militare Italiana museum. The four hangars of the museum display some historical military aircraft including famous planes like the Panavia Tornado, Caproni Ca. 100, F-104 Starfighter, Savoia Marchetti S 79, and Supermarine Spitfire. Every year the museum hosts an air show at the airport.
Anguillara Sabazia
If you visit Anguillara Sabazia, located on a small cape on the lake, you will likely be impressed by its beautiful beach and medieval town center. Just outside the town is the smaller Lake Martignano, which is also quite popular with tourists. Fun Fact: Anguillara Sabazia was used as the location when Ray Romano's TV family in Everybody Loves Raymond headed to Italy on vacation.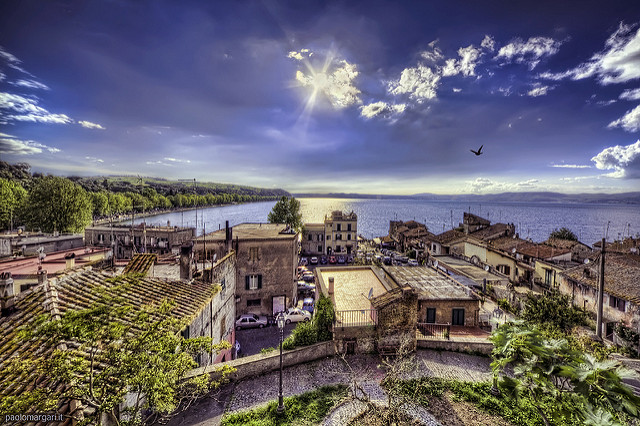 Trevignano Romano near Lake Bracciano
A small town with a population of around 5,000, Trevignano Romano is located about 47 kilometers from Rome and is quite famous with tourists since it is home to several interesting monuments and historical buildings.
The town's castle was built by Pope Innocent III in 1200 and centuries later was removed by the Orsini family. In the past, the castle was surrounded by three lines of massive walls that were eventually destroyed by war and earthquakes. Sailing is one of the most popular activities in Trevignano and several clubs offer sailing lessons to visitors.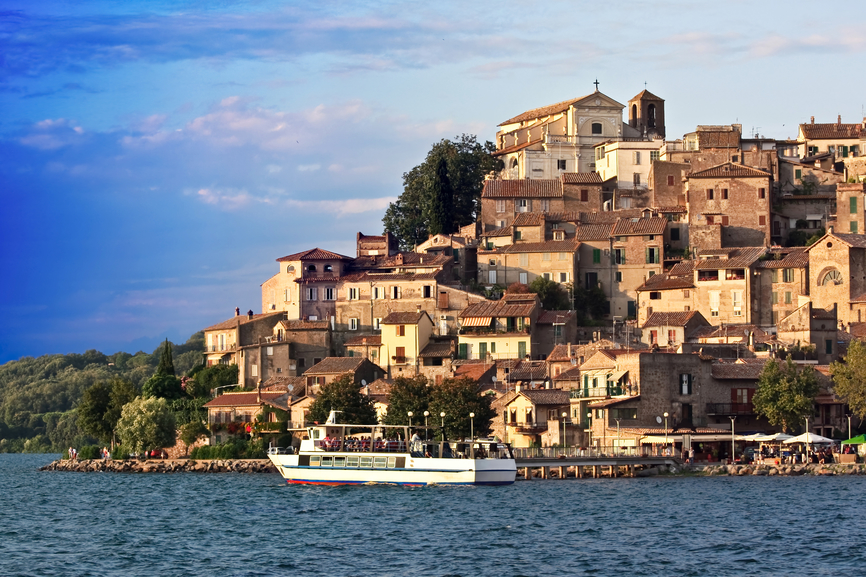 La Marmotta
Just outside Anguillara Sabazia, you will find La Marmotta, famous for housing the remains of a Neolithic village located on the lake's shore. It is believed that this village dated back to 5,700 BC and several excavations have taken place here over the years. It is believed that the ancient Marmottans originated quite a ways away until eventually making their way upriver to Lake Bracciano. Their culture is thought to have been quite advanced and there had been no other gatherers or hunters in the area before their arrival. The entire area was at their disposal and recent discoveries show that these settlers had domesticated plants and animals as well as polished stone tools and ceramic pots.
The Marmottans raised goats, sheep, cows, and pigs in small numbers. Several varieties of crops like barley and wheat were cultivated by them and they collected the other crops from the woods—including opium poppies. It is known that these settlers also cultivated flax in order to make linen from it. The area is quite interesting for those who are interested in archaeology and ancient cultures since La Marmotta is known to be one of the oldest settlements in the region.
If you're fleeing Rome then you'll want to head to Bracciano – whether for a few weeks or a few days you won't be bored here. From sailing to canoeing, sunbathing to exploring the lake, its traditions and the villages that surround it offer much to see and do. Also, if you're looking for some outdoor activities at the lake, definitely consider cycling at Lake Bracciano. It can be an experience for life!