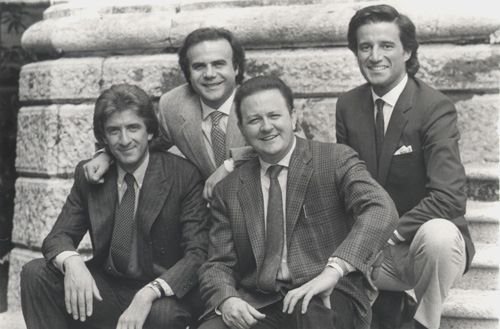 It all began in 1983 with Vacanze di Natale (Christmas Holidays), a comedy by Italian directors and screenwriters Carlo and Enrico Vanzina. The movie reunited most of the actors who played in the successful movies Sapore di Mare (Taste of the Sea, 1982) and Sapore di Mare 2 – Un Anno Dopo (Taste of the Sea 2 – One Year Later, 1983). The two romantic comedies were set in 1960s Italy amidst the economic boom of the time and played heavily on the nostalgia card. These films were aimed squarely at the Baby Boomers, who were teenagers in the 60s. On the other hand, Vacanze had a contemporary setting and played on the antics of the nouveau riche in the Italy of the Eighties, during the second economic boom. The plot followed the lives of two families, a rich one and a poor one, during a Christmas holiday in the exclusive winter retreat of Cortina d'Ampezzo. The movie was a mix of a light love story between members of the different families and funny episodes sparked by the different lifestyle of the two heads of the families. Many subplots and one-off comedy sketches, heavily inspired by the most popular memes of the time, filled out the plot of the movie.
This formula proved to be a huge success among Italian moviegoers. From then on, producer Aurelio De Laurentiis–first with the Vanzinas as directors and screenwriters, then with director Neri Parenti–began producing movies to be always released at Christmas. For many years, their main leads were Christian De Sica and Massimo Boldi. The quality of the movies, from a critical point of view, deteriorated year after year, leaving behind the criticism of modern life and leaning heavily on the simplest parody of current popular events and memes, not dissimilar to cheap spoof movies like the Scary Movie series or the 1960s british carry-on flics.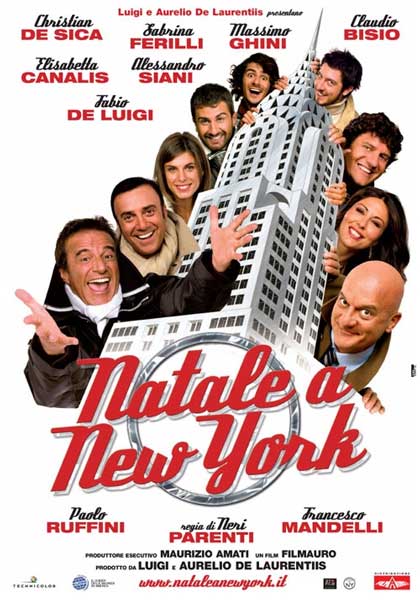 Movie critics regularly lambast these movies for their limited artistic ambitions and for being characterized by a very popular vulgar comedy, often based on cheap puns, gross sexual innuendos and double meanings. In addition, critics argue that the movies lack a proper plot, which is instead replaced by a light framework "story," written artfully for the routine performances of the main actors and to show off the supporting actors, who often are celebrities of the moment lacking any acting ability.
Nevertheless cinepanettoni, as these movies are called, are always a big hit at the box office, and are met with favor by the general public. To put this in perspective, James Cameron's blockbuster Avatar was released globally between December 16 and 18, 2009, but was only released in Italian cinemas in January, because distributors were well aware the movie may not have fared well against that year's cinepanettone.
And while this movie genre is heavily despised by film connoiseurs and snobs, there are those who find positive qualities in them. From a narrative point of view, Christmas movies are often common and repetitive, as well as coarsely produced. They are a bit like cinema's flat-pack furniture: each of them can be disassembled, crushed and reassembled with ease. They are simple movies, but not dishonest. According to some, they are not really so different from films made in the fifties, like those of Toto. Nostalgia aside, these films also have the important task of reviving and getting work for the Italian film industry and are the only ones that can reach the box office results of major foreign productions.
A partial list of cinepanettoni:
Vacanze di Natale (1983)
Vacanze in America (1984)
In 1990 Christian De Sica was promoted to main lead and was joined by Massimo Boldi. The duo enjoyed a long and successful partnership in:
Vacanze di Natale '90 (1990)
Vacanze di Natale '91 (1991)
Anni 90 (film) (1992)
Anni 90 – Parte II (1993)
S.P.Q.R. 2000 e ½ anni fa (1994)
Vacanze di Natale '95 (1995)
A spasso nel tempo (1996)
A spasso nel tempo: l'avventura continua (1997)
Paparazzi (1998)
Vacanze di Natale 2000 (1999)
Body Guards – Guardie del corpo (2000)
Merry Christmas (2001)
Natale sul Nilo (2002)
Natale in India (2003)
Christmas in Love (2004)
Natale a Miami (2005)
The Boldi – De Sica duo split in 2005 and each one went on to star in his own series of movies:
De Sica
Natale a New York (2006)
Natale in crociera (2007)
Natale a Rio (2008)
Natale a Beverly Hills (2009)
Natale in Sudafrica (2010)
Vacanze di Natale a Cortina (2011)
Colpi di Fulmine (2012)
Colpi di Fortuna (2013)
Boldi
Olé (2006)
Matrimonio alle Bahamas (2007)
La fidanzata di papà (2008)
A Natale mi Sposo (2010)
Natale a Parigi (2011)
Since 2012, Boldi has turned his interest to the "tele-panettone" creating a series of straight to tv series filmed exculsively for Mediaset, shown around Christmas. He inaugurated the new trend in 2012 with Natale a Quattro Zampe, where usual comic antics from cunning and naughty protagonists were paired with those of their pets.
2014 Cinepanettone without Christian De Sica
Un Natale Stupefacente (2014)
Last year's cinepanettone was in the hands of a different duo, Lillo and Greg. Un Natale Stupefacente  starred Lillo and Greg, a well known Italian comic duo, and saw them in charge of their on-screen nephew, a lively 8 year-old, whose parents were erronously accused of growing illegal drugs in their garden. Uncle Remo (Lillo) and uncle Oscar (Greg) showed to have very different views on life and on education, which made for a lot of extremely funny situations.
2015 Cinepanettone
After one year break, Christian De Sica is back on Italy's Christmas's screens with this year's Cinepanettone, Vacanze ai Caraibi. Directed by Neri Parenti, known by many for having been the director of many Fantozzi movies, it promises to be a fun fest.
In it De Sica, who appears in his 16th Christmas movie, has a great parterre of sidekicks, including Angela Finocchiaro, Luca Argentero and Massimo Ghini. The movie is divided into three indipendent episodes: in the first De Sica and Finocchiaro play a couple whose daughter wants to marry a much older man (Ghini). The two, of course, try all they can to avoid the wedding, until they find out Ghini's pretty rich and his money could solve their financial issues… Or is it?
The second episode tells the story of Fausto (Argentero) and Claudia (Ilaria Spada) who meet on holiday and are taken away by an uncotrollable passion. The two are so into each other they decide to leave their partners to stay together, but unfortunately there is very little in common between the two, beside what happens in the sack. This of course originates a number of hilarious misunderstandings. The third and final episode of the movie sees Dario Bandiera interpreting a tech addict landing on a secluded island alone with his tablet. Of course, there is no internet reception and the man finds himself unable to live without the precious support of its gadget. What will happen to him?
The movie hits cinemas on the 16th of December. If you are in Italy, you should definitely check it out: il cinepanettone is certainly one of our most famous Christmas time rituals!
Cinepanettoni in 2016
The year 2016 was quite prolific in terms of cinepanettoni. December saw on the big screens first Un Natale al Sud, with Massimo Boldi, followed by Natale a Londra – Dio Salvi la Regina (Christmas in London – God Save the Queen) and Fuga da Reuma Park (Escape from Reuma Park), the first one with Lillo & Greg, the second with the trio Aldo, Giovanni e Giacomo. Poveri ma ricchi (Poor but rich), featuring Christian De Sica, is the last cinepanettone to come out. According to critics, all these movies of similar style and intent in one month are counterproductive, as the cinepanettoni lovers will have to choose which one they want to see. And the income at the box office seems to confirm it.
Trailer of Un Natale al Sud, 2016 Cinepanettone
By Andrea Nicosia, updated by Francesca Bezzone