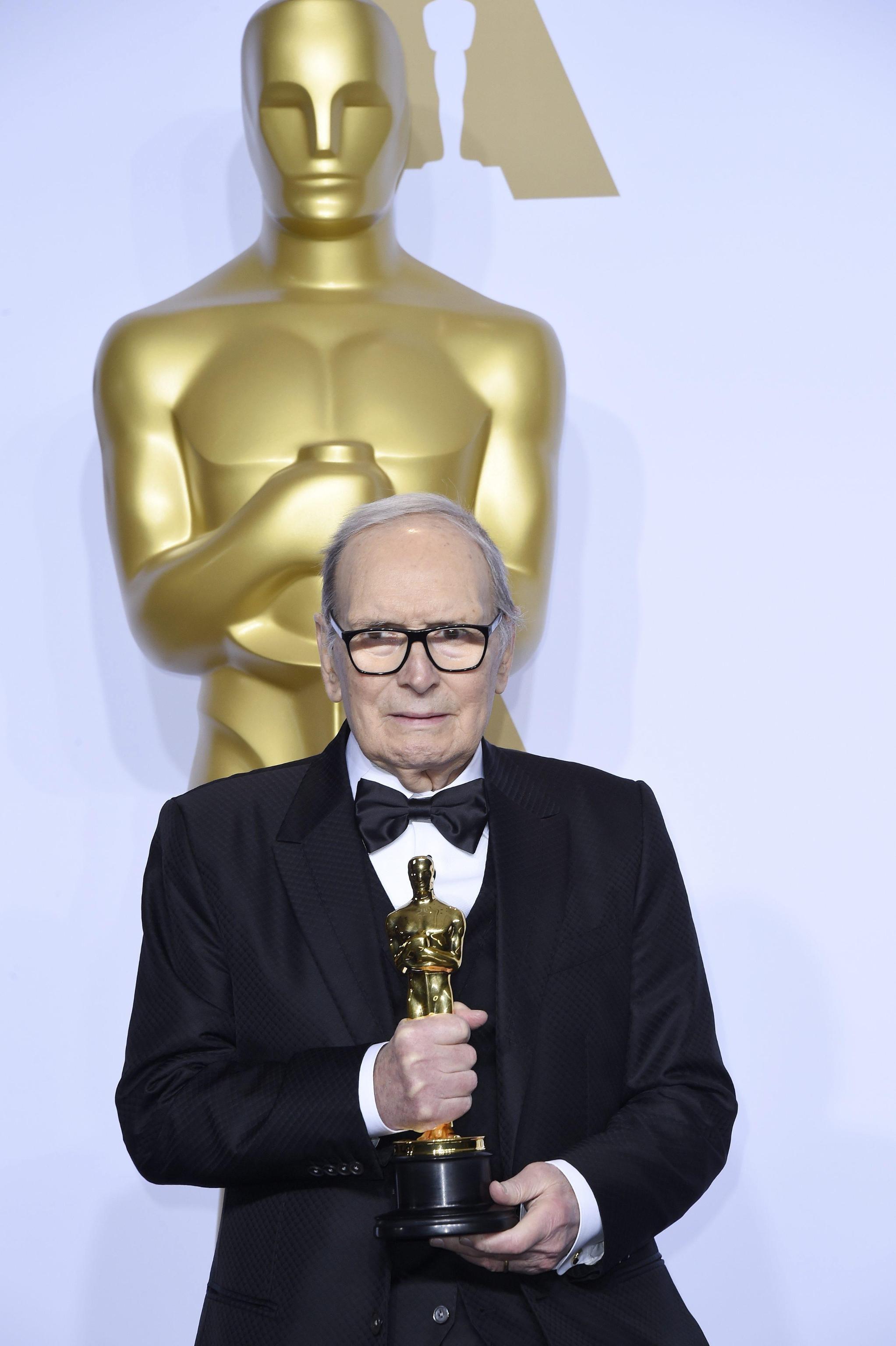 Ennio Morricone, one of the most influential composer of the last century dies at 91 on July 6 2020.
Between 1979 and 2001, Morricone received 5 nominations, but – rather surprisingly, if you allow me – never won. He was nominated for Days of Heaven (1978), The Mission (1986), The Untouchable (1987), Bugsy (1991) and Malèna (2001). According to Morricone himself, not obtaining the Oscar for The Mission's score remains one of his greatest disappointments.
His collaboration with Tarantino for The Hateful Eight, the movie for which he won the other night, comes after something only marginally short of strenous, old-fashioned courting on Tarantino's behalf: always a fan, the American director had never managed to collaborate with Morricone (even though he did ask the Maestro to write the score for Inglorious Basterds, but, because of time constraints, Morricone had to refuse), but did use some of his compositions in previous movies. In Kill Bill vol. I, Tarantino chose a piece originally composed for Giulio Petroni's 1967's Death Rides a Horse, and selected a staggering eight compositions by the Italian Maestro for Inglorious Basterds. 
When Tarantino came to Italy in 2015 to collect a number of David di Donatello he had received throughout the years, he finally met Morricone and their first collaboration was born.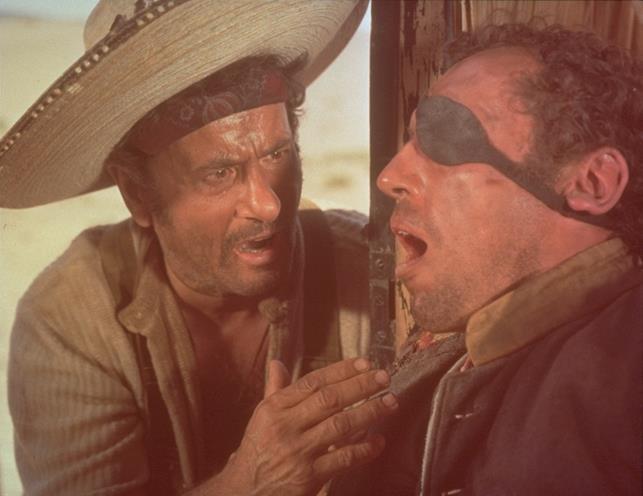 Everyone knows at least one of Morricone's works, even if they may not be aware he is the talent behind the notes. His longest collaborations are certainly those with Sergio Leone, in the 1960s and 1970s, undisputed king of the Spaghetti Western genre and, more recently, with Giuseppe Tornatore: beside Malèna, which we mentioned already and which stars, by the way, fantastic Monica Bellucci, Morricone scored the music of Tornatore best known international success, Cinema Paradiso. 
He also collaborated with, among others,  Bernardo Bertolucci, Pasquale Festa Campanile, Henri Verneuil and immense Italian artist and intellectual Pier Paolo Pasolini, in The Hawks and the Sparrows, Teorema, The Decameron, The Canterbury Tales, Arabian Nights, and controversial Salò, or the 120 Days of Sodom. 
Theme from 1986's film "The Mission," directed by the Maestro himself. 
Ennio Morricone: his life
Ennio Morricone was born in Rome in 1928, Morricone is not only a composer, but also a musician and a orchestra director. He composed the scores for more than 500 movies and tv series; among them, more than 60 won prizes. He graduated from the Conservatorio di Santa Cecilia (Rome's best known music school), specialising in trumpet, brass instruments and composition. In the latter, he would received a score of 9.5 out of 10, a hint to the beautiful future as a composer he had ahead. He also studied choir music and direction.
If something can be said about Morricone's early career, it is certainly that he worked his way up: he started playing trumpets in local bands for little money, creating, though, an essential network of acquaintances in the Roman music scene, which was to become essential later in his career.
If you had the luck to walk into Morricone's personal office, you would likely see his own collection of prizes: three Grammies, three Golden Globes, six Baftas, ten David di Donatello, eleven Nastri d'Argento, two European Film Awards, a Leone d'Oro alla Carriera (an honorary Leone d'Oro), a Polar Music Prize and, of course, his 2007 Honorary Oscar.
To this, now, you can add his long due, highly deserved 2016 Academy Award. 
In 1955, he began writing music for the cinema and, one year later, he was to marry Maria Travia, to whom he dedicated his 2016 Oscar. The two have been together now for 60 years.
In the 1960s, he collaborates with Mina, for whom he wrote the music of Se telefonando, and began his iconic collaboration with Sergio Leone. A curiosity, Leone and Morricone were classmates in primary school. In 1964, he also became member of avant guarde music group Nuova Consonanza, with whom he remained until 1980. The group, who mostly improvised, seeking new sounds and musical improvisation methods, also included other known figures of Italy's musical panorama, such as Franco Evangelisti, well known name of the Italian and European musical avant guarde.
In the 1960s he also befriended famous painter Eva Fischer, who used to be Morricone and his wife's neighbor in Trastevere. Their artistic connection and friendship lasted through the decades and resulted in a collection of 12 compositions inspired by Fischer's work, published in 1992. With the CD came a book with the reproductions of Fischer's paintings Morricone's music inspired.
Morricone received his first important prize, the Nastro d' Argento, for his score of A Fistful of Dollars, in 1965. From there on, his career has been a continuous series of successes and beautiful music. The first Oscar nomination, as we said, came in 1979 and he collected other 4 nominations before winning this year. Since then, Morricone continued collaborating with several directors, to create some of the best creative and artistic partnerships between music and cinema, as well dedicating time to classical music.
He has four children: three sons, Marco, Andrea (himself a composer) and Giovanni (a film maker) and a daughter, Alessandra.
Morricone's theme for "A few Dollars More," one of the best known of Sergio Leone's Spaghetti Western.
What he won
The list of Morricone's professional success is endless. Among his most prestigious wins, we should remember:
3 Golden Globes for The Mission (1987), The Legend of 1900 (2000, directed by Giuseppe Tornatore) and The Hateful Eight (2015).
1 Italian Golden Globe for Il Lungo Silenzio (1993)
4 Grammy Awards for The Untouchables (1988, directed by Brian De Palma), Once Upon a Time is the West (for best instrumental performance, in 2007), The Good, the Bad and the Ugly (the Grammy Hall of Fame, in 2009) and one for his career achievements in 2014.
11 Nastri d'Argento (the Silver Ribbon is an Italian cinema prize awarded by the Italian National Association of Cinematographic Journalists. Instituted in 1946, it is said to be the oldest movie award in Europe) for A Fistful of Dollars (1964), Metti una Sera a Cena (1970), Sacco e Vanzetti (1972), Once Upon a Time in America (1985), The Untouchables (1988), The Legend of 1900 (1999), Canone Inverso (2000), La Sconosicuta (2007),  I Demoni di San Pietroburgo (2008), Baarìa (2010) and The Best Offer (2013)
6 BAFTA Awards for Days of Heaven (1980), Once Upon a Time in America (1985), The Mission (1987), The Untouchables (1988), Cinema Paradiso (1991) and The Hateful Eight (2016).
10 David di Donatello (another important Italian movie prize, considered one of the most representative in Europe) for Gli Occhiali d'Oro (1988), Cinema Paradiso (1989), Stanno Tutti Bene (1990), Jona Che Visse nella Balena (1993), The Legend of 1900 (1999), Canone Inverso (2000), for his career (2006), La Sconosciuta (2007), Baarìa (2010) and The Best Offer (2013).
Morricone: his music beyond cinema
"Ecstasy of Gold," from "The Good, the Bad and the Ugly" soundtrack
With a career spanning over 70 years (he began composing in 1946), it comes as no surprise to know Morricone's musical repertoire is immense, to the point that listing it all would require way too much space. If you are curious though, you can find a full list of his compositions on his website.
Even if Morricone is universally known for his contribution to cinema, his career in classical and avant guarde production went on parallelly. Between the 1950s and today, he composed around 120 pieces, including concerts, studies, cantatas, as well as religious music, including last year's Missa Papae Francisci, dedicated to Pope Francis.
A number of pop and rock artists have admitted to owe a lot to Morricone's talent: Pet Shop Boys sought his collaboration in 1987, for the song It couldn't happen here,  Radiohead declared to have found inspiration for one of their most successful – and beautiful – albums, Ok Computer, in his music. He wrote music for artists such as Paul Anka, Zucchero, Mina and Andrea Bocelli.
Muse and Metallica use his music during their live perfomances and U2's iconic guitarist, the Edge, declared the song Magnificent, from the band's No Line on the Horizon album, is dedicated to him.
Morricone: his words
"Music's untangible, it has no physical features, it's just like a dream. It exists only when it's played, it becomes body and flesh in her listeners' mind. Poetry doesn't need to be interpreted, words have their own meaning: music's not like that. You can interpret music in so many ways… A piece describing a war scene could be read by someone as the score to a frenzied dance."
"Sergio Leone's movies are masterpieces. Full Stop."
"I don't write music for fame. I write it for myself."
"Before all, Music demands you search your soul. Then, that you express what you found in its score and execution."
"I'm convinced that, in one or two hundred years, when they decide to really understand what we were, it'll be thanks to movies' scores they'll understand it."
"Being original is getting harder and harder."
 Morricone's Primo Studio per Pianoforte, dedicated to his son Andrea 
A few curiousities to end: Ennio Morricone is a honorary citizen of several Italian towns and villages, including Bagheria, which conferred the honor to him in 2006, just a few years before he was to compose the score for Tornatore's movie, Baarìa, dedicated to the Sicilian town where he was born. He is a supporter of AS Roma soccer team and he has had the coolest thing of all named after him: an asteroid, the 152188 Morricone.
Francesca Bezzone