If you want to  experience some Italian spirit in America, food is a good place to start, and what  better place to try it than the oldest Italian restaurants in the US?
There are many beautiful things we share, two of them are the love for good food and the attachment to our country. Italian-Americans made of both a mark of distinction and we Italians, I sometimes think, should take a page off our US cousins' book and learn how to love our country a bit more.
But it's not the right time to talk about that, let's focus on food.
The oldest Italian restaurants in the US: a bit  of history of Italian American food
Italian and Italian-American food are definitely not the same thing. Purists would argue that Italian-American food should not be considered "Italian," but to be honest I don't agree with them. I mean, I draw a line at putting mushrooms in carbonara and using pesto with chicken, but there are plenty of delicious Italian-American recipes and deserve to be appreciated, which you can try in some of the oldest Italian restaurants in the US.
It's true: Italian-American food is very different from the original deal, but it couldn't be more Italian in its essence, because it brings together, in one single and tasty stroke of culinary genius, that creative flair and attachement to the Fatherland Italians of all times had been known for.
You see, Italian immigrants missed home: and what do Italian do when they miss home? They take their homesickness into the kitchen and cook. This is what all those hundreds of thousands of people must have done, decades and decades ago, they cooked and ate and spoke about their land. But they did so using what was more widely available and cheaper in their new country. And voilà! Italian-American cuisine was born.
The Italian community was bound to enter the culinary business in the US and many did just that, especially at the beginning of the 20th century, the moment when the immigrational flux reached its apex. The amazing thing is that some of them are still open and thriving today, in the very same spot where their owners' forefathers set them a century ago.
Places worth a definite visit, and not only to get dinner, but to understand a bit more about the amazing complicity of love between Italy, the US and their people.
The oldest Italian restaurants in thee US: 1886,  Fior d'Italia
The oldest Italian restaurant in the US opened its doors in 1886 in San Francisco, its name as poetic as only good food can be sometimes: Fior d'Italia, flower of Italy (but also "the best of Italy"). Its founder was Angelo Del Monte, who soon expanded the business by getting others to join the venture, including his historical business partner Armido Marianetti. The restaurant managed to survive the 1906 earthquake and became a local institution when it opened up a week after the tragedy in a small shack, serving free soup to the homeless.
Marianetti was to become the sole owner of Fior d'Italia. Starting in the 1970s, the restaurant changed ownership a handful of times, the most recent in 2012, when its temporary closure was felt by many locals as a truly occurance for the historical heritage of the Bay. Thankfully, Chef Gianni Audieri and his wife Trudy took up the challenge and managed to bring back this little gem of Italian-American culture back to life.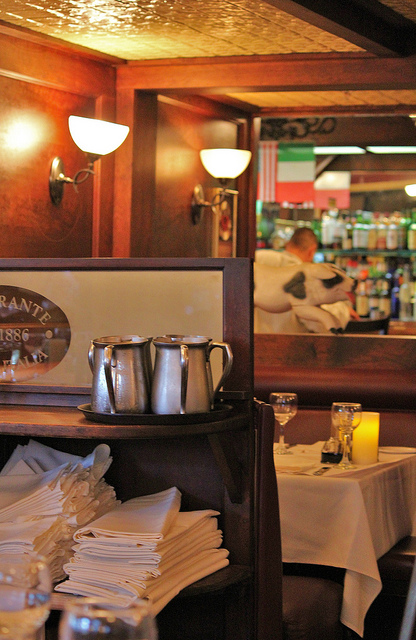 Fior d'Italia offers today a deliciously traditional fair of Italian cuisine, including escargots, burrata, cabbage soup, tortellini alla panna, pumpkin ravioli, pesto trenette, several varieties of risotti, ossobuco, chicken alla Valdostana.
To Italian eyes, Fior d'Italia' s menu is the most Italian of all those proposed by the restaurants of this article, so if you want a taste of authentic Italy and are around the Bay, you may like to give it go.
1900: Ralph's Italian Restaurant
Located in South Philadelphia, Ralph's Italian Restaurant has been delighting hungry customers since 1900. Francesco Dispigno, its creator, had just moved to the area when he realized it was the perfect place for an Italian restaurant. The thought became reality when he and his wife rented out a building at 901 Montrose Street and opened up Ralph's, 119 years ago. Within a decade, the eatery was so well known the  couple had to invest in a new, larger location at South 9th Street.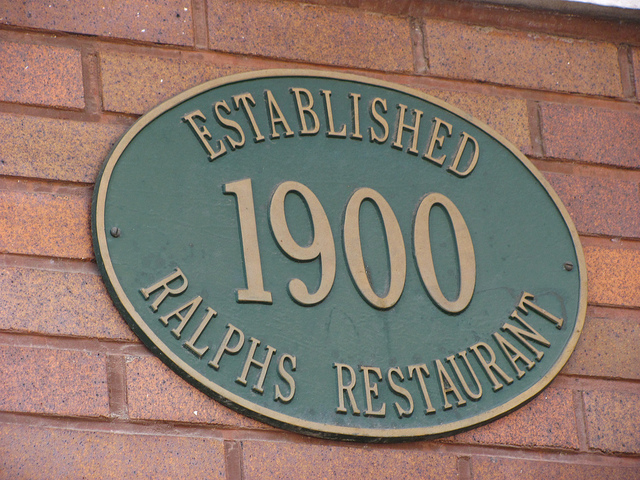 At Francesco's death, in the 1930s, the lead fell into the hands of his son Ralph, who quickly became one of the most relevant businessmen of the area. Since then, Ralph's Italian Restaurant has been synonym with good food and "family:" it hasn't only been owned by the Dispigno's family, but also always operated by them: Ralph Jr. (Francesco's own grandson) in 2016 was still very much active on the restaurant's floor, at the fantastic age of 87.
What a  beautiful Italian-American story.
The menu is quintessentially Italian-American, with good pasta dishes, Chicken Alfredo, and loads of Alfredo's varieties and delicious veal parm. At lunch, try a selection of the wider dinner menu, which include classics such as spaghetti meatballs, manicotti, egglant parmigiana and sandwiches.
1899: Dante and Luigi's Corona di Ferro
Established in 1899, the Corona di Ferro restaurant is another Philadelphia institution. Legend says that Italian immigrants of the early 20th century would go around with a scrap of paper with the restaurant's name pinned on their lapel. Many of them would find a job there, and live in the rooms just above its kitchens. Today, Corona di Ferro offers a more traditionally Italian menu, with risotti and a large variety of pasta shapes available. Ossobuco with risotto alla Milanese, saltimbocca alla Romana, livers and lasagne al forno are some of the other delicacies proposed in the restaurant. Of course, the ubiquitous Alfredo sauce is there and so are typically Italian-American concoctions such as chicken with pasta, but the overall feel is of an Italian-American restaurant with a bit more of an Italian accent.
1906: Barbetta
Barbetta Restaurant has been around since 1906 and is a sort of an institution in New York city. Founded by Sebastiano Maioglio and owned still today by his daughter Laura, Barbetta is the oldest Italian restaurant in New York and the oldest restaurant of the city's theatre district. The place's not only known for its food, but also for the historical and architectural value of its location, which has been recognized as a landmark by the Locali Storici d'Italia association, the only US estabilshment to have received the honor. So beautiful and iconic it is, that Barbetta has been chosen in more than one occasion as backdrop to famous movies and tv series. You may recognize its décor while watching Woody Allen's Alice and Celebrity, Martin Scorsese' s The Departed and tv series Mad Men and Sex and the City.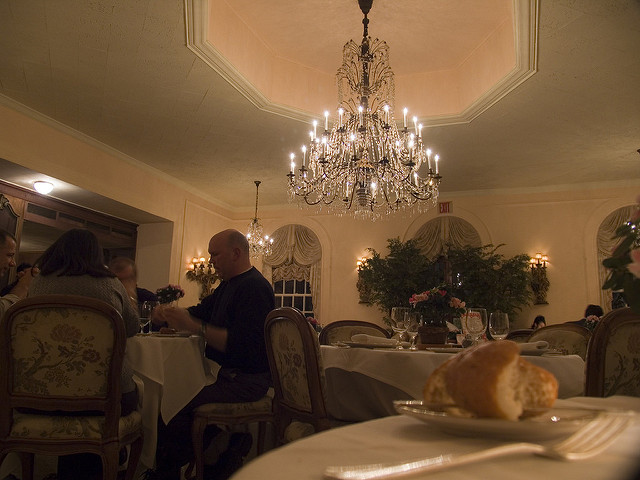 Barbetta' s an Italian restaurant through and through, serving northern Italian – piedmontese, in particular – cuisine since it first opened. It's known for dishes which taste and smell of Langhe and Alps: fonduta, carne cruda, "bagna cauda," bue al Barolo. In 1962, Laura Maioglio started importing white truffles from her father's homeland, making of Barbetta's the best place in NY to try this delicacy.
The restaurant's menu is not only and exclusively interested with tradition, but also with creativity and novelty. Chefs work as a team in the kitchen and are invited to create and propose new dishes for the menu on a regular basis.
1924: Jeveli's
Jeveli doesn't sound like an Italian surname: well, that's because when, in 1899, Pasquale came to the US, his surname was different. Because of a clerical error at Ellis Island, the original "Ievoli" became Jeveli and that version stuck with the family. Pasquale joined the US Navy and fought the Spanish-American war, at the end of which he got married and had six children. He and his wife Agata opened their restaurant in east Boston in 1924, and it has been run by their family ever since. As it often happens, they started small, with space to seat only about 30 people.
Throughout the following decades Pasquale's children took care of the restaurant and Ted, the youngest, eventually took up the business in 1957, involving his wife and daughters into the business: Jeveli's became then an entirely family-run business. Ted's also noticed the popularity of his food called more and more diners to Jeveli's, and added extra rooms to the original location, bringing its capacity at around 230.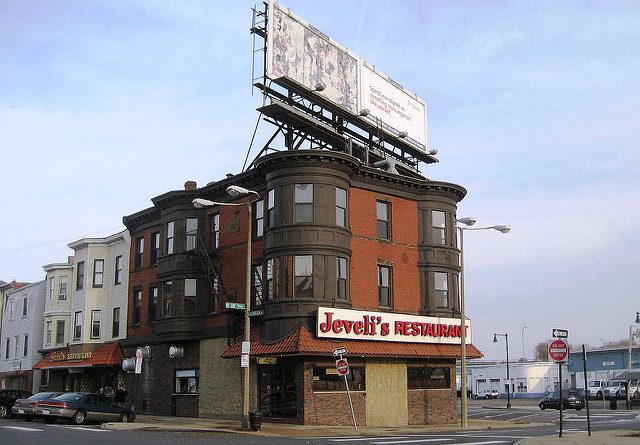 Modern day Jeveli's is still run by the same family and proposes a typical italo-american menu with a selection of chicken marsala, eggplant parmigiana, sausage cacciatore, shrimp scampi and linguine and more. Deliciously tempting are also its sandwiches, with filling like Italian sausage, eggplant parmigiana, meatballs.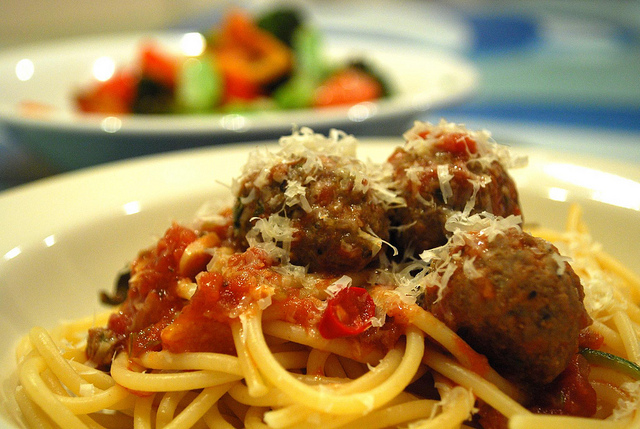 I must admit I'd love to try these places out someday… Readers of Lifeinitaly: have you been to any of them?
Are this restaurants still authentic Italian restaurants or are they Italian-American?