Italian-American Crooners Speaks the Language of Love
As good as the original My Way: America's Got Talent – Sal Valentinetti – Golden Buzzer. Cannot be more Italian American than this guy. A performance at the level of the great Sinatra
The early years
For nearly a century, the tantalizing recorded voice of the Italian crooner has touched the hearts of music lovers everywhere. Modern-day troubadours, Pavarotti and Bocelli carry on this recorded musical tradition, a tradition that began when Enrico Caruso (1873-1921) made his first gramophone recording in Milan, Italy, in 1903. The recording brought the great tenor's voice into thousands of homes. Later, he recorded "La Donna è Mobile" on a ten-inch, Victor Co. disk and became a household name in America.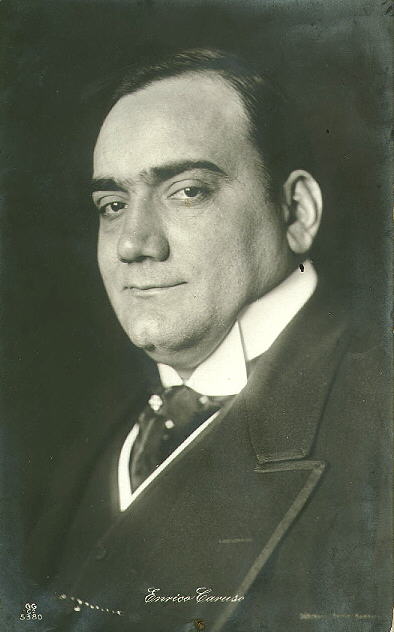 The popularity of the figure of the Italian romantic singer reached a peak in the 1930s, with the stylish recordings of the wildly popular Russ Colombo, known as "The Romeo of Songs". Born Ruggiero Eugenio di Rodolpho Colombo, (1908-1934) the handsome singer was idolized by millions of women. His voice and sex appeal set the standards for the following decade of romantic crooners. Colombo's accidental death in 1934, at age 26, left a cult of grieving fans. Among his best-loved songs: "All of me" (1931) and " Time on my hands" (1931).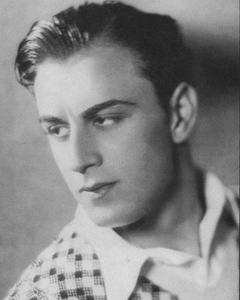 The icons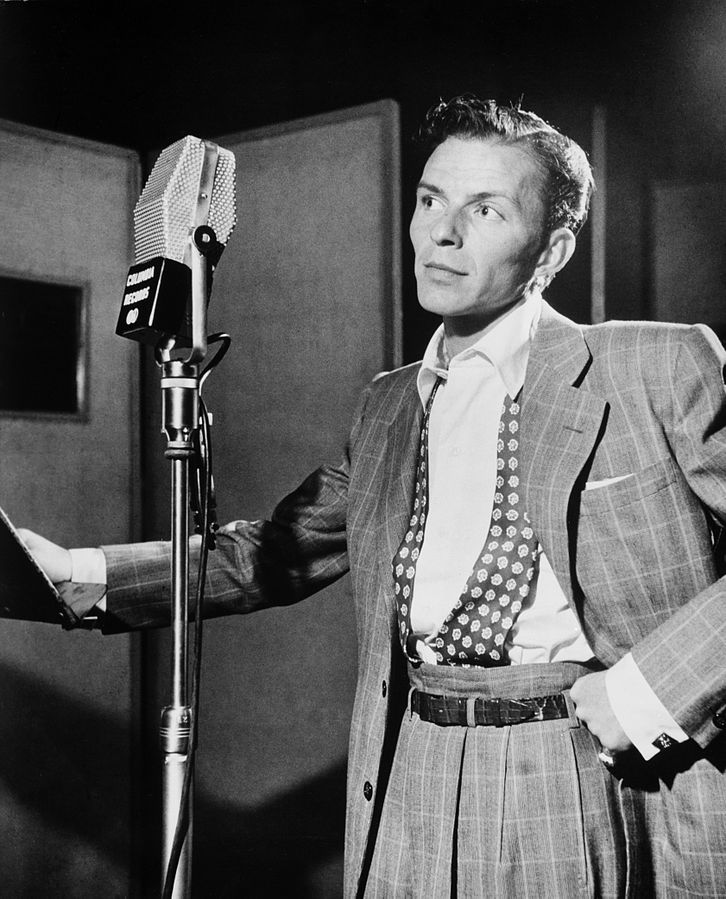 Frank Sinatra
Several years later, a young, Italian kid from Hoboken, NJ, came along and transformed the crooners' game for ever: Francis Albert Sinatra (1915-1998) may have begun as just another Italian singer, but after a career that spanned some 60 years he, still today, holds the crown of most popular singer of all times. He showed us it was possible for a man to sing like an angel and still hold his own in a brawl. Sinatra's smooth, almost causal way of turning a phrase, and his own, unique style of interpreting lyrics was greatly imitated by his fellow singers, but never duplicated.
The Sinatra style was a unique blend of defiant tough-guy and gentle lyricist. His World War Two recordings, "I'll Be Seeing You" and "I'll Never Smile Again" topped the charts week after week and spoke to the thousands of young men and women tragically separated by the war. Sinatra's music touched the heart of a generation in a way no other singer ever has.
Dean Martin
Dino Paul Crocetti, (a.k.a. Dean Martin, 1917-1995) was born to Italian immigrants, Gaetano and Angela Barra-Crocetti. Like many young Italian – Americans, Dino spoke only Italian until he started school at age 5. His early endeavors gave no indication that he had a musical future. He was a steel mill worker, an amateur boxer (kid Crochet) and a croupier in a local speak easy. He later changed his name to Dean Martin and at age 18 made his first public appearance singing "Oh Marie:" the rest is crooner history… Dean Martin's warm, romantic, "Everybody Loves Somebody" type of attitude, endeared him to a generation who loved having a good time and good music. His recording of "That's Amore" remains one of America's most played tunes. Few of us can hear this happy song without feeling just a bit better afterwards.
Perry Como
Perry Como, like most of his Italian-American singing peers, was born to immigrant parents. Como was the seventh son of a seventh son (The sign of good fortune). The first of his parents' 13 kids to become an American citizen by birth, he began his career as a barber who liked to sing. But one day, when band-leader Freddie Calone offered him a job, Como gave up his lucrative $120.00 a week barbershop income to gain $28.00 a week as the band singer.
He married his childhood sweetheart Roselle Belline and through the years, became one of America's most endearing and beloved performers. When interviewed after their 65th wedding anniversary, wife Roselle was asked how they managed to stay so happily married all these years:  "it's not difficult, said Roselle, "when a man and woman commit themselves to God and to their marriage, everything else just naturally falls into place."
Perry Como had 148 top 40 hits during his career, among them: "Prisoner of Love", "Wanted" and "It's impossible."
Mario Lanza
While Dean and Frank were busy forming the "Rat Pack", and Perry Como was starring on a new medium called television, the more serious-minded music lover was listening to a new Italian-American voice. It was only natural that Mario Lanza, (1921- 1958) became a singer: his mother had a beautiful soprano voice and his childhood hero was the great Caruso, who, ironically, died the year Lanza was born. He was christened, Arnold Cacozza, but later took the male version of his mother's maiden name, Maria Lanza. During his career he thrilled millions with his magnificent voice and good looks. Lanza was one of the rare, gifted tenors who could sing "D" flat and high "C". With the same ease Lanza sold over 50 million records, an impressive feat when you consider his short life. His death from a heart attack, at age 38, left an unfulfilled void .
Through his films and recordings, Lanza introduced the masses to opera, who otherwise may never have experienced it. His glorious renditions of "Ave Maria" and "Pagliacci" remain incomparable. Renowned conductor Arturo Toscanini said of Lanza: "He is the greatest voice of the century". His faithful followers will agree. Although Mario Lanza has been gone for decades, his recordings remain popular with his loyal fans, who continue to revere him as the one and only Italian tenor.
Al Martino
Al Martino's beautiful voice, musical styling and matinée-idol good looks earned him a place as one of America's most popular crooners. His recording of 'Spanish Eyes" is among the worlds top 50 most requested songs. Born Alfred Cini, (1927-2009) he worked by day in his family's contruction company, but at night he sang in the local clubs.
It was family friend Mario Lanza who suggested that Martino pursued a musical career. His breakthrough recording of "Here in my Heart" was first given to Mario Lanza, but Lanza suggested that his friend recorded the song instead. The song sold over a million copies, and Martino became the first American artist to hit number one on the British single charts, a fact recorded in the Guinness book of records.
His portrayal of Johnny Fontaine, in Francis Ford Coppola's "The Godfather" and his million-seller version of the "The Love Theme from the Godfather", earned him a new legion of devoted fans.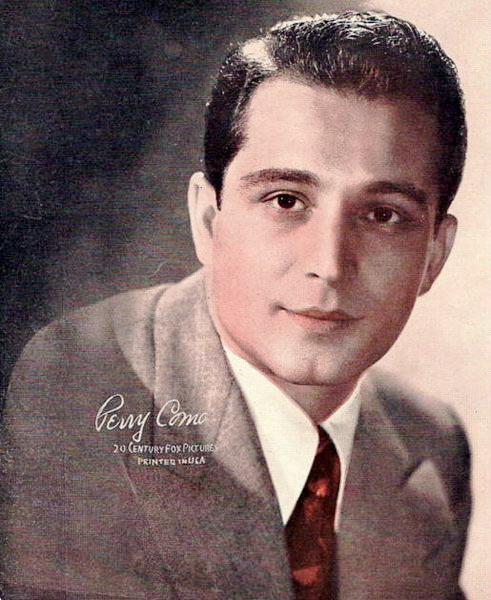 Tony Bennett and Jerry Vale
Tony Bennett, (Anthony Dominick Benedetto, 1926) continues to be a driving force in today's pop music. He began performing in 1952 and his singing style and talent are more popular than ever still today. With the true heart of a Renaissance man, Bennett, an accomplished painter, brings to his music the same passion he displays in his artistry. His classic recordings of "Rags to Riches", "Because of you" and "I Left My Heart in San Francisco" are among his most requested songs.
Jerry Vale was born Gennaro Louis Vitaliano (1932-2014). Vale epitomized the popularity of the Italian- American café performers. His musical mentors were Sinatra and Como; his hit songs includes "Non Dimenticar" and "Pretend You Don't see Her."
…More voices…
Enzo Pinza, (1892-1957) the great voice from Broadway's "South Pacific."
Frankie Laine, born Frank Paul LoVecchio, recorded hit after hit in the 1940s and '50s: "Jelously", " That's my Desire", "High Noon" and the music theme from TV's "Rawhide" are among his best known successes.
Vic Damone, was born Vito Farrinola in 1928 (Damone is his mother's maiden name) and holds the honor of being Frank Sinatra's favorite singer.  "He's got the best pipes in the business" said Sinatra. Damone has recorded some 2,000 songs. Some of his many hits include "I have but One Heart" and "On the Street where You Live:" each of them sold more than 3 million copies.
Jimmy Roselli (1925-2011) was another talented singer from Hoboken.
Bobby Darin (Walden Robert Cassato, 1936- 1972) started out as a rock & roll singer in the 1950s, but his version of "Mack the Knife" made him a favorite of all generations.
Louis Prima, combined New Orleans blues, rock, jazz and pop to create his own unique brand of music, a style that is still revered by his faithful followers.
Julius La Rosa recorded the hit song, "Hey Compari," and created a standard tune played at every Italian-American festival and celebration.
 Lou Monte brought humor to Italian pop music with his recordings of "The Italian Mouse" and "The Sheik of Arabia".
Sergio Franchi (born Francesco Benenato, 1932-1990) helped fill the void left behind by the great voices of Caruso and Lanza.
Don Cornell  (Luigi Francisco Varlaro, 1930-2004) was as good as the best and proved it by recording 12 gold hits in 12 years (1950 to 1962). Among them,  "It isn't fair", "I'm Yours", "Hold My Hand," and "Heart of my Hearts'".
Italian crooners and the magic of their voices
To his many followers, the Italian-American singer symbolizes romance, tradition and love. It has been said Italian crooners are as plentiful as the stars and as alike as pennies in a pond. I will grant that Italian singers are plentiful, but they are as unique from one another as they are many, with each one bringing something different of himself to his music.
The Italian-American singer has had a great impact on the 20th century's music world: through his songs, he sings to us of the magic of love and recalls for us the romances of our lives. I witnessed this feeling in my grandmother's eyes each time she placed those old, 78 rpm recordings of Caruso on her Victrola. I felt it in the secret glow that passed between Mom and Dad whenever they played one of Sinatra's 45rpm records, and I experienced it in the 1950s and '60s, in a more personal way, when I listened soulfully to the beautiful voice of Mario Lanza' on a 331/3 long play record.
Whether we listen to their music on 8 track, cassette, or CD player, the feelings they evoke are still the same. The Italian singer touches a place in the hearts of every generation, a place reserved for our private moments, secret wishes and unfulfilled dreams.
The Italian crooner has created a musical legacy that endures through the decades and continues now into the 21century. His contributions are many and continue to give enjoyment to music lovers everywhere and his voice is a source of pride to all Italian-Americans.
By Cookie Curci