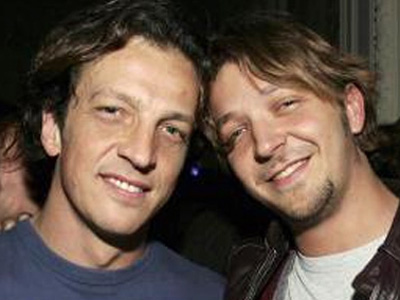 The Muccino brothers: Gabriele (left) and Silvio (right)
To many it may seem like the Golden Age of Italian cinema has passed, especially if the yardstick by which greatness is measured is participation in and relevance to international projects and markets. The time of actors like Sophia Loren and Marcello Mastroianni and the great directors like Federico Fellini has passed, but the love they receive from Italians and those around the world lives on. Roberto Benigni, Oscar-winner for Life is Beautiful (a statuette presented to him by the ageless Loren) then marked a brief resurgence of international success for Italian movies. Today the best representatives of the Italian film industry abroad all seem to work behind the scenes in music, makeup, costume and special effects, yet we may be nearing the beginning of a new era of Italian actors and directors who will find appreciation outside Italy's borders. This new wave of Italian talent is coming and is led by two Roman brothers named Gabriele and Silvio Muccino.
Gabriele Muccino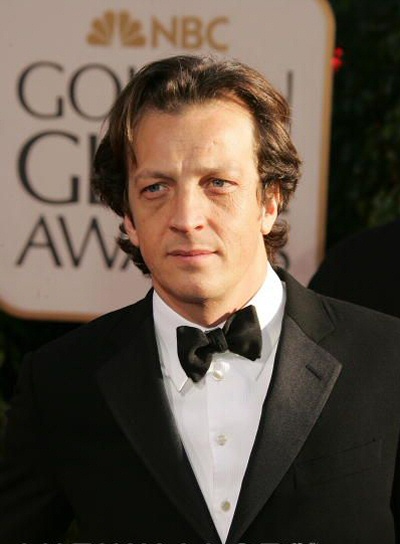 Gabriele Muccino
You may have already heard of accomplished director Gabriele Muccino, the elder of the two brothers who was born in 1967. Some of Muccino's movies have received English adaptation and distribution and he also scored some A-list names for his latest films, including two–L'ultimo bacio ("One Last Kiss") and Ricordati di me ("Remember Me, My Love")–with Italian super actress Monica Bellucci, best known to American audience for her role in the Matrix films.
Ricordati di me scored three Nastro d'Argento Prizes, the Italian equivalent of the Oscars, for Best Supporting Actress for Bellucci, Best Screenplay to Gabriele Muccino and Heidrun Schleef, and for Best Producer (Domenico Procacci and Nadine Luque). L'ultimo bacio is also the movie that opened Hollywood's doors to Gabriele Muccino. First presented at the 2002 Sundance Film Festival, where it won the coveted Audience Award for World Cinema, the movie soon got Muccino noticed by stars like Will Smith. Smith was so taken by Muccino's work that he enlisted the Italian to direct him in The Pursuit of Happyness. While a huge opportunity the task wasn't easy for Muccino who barely spoke English and had to struggle to communicate his visions and decisions with the cast and staff leading to criticism of him by the producing studio. Smith, to his credit, vehemently defended Muccino and allowed the director the artistic liberties necessary to bring his movie vision to life. The Smith-Muccino collaboration paid off handsomely. The Pursuit of Happyness was a big success among the audiences and critics and gained Smith Best Actor nominations at the Golden Globes and Academy Awards. The duo worked together again in 2008 for the wrenching Seven Pounds. While some critics were underwhelmed the movie performed well at the box office.
The latest international project undertaken by Muccino is Viva Laughlin, a TV series he co-produced with Hollywood superstar Hugh Jackman. Muccino also served as director for the two pilot episodes. Meanwhile, the director hasn't forgotten Italian cinema. After directing a short movie with Monica Bellucci, 2010 saw the director release Baciami ancora ("Kiss Me Again"), a sequel to One Last Kiss.
Silvio Muccino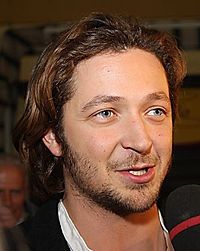 Silvio Muccino
Fifteen years younger than his brother Gabriele, Silvio Muccino was also born in Rome in April of 1982 and would attend the city's Arts High School. Silvio pursued an acting career from a young age and started in his brother's movies. The younger Muccino's first role was in Gabriele's 1999 movie Come te nessuno mai ("But Forever in My Mind") and he later also appeared in Remember Me, My Love.
Following this Silvio was called on by the master of Italian horror Dario Argento (whose own daughter, actress Asia, has made her own foray into U.S. movies, like the Vin Diesel vehicle XXX) for the lead role in the 2004 movie The Card Player. Silvio was then directed by Giovanni Veronesi in Che ne sarà di noi, a movie that Muccino also helped write. 2005 saw the younger Muccino score roles in two top tier Italian productions Manuale d'Amore, in which Silvio played the Italian comedy legend Carlo Verdone (directed by Giovanni Veronesi), and Il Mio Miglior Nemico, again with Verdone.
Finding success in acting Silvio then tried his hand at directing music videos and even writing a novel, Parlami d'amore, which would later become a movie directed by him. At the moment Silvio Muccino has his hands full with his projects in Italy, but it's highly probable that he will follow his brother Gabriele to Hollywood, becoming the latest Italian heartthrob (we're looking at you Raoul Bova) to set foreign hearts aflame.
Andrea Nicosa