Roberto Cavalli's Angels & Devils Children's Line Offers The Designer's Signature Rock 'n Roll Glam for Little Ones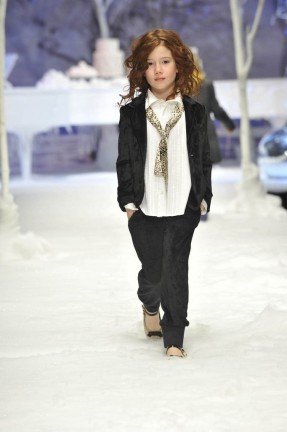 Roberto Cavalli Angels & Devils FW 2010 (Photo via pittimmagine.com)
Italian fashion designer Roberto Cavalli is known for his show-stopping, sexy and sometimes over the top styles for both men and women. This year the designer celebrated his 40th anniversary, quite an achievement in the fashion world. A long way from the opening of his first boutique in St. Tropez, Cavalli now has many different lines under his name including his line of children's clothes, Angels & Devils, and a range of products for newborns. Cavalli's children's clothing is produced in conjunction with Italy's Simonetta, who is also collaborating with the fashion house on the newly introduced Teen Angels line.
Cavalli's lines for the little ones are infused with his trademark rock 'n roll chic, including pieces like velvet blazers and leopard-print ties worn loose around the neck. There are tracksuits and pint-sized pinstriped suits, as well as items like belts and hoodies emblazoned with the Cavalli interlocking monogram logo. Boys get leather biker jackets while there are leopard-print rompers paired with pink sweaters for baby girls. While all of the items are age appropriate in terms of cut and style there are little added elements that lend a bit of edge and Cavalli style.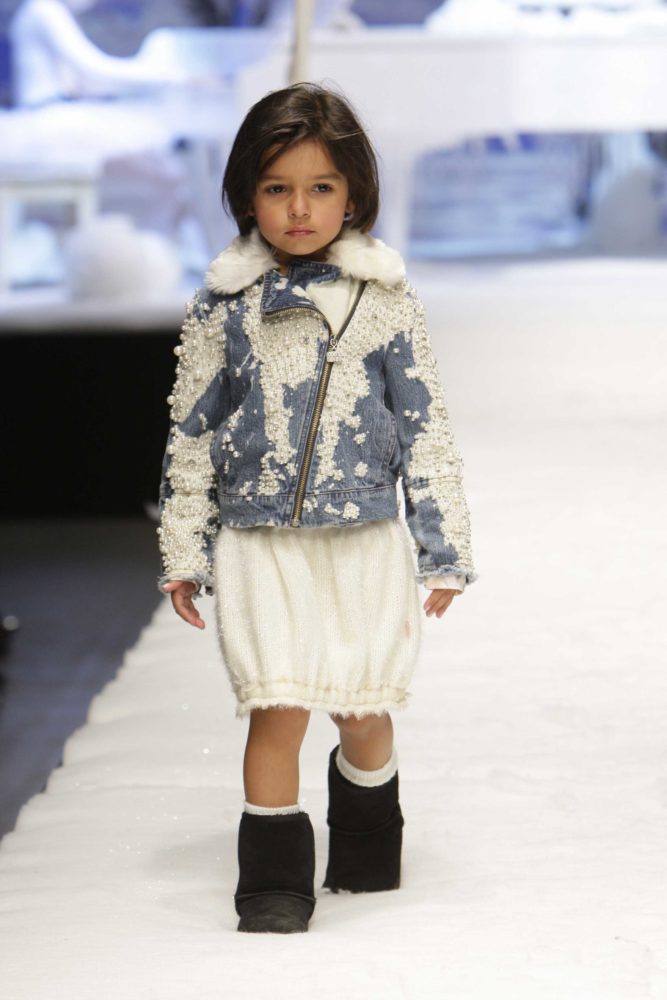 Cavalli Angels FW 2010: A Pearl Studded Denim Jacket and Boots (Photo via pittimmagine.com)
Roberto Cavalli showed his Fall/Winter 2010 at Pitti Bimbo in Florence amidst a winter wonderland background that included a runway strewn with faux snow and an Alice in Wonderland-inspired white rabbit sitting at a white piano. For girls the collection included a pretty ruffled white dress, fringed and embroidered slouchy suede boots, and pretty knit sweaters and cardigans. Denim was studded with pearls and trimmed in fur and there were quite a few outfits that featured a mix of prints like florals, plaid and leopard. The boys got grown up looking blazers and jackets, knit scarves, graphic tees and plaid pants. Everything a stylish kid needs to look cool in the winter.
The theme of the Spring/Summer 2011 Cavalli Angels show was "Ethereal Inspiration" and the clothes followed suit, exuding a romantic and bohemian vibe. Materials from taffeta, muslin, gabardine, denim and jersey were seen with details like macramé lace, soft prints and colors like mint green and light pink. Pretty party dresses were seen beside Shocking Twister items in bright shades like lime yellow, raspberry red and grapefruit pink. The denim was dressed up with latex rubber ribbons and studs, and there was lots of neon including on the Cavalli's signature leopard print, on florals and the embroidered Tucan that was seen in this collection.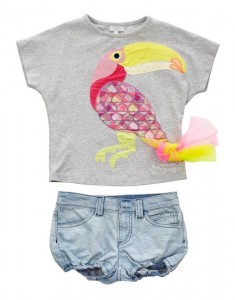 A Look from Cavalli's Spring/Summer 2011 Angels Collection
Cavalli's Spring/Summer 2011 Devils, on the other hand, were all about Cosmo Mood futuristic modernity and a veritable color explosion. Astronaut-inspired colors like neon yellow, metallic grey and blue were paired with prints that included images of spaceships and comics. The boys' clothing included fabrics that ranged from knits to jersey, poplin and nylon. Not surprisingly the line also included a lot of functional denim. Suits came in various incarnations and colors and Cavalli also showed an alternative–a vest sewn on to shirts and t-shirts.
Whether your child is an Angel or Devil, they can all use a bit of rock 'n roll fun in their wardrobe. For this bit of edge you need look no further than Roberto Cavalli, whose products for children can be purchased in select boutiques and online.
This article is the first instalment of a new feature here on Life In Italy's Fashion Section looking at Italian children's clothing brands.