A suit is professional. It's classy. It's elegant. A suit screams power, competence and ambition. In recent years, the corporate world has moved a bit away from the traditional business suit. Things have gotten a little bit more casual in many places. However, you still can't beat a suit for an interview or a major meeting with a client.
Italian designers like Versace, Cavalli, and, of course, Armani, make fantastic suits. Italian designers understand the curves of the feminine form and know how to use them to accentuate the body without being too risque. You can be professional and sexy at the same time.
In this article, we'll look at several suits that I positively love. These suits are beautiful and classy. They're the perfect clothes to do some serious business in – and look good doing it.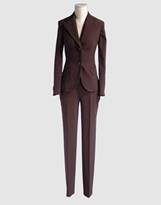 This fantastic Prada women's suit is elegant, refined, comfortable and powerful – without looking too masculine. The pants have a slimming seam down the front. They are a straight-leg cut which works great with both heels and flats. The blazer has two-buttons down the font. The cut skims the hips and the waist. There are pockets on either side of the blazer. The color on this suit is dark brown. You can pair wear blouses of a variety of colors including yellow, pink, beige, white or pale blue.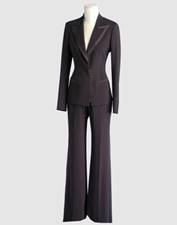 I love this Cavalli tuxedo-inspired pant suit. The black pants suit and jacket has shimmery, Crepe-de-Chine satin accents that give the tuxedo effect. You can wear this piece dressed up for a gala night-time event of dressed down a bit for the daytime when you have to meet with important clients or ask your boss for that new raise!
The pants are boot-cut and can accommodate a variety of types of footwear. They also give a slimming effect to thicker ankles or calves. The pants are low waisted and comfortable. The blazer goes in on the waist and out at the hips to give that hour-glass effect to any woman's figure.
Tweed is great for fall and winter wear. It's warm and comfortable. It's also very professional-looking. This suit from Valentino has a single-breasted jacket with two pockets and a lined interior. The skirt has a rear zip enclosure and is modestly mid-length. You could wear this in a variety of professions for different occasions. Accessorize it with pearls and heels for elegance or dress it down with a t-shirt and ballet-flat shoes. It's versatile and durable, a great investment for your working wardrobe.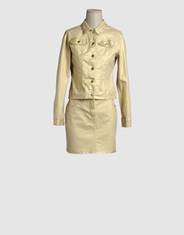 Blumarine brings us this yellow suit. It's got a very rock n' roll feel. It's a suit that's not very corporate looking. The skirt is mini; the jacket is buttoned all the way down like denim. There are pockets on each breast of this gabardine jacket. The stitch detailing is fantastic. It's unlined and has belt loops to give it an all-over casual, denim feel. Wear this on the town with friends or to a night club if you're meeting and greeting in the entertainment industry. This is not your lawyer's suit; but, one you could totally rock while looking oh-so-hot!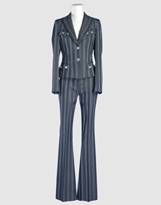 Many times when you think of a pin-striped suit, you think of shady dealings and unsavory characters. That's unfortunate, isn't it? Well, Versace takes that image and turns it on its ear. This wide pin-striped two-piece pants suit is very sexy. It's very hot. It's also very fashionable and professional. A young business woman could pull this off with or without a blouse underneath. The pants hug the thigh and flair out on the calves and ankles so you could wear it with boots, flats, pumps or heels. This is a signature piece, a total must have. The button detail on the pockets on the four jacket pockets – two on the breast, two on the hip and down the front of the jacket totally work. I adore this suit!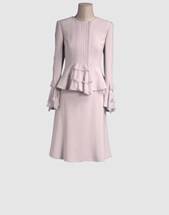 When you think of Italian suits, is Armani the first designer that springs to your mind? I thought so. That's why I've saved this Armani two-piece for last. Armani suits are always among the best. Armani understands how to use lines to create illusions and to make the body appear elegant, classy and professional.
This suit is not what you'd commonly think of as an Armani, however. This is a light pink two-piece skirt. The material is a delicate crepe. There are frills and trills to this baby. It's so feminine and pretty. This is a suit for a woman who wants to feel – and look – like a woman in a corporate world that, unfortunately, is still dominated by men.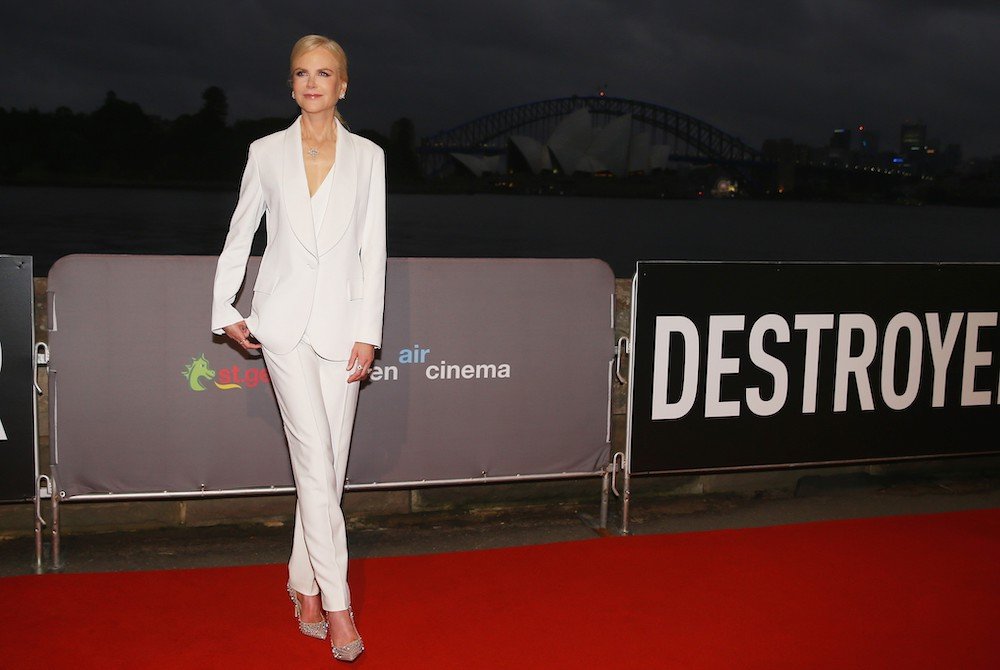 By Domenica DiPiero