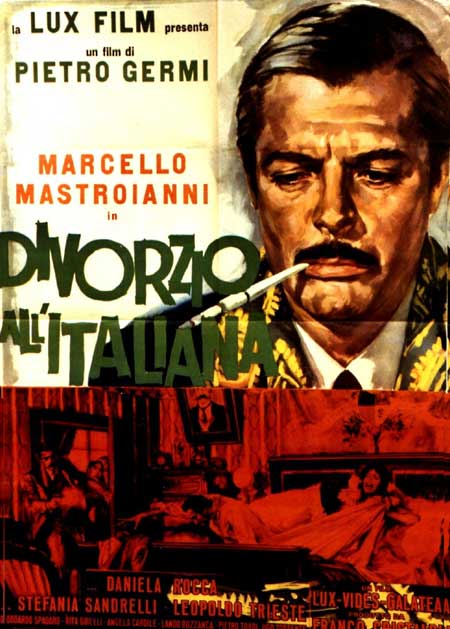 Italian Comedy emerged in Italy in the second half of the 1950s and later developed in the 1960s and '70s. It indicated a happy period when Italy produced many different kinds of movies, all sharing common features such as satire, bourgeois settings, and characterized by a bittersweet approach to story telling.
Comedies before the 1950s were light and disengaged from social reality, or part of the pink neorealism movement which explored shifting social, cultural, and sexual ideals in a changing post-war Italy. Italian comedy took up where that movement left off and took inspiration from neorealism in its close linking to contemporary reality. In addition to comic situations and plots typical of traditional comedy, it offered an ironically sharp and sometimes bitter satire on life reflecting the evolution of Italian society during the time. These were Italy's economic boom years, a time of radical change in mentality, a broadening of sexual attitudes, the birth of a new relationship with political power and Catholic faith, and the search for new forms of economic and social empowerment in the world of work, family, and marriage.
Among the many actors who best representated Italian comedy are Alberto Sordi, Ugo Tognazzi, Vittorio Gassman, Nino Manfredi, and Monica Vitti. A number of other high-level actors worked in the genre, among these we can find Marcello Mastroianni, Sofia Loren, Claudia Cardinale, Vittorio De Sica, Raimondo Vianello, Gino Cervi, Walter Chiari, Harold Tieri, Franca Valeri, Stefania Sandrelli, Gastone Moschin, Silvana Mangano, Carla Gravina, Adolfo Celi, Carlo Giuffré, Aldo Giuffré and Lando Buzzanca.
Even actors who preferred dramatic roles such as Gian Maria Volonté, Enrico Maria Salerno, and Salvo Randone ventured into Italian comedy. Many foreigners were often main leads or co-starred in the films including Catherine Spaak, Louis de Funès, Fernandel, Sylva Koscina, Bernard Blier, Mario Adorf, Philippe Noiret, Senta Berger, Jean-Louis Trintignant, and Claudine Auger.
Among the precursors of Italian comedy there were two major actors of the twentieth century: Aldo Fabrizi who anticipated the genre in the early 1950s, and Totò a forerunner of the Italian Comedy in the popular line of "Totò e Peppino" movies in which another giant of comedy, Neopolitan Peppino De Filippo, appeared.
To get a taste for the genre we can look at three movies: I Mostri by Risi, Il Medico della Mutua by Luigi Zampa, and I Soliti Ignoti by Monicelli, which is considered to be the starting point of Italian comedy.
Italian comedy was originally a creation of Cinecittà and was often set in Rome with Roman actors or, more often, Roman by adoption. The Italian public life at the time was mainly focused on Rome and the Dolce Vita centered around Via Veneto, with its cafés frequented by artists, actors, adventurers, and photographers (paparazzi). Although the setting was often Roman, the genre always represented the many different facets of Italian society, and many films of the genre were set in other major Italian cities or in the microcosm of the Italian province, especially in later decades.
In the late 1950s, movies that dealt with the daily lives and struggles of Italian emigrants began to be produced and became a subgenre that exploded in the mid-sixties.
The Italian comedy at its peak, the second half of the '60s, frequently topped the box office charts in Italy and also in several European countries. The success allowed actors like Sophia Loren, Walter Chiari, Vittorio Gassman, Gina Lollobrigida, and Virna Lisi to gain access to Hollywood productions. The genre, together with Neorealism,  was the only one to be successfully exported and appreciated abroad, despite the situations and contexts represented were often so typically 'Italian' that sometimes they were not fully understood by foreign audiences.
Some Italian comedies caused a stir and provoked debates on their topics and events, for example the film Divorzio all'Italiana that spurred a heated debate on the law concerning the crime of "honor murder."
Hollywood has recently rediscovered some Italian Comedies, Once upon a Crime by Eugene Levy is a remake of the chorale Crimen by Mario Camerini. Louis Malle's Crackers and Anthony and Joe Russo's Welcome to Collinwood starring George Clooney, are both remakes of I Soliti Ignoti. And Scent of a Woman by Martin Brest is a remake of Profumo di Donna.
After great successes and critical recognition the genre of Italian Comedy began to decline around the mid-1970s, and almost completely ended early in the 1980s. This was caused in part by the deaths of some of its most charismatic actors, the inevitable aging of an entire generation of directors and actors who had been successful in the early years of the genre, and above all the changing socio-economic and political conditions of Italy. The gradual escalation of social conflict and political environment in Italy in the 1970s with the eruption of terrorism, economic crisis, and a widespread sense of insecurity ended the tendencies toward that ironic smile that had been the dominant feature of Italian Comedy's best years and gradually replaced it by a more raw and dramatic vision of reality.
For a list of movies see :
Italian Comedies 1
Italian Comedies 2