Dog Watching- Italian Style
The flight from Minneapolis to Rome was barely underway when I felt the first symptoms creep in. By the time the credits rolled on the in-flight movie, my fear was a full-blown condition – doggie withdrawal. This was supposed to be the adventure of my life in Italy, but could I really go nine months with no canine companionship? If the first few hours were any indication, then no, it didn't seem that I could. But I did survive the flight, and soon discovered that Rome is a fascinating world where stepping in dog doo on the street is good luck, and dogs are a part of life in the most unexpected ways.
From my apartment on the fourth floor of an ancient building, I look out into a massive courtyard crammed with balconies, laundry fluttering in the wind, flower pots overflowing with plants that dangle and creep away from their containers, and dogs. Every morning over a steaming cappuccino, I spy on a German Shepherd, two little white fluffy dogs, a Cocker, and a beautiful Cane Corso. Watching the dogs who live all around me makes me appreciate this apartment even more. Of the hundreds of classified ads listing available apartments, there were scores that warned "no stranieri" (no foreigners), but not one that disallowed dogs. I've apartment-hunted in the Twin Cities more times than I'd like to remember, and it is a miracle to find a place that allows dogs. You'd think dogs were poisonous for how fast people hang up when they hear I have two. Dog germs might come to get them through the phone. But in Rome, my dogs would be welcomed over me.
Even though they're rental application poison, Americans treat our dogs like people. Sometimes better than people. Just look at the businesses that have sprung up to meet our demands; we have pet superstores, therapists, clothing, beauty salons, daycare, TV shows, web sites, and much more. There is none of this in Rome. Here dogs simply meld into everyday life because they can.
Women bring their dogs into clothing stores so expensive, I feel unworthy to set foot in them. Dogs hang out languidly with their shopkeeper owners in doorways, watching passersby. They cuddle up next to and beg along with homeless people on busy street corners, and kids that beg at outdoor restaurants sometimes tote tiny puppies around to get a few extra cents of sympathy. Dogs zoom around on motorinos, wedged between their owner's feet on the floorboard. The grocery store sells big bags of pasta made especially for dogs, and there are "dog parking" spots all over the city. Across from the ruins where Julius Ceasar was killed, at one of the busiest intersections in the city, a dog shelter sets up its mobile adoptions. Just like the Italian people, the dogs of Rome coexist among the spectacular chaos of modern life in an ancient city.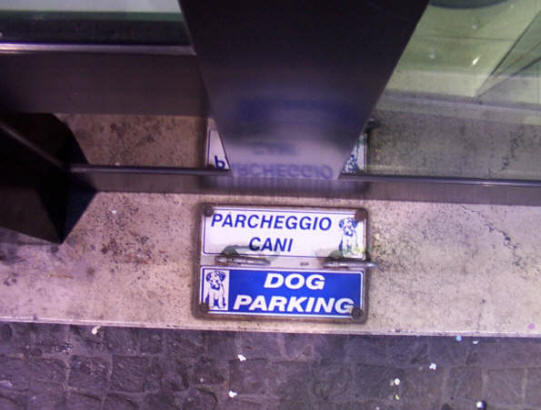 After two months here, I was no longer satisfied by fawning over random pooches on the street. I had to find for some way to reconnect, so I scoured the pet section of the newspaper, looking for…well, I didn't know what. In another stroke of luck, I landed a dog-sitting job for a fellow American living in Rome. I couldn't wait to see what it was really like to have a dog in this crazy city. My charge was Cassidy, an enormous, shaggy and sweet Newfoundland mix. When I picked her up, her owner gave me the details on dog husbandry in the Eternal City. He told me, "You can take her on any public transport, but she has to have her own ticket, and don't feed her any of that pasta they sell for dogs. Be prepared for people to stop and talk to you when they see her – she's popular." So, armed with instructions, we set off together for a week of fun.
Our first adventure was to take the tram home. You've got to understand that riding the tram here can be quite an experience even without the company of a big dog. It careens from stop to stop, stuffed to the gills with people who like to talk and gesture and argue, along with those who sing, play instruments and then push through everyone to collect money. As we waited in the little crowd gathered at the stop, I put on Cassidy's basket muzzle, a requirement for all dogs on public transport. The tram pulled up and we stepped on. Though I tried to get her to sit politely out of the way in the corner, she plopped her massive body right in front of the door and refused to budge, forcing everyone to step over her as they got on and off. I tried to look a little sorry that she was inconveniencing people, but no one seemed to be annoyed. People loved her! She got comments and smiles and pats on the head and was a perfect lady.
When we shuffled off the tram, I breathed a sigh of relief; we made our first successful journey on the tram. From that first trip and through the rest of our week together, Cassidy was welcomed everywhere we went. Together we shopped, ate, walked, bussed, chatted with people, and relaxed at cafes. I returned her reluctantly, and was back to life senza cani.
Today I sat in a café next to a perfectly coiffed little Yorkie and his similarly coiffed Italian owners. The woman plopped him down on the bench seat, and he wiggled his little rear then came to sit by me. His smiling eyes peeked at me from behind his hair. Dog language needs no translation. While cuddling the little dog, I talked with his owners and told them it would be another two months until I'd be reunited with my own dogs. Soon I'd made new friends – both human and canine. I walked home with a new understanding of what la dolce vita really is. For me it's nothing without the dogs.
By Kelli Ohrtman