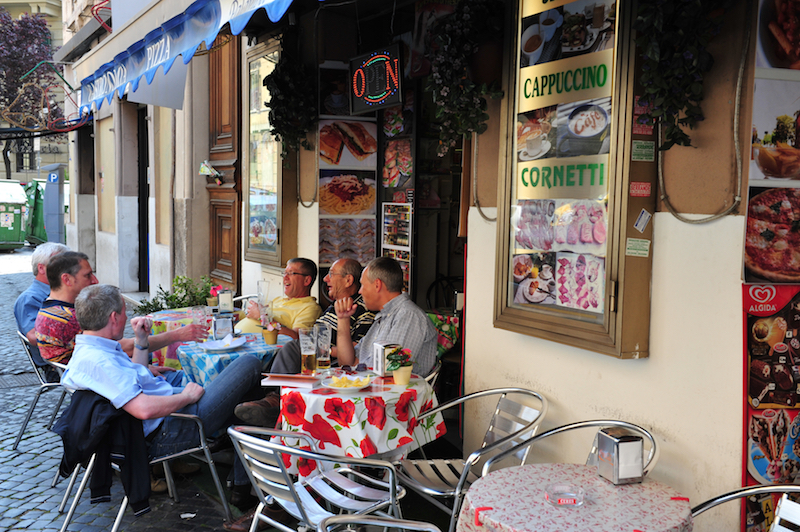 The concept of going to a bar, and the definition of the bar itself, is very different in Italy from that held in any Anglo-Saxon or Northern European country.
A bar in Italy's a place for refreshments, where one can have a quick breakfast in the morning, usually consisting of a coffee or cappuccino (strictly drunk in the AM) and a croissant. Throughout the day, the bar usually serves coffees, juices and alcohol as well, but the point is to have a quick bite or drink, rather than hanging out for long periods of time. In Italy, there are bars on nearly every corner, and some are licensed to sell cigarettes and tobacco.
Socially, bars in small towns can be a gathering place, but their  structure and their overall concept still remains that of a quick stop, although much elderly might also use them as a place to get together to play cards and talk about sports or politics. It's very common, especially in smaller towns and villages, to have a bar in the main square that becomes the meeting point for many.
This, in my opinion, is the traditional ("vecchio stampo" in Italian) bar of the suburban small town.There is a guarantee in every Italian country. A bar called "Sport Bar" can be found near the center or down a long alley. They are associated with laughter and fun, even if it is difficult to find young boys who frequent them nowadays. Don't let the name deceive you; they have no connection to sports, not even in the broadest sense.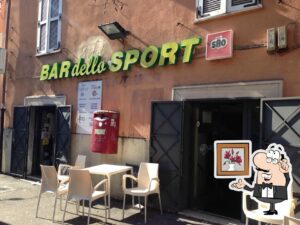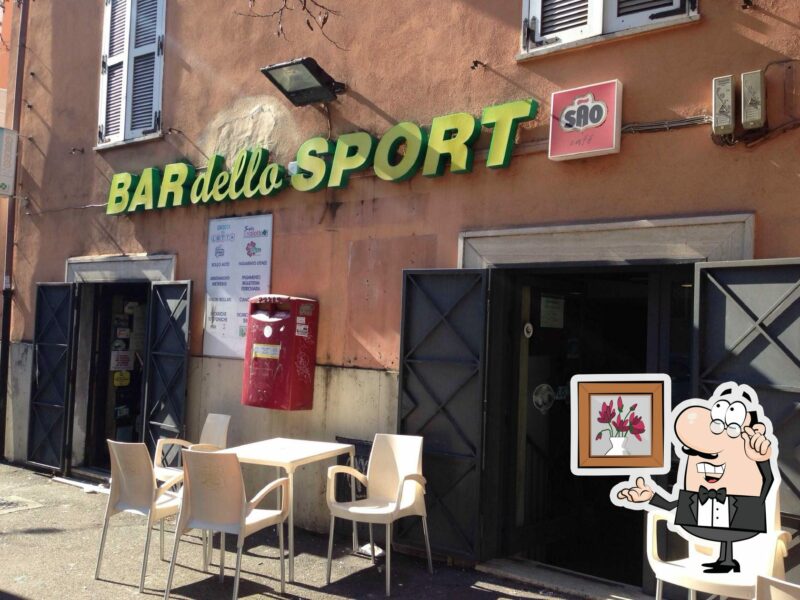 These bars, on the other hand, are a true national tradition that has been passed down from generation to generation and appears to have remained untouched by the passage of time. Even the furnishings are frequently the same as they were 40 or 50 years ago.
However, something has shifted in recent years. The "Sport Bar" in the big cities is not the same as the one in the small towns. It's a bar that has abandoned traditions in favor of new trends. Try it!
The Bars in Italy are changing
Some bars can be fancy and rather big and, in these cases, their function is often to be more of a social place, especially during the Summer, when the good weather allows a pleasant outdoor experience. Here, you'll find many people enjoying a gelato or a cold drink on the patio.
Although never meant to be restaurants, in recent years bars have started to serve food, especially at lunch and, besides fresh sandwiches or tramezzini, hot meals are also offered. A bar is a fast way to get fed, without spending too much money, and without going too far from one's office or place of work.
Bars are usually family run and stay open from early morning to the late hours of the evening, and they can also be a quick, last minute shopping place for small items, such as milk or water. In Italy, it's legal to buy alcohol for take-out from bars and to drink on the streets. This does not condone or permit inappropriate behavior.
Bars are typically located in strategic locations with breathtaking views in historical sites or particularly beautiful areas of the country. At such sites, it's a good idea to spend a few hours relaxing and enjoying the view, in good company or perhaps with a good book. Many cities, like Rome, Venice and Florence, feature such beautiful squares that it would be a true shame not to sit down and take in some of their beauty, while sipping a lovely coffee.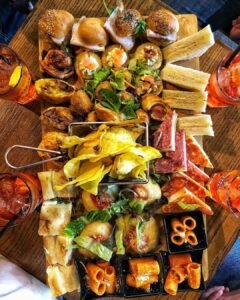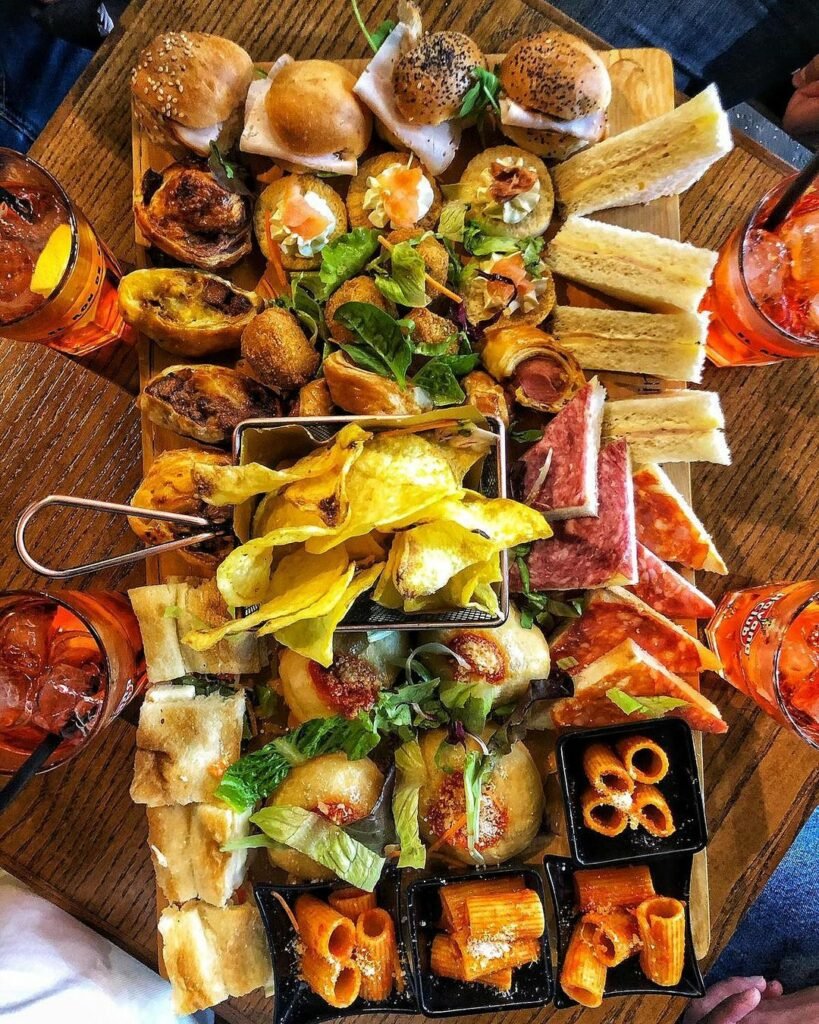 Bars are also the focal point of a very popular Italian ritual, the aperitivo. After work, Italians love to go to a favorite bar and have a light drink while eating some appetizers. This has become even more popular in recent years, and most bars now have a great selection of light foods.
You can get confirmation by walking around any city after 6 p.m. Aperitivi are popular among Italians. It's not so much to eat something so delicious, but it's a long-standing tradition. It's a moment of recreation and relaxation, either immediately after work or at the end of the day. The bar frequently transforms them into a lighter and earlier dinner, but always in the same place and more importantly, with company.
Some cities even call it apericena (a combination of the words "dinner" and "aperitivo"), but be cautious. That word does not sit well with everyone!)
How do you pay in Italian bars?
When it comes to payments and charges, there are a few things foreigners may wish to remember. Credit cards are still not welcome in some bars, therefore always carry some cash for emergencies. Keep in mind that you can't add tips to your credit card bill.
You can feel at ease if you are visiting major cities such as Florence, Turin, or Naples. However, in some countries, cash payment is still very popular, and the owners may become very angry! Better to prepare first and take no chances.
In these cases, however, tips are not very important. If you're standing while eating or drinking, then just leave some spare change or nothing at all, which isn't a big deal, especially in smaller bars.
If you decide to sit down, prices are likely to increase and often may even double. Another thing to keep in mind is that getting separate checks is uncommon in Italy, though not impossible or illegal. It is also common to pay upfront when ordering from the bar during peak hours. Just be sure to obtain a receipt that lists what you've ordered and paid for.
A last vital piece of advice: in the morning hours, in Italian bars there could be many people. To receive service, you need to walk to the bar and place your order loudly.
Just pretend you're working at the Stock Market. Believe it or not, this will likely ensure you prompt and accurate service.