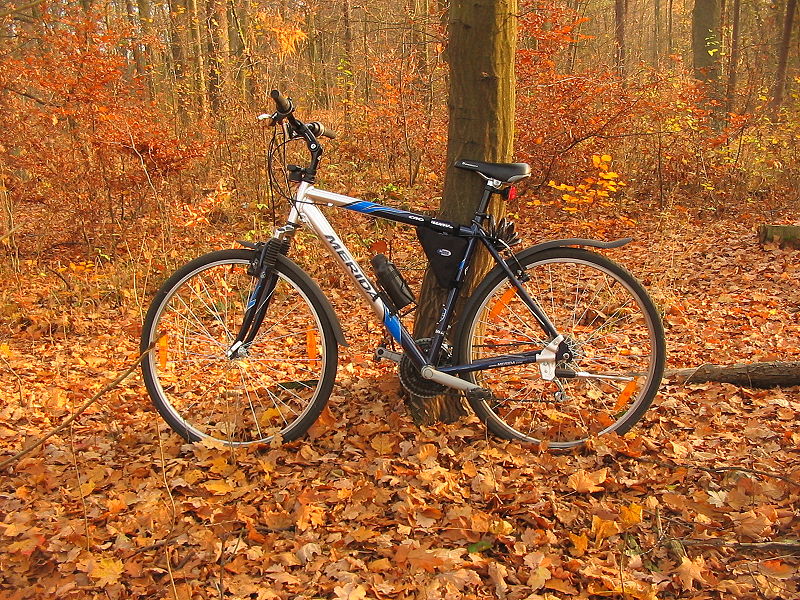 If you like cycling, you will definitely want to do a cycling tour of Tuscany and Umbria. These fantastic provinces have a lot to offer: the hills, towns and valleys of southern Tuscany and Umbria are a cyclist's dream.
Beautiful scenery with rolling hills and waving wheat fields, ancient houses and churches, medieval architecture and awesome views will take your breath away. The charming towns sitting atop hills are a great place to enjoy a warm evening after a day of cycling.
The valleys are just as charming: here, you can cycle through winding, narrow streets of small towns, or do a little shopping in the quaint shops. It's in the valleys that you'll find the best services. Along with all of this, your mouth will water each time you think of the incredible bruschetta, pizza and pasta that you'll enjoy along the route.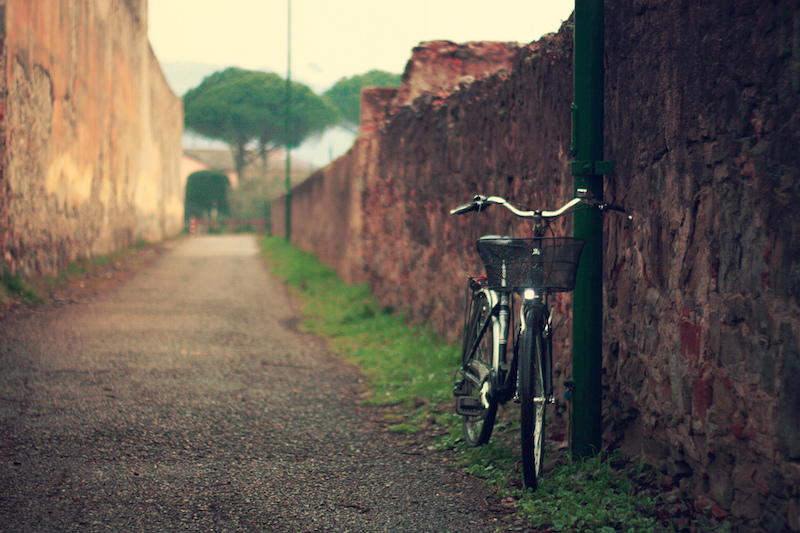 Olive groves and vineyards dot the slopes. Vegetable, wheat and hops are growing plentifully in the valleys. You will meet lots of friendly people along the way – Italian people, who love life, as well as eating, drinking and dressing in the latest styles. The highlight of your Tuscany/Umbria cycling vacation will be the awesome Renaissance paintings and frescoes that you will see; many of them considered masterpieces.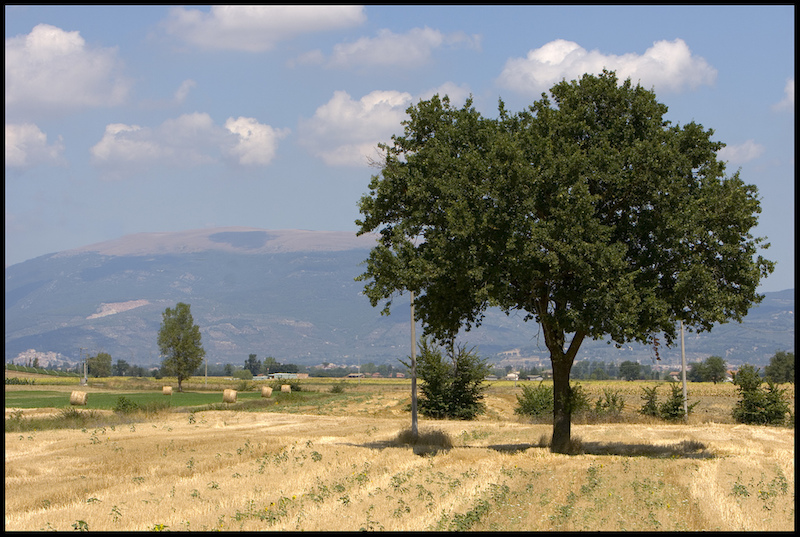 Most of the time you will cycle on smooth, paved, almost pot-hole free roads with very little traffic. Drivers respect cyclists and will allow you lots of space when passing. Main highways have low to moderate traffic, but travel is high speed. Wide shoulders give you a wide berth. Minor roads are windy, narrow and sinuous, but very little traffic travels along these. Traffic is high volume in larger cities such a Florence, Perugia and Siena. Valley terrain is slightly rolling, or flat. The hills are gradual grades, to very hilly, to very steep, especially in the Chianti area, south of Florence. Here, you will find yourself pushing your bike from time to time.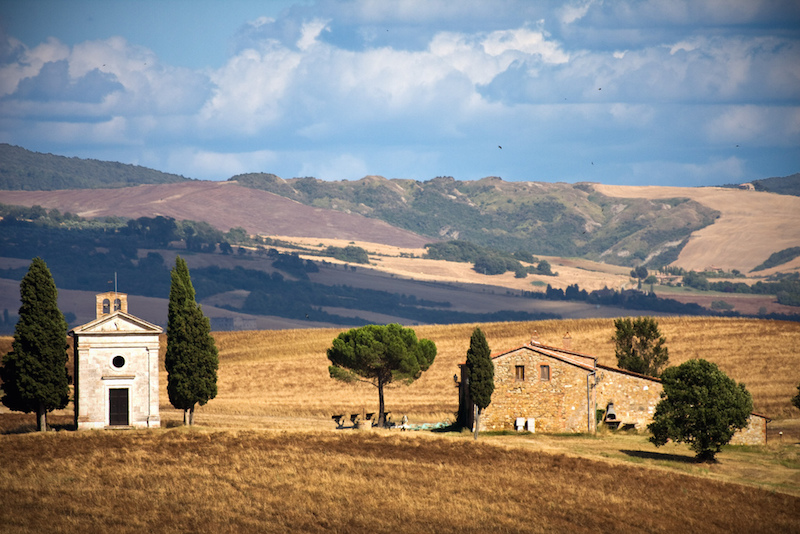 If you decide to cycle Route 397 from Todi to Perugia along the Tiber river, or Route 2, the Via Cassia, from Florence to Siena to Rome, you will cover greater distances, but will have to deal with a lot more traffic. The routes through the countryside, on the other hand, have spectacular views. Here, you will cycle through fields of red poppies and sunflowers. After a hard ride, you can end your day by hanging out by the pool with a glass of crisp Italian wine, in one of the many agriturismi in the area.
Tuscany itineraries: the Chianti area
Chianti is the enchanting region between Florence and Siena, known worldwide for its red wine. This is a great area to cycle the day away. We propose here two cycling itineraries in the area, perfect to enjoy the countryside, as well as touch upon some historically relevant sites. Both itineraries are relatively easy on the legs and can be truly considered for everyone.
The Lands of the Ricasolis
The Ricasolis are one of the most ancient noble families in Tuscany. Their possessions around Siena are known for their natural beauty and the presence of some of their beautiful residences. This itinerary starts and ends in Gaiole in Chianti, following a 39 km path (roughly around 25 miles), entirely on paved roads. You will find some gentle climb to cycle upon, but it will not take away the sheer pleasure of riding through such a beautiful part of the country.
Gaiole is a quaint little village of about 2000, beautifully set within the hills of the Chianti. It is a typical countryside Italian village, where you will certainly manage to enjoy some rest, all the while getting to know local art and architecture. The village's main church, San Sigismondo, has a curious history: it was only completed in 1959, in a Neogothic style, even though its façade looks more Romanic. Most of its internal décor has been made in the 20th century, following however an entirely Medieval aesthetic. If you want to visit some original Medieval architecture, you can check out the Pieve di Santa Maria a Spaltenna, just outside the main village. Noteworthy is Villa Vistarenni, a beautiful historical residence, whose first documented appearance dates to the 11th century. It is today a luxurious resort, known for its wedding facilities and the V.I.P. pedegree of its clients.
Gaiole in Chianti is easily reachable by car from both Siena (it is about 20 miles away), following SS 73 and Florence (roughly 40 miles away), from where you need to take the A1 motorway Milan-Naples, exiting at Valdarno onto the SP11 to Valdarno, then the SP 408 di Montevarchi, up to Gaiole in Chianti.
If you are spending the night, Gaiole in Chianti has a lot to offer, too. If you want to stay in town, you should try the Hotel La Fonte del Cieco. Just outside town, in località Pieve di Spaltenna, you will find Castello di Spaltenna Tuscan Resort and Spa, for a luxurious and exclusive stay.
Towards Monteriggioni
Castellina in Chianti is the departing and arrival point for this itinerary centred of the charme of Tuscan history. The village lies quietly on top of a hill, in an excellent panoramic location, fully immersed in the Tuscan countryside. Castellina's origins seem to be ancient indeed, as Etruscan tombs and necropolis have been attested in the surrounding area, but the village itself has a very much Medieval feel to it. Sacred architecture is queen here: its main church, the chiesa di San Salvatore, was destroyed during the last war and built entirely ex novo in a neo-romanic style. The Chiesa di San Giorgio, on the other hand, is an original Romanic construction dating back to 1084. You will find it in La Piazza, just outside Castellina.
The itinerary is easy, and even the two climbs, one steep but short, leading from Staggia to the SS 2, one longer, but milder at the very end of the ride, cannot be considered difficult. The ride will keep you on the road for 51 km (around 31 miles), and will lead you through a beautiful part of the Chianti area. If you wish, you can shorten the ride of a couple of miles by taking a shortcut on the Via Cassia, about 4 km (1.5 miles) out of Monteriggioni on the left, leading to Badesse. By doing so, you will avoid Siena's outskirts.
Monteriggioni is a place to see, so you may as well take a small detour during the ride and stop in town to take a look. Even Dante speaks about it in the Divina Commedia. It is still entirely surrounded by its defense walls and preserved its authentic Medieval structure wonderfully: a must, especially if you enjoy history and Medieval architecture. You can take a walk on the fortified walls, or relax in its main square, beautifully paved and dominated by its understated yet charming Romanic church. If you happen to be around in the months of June and July, you may be able to enjoy Monteriggioni di Torri si Corona, the town's own annual Medieval Festival. In 2015, it will take place on the 27th and 28th of June, then from the 3rd to the 5th of July and from the 10th to the 12th of the same month.
Castellina in Chianti is easily reachable. If you are coming from the North, take the A1 Milan-Naples motorway in the Rome direction, exit at Firenze Impruneta and follow the indications to Siena up to exit to San Donato. Here, follow up to San Donato, then to Castellina in Chianti. If you are coming from the South, take the same motorway, the A1, to Florence and exit at Valdichiana. Follow signs to Siena, then take the "raccordo autostradale" Bettolle-Perugia up to the Florence exit, then the Siena-Florence one and exit at Badesse. Take immediately the left and follow signs to Lornano, up to the crossroad with the SR 222. Here, take the left and follow up to Castellina in Chianti.
Castellina in Chianti is a lovely place to stay overnight. In Località Le Piazze, just out of the village, you will find the beautiful Locande Le Piazze. In town, you could opt for the characteristic Hotel Il Colombaio.
Umbria Itineraries: borghi e castelli
The high Tiber Valley
This itinerary is not hard, but will fill your day with beauty and history. Departure and arrival point is Città di Castello, a charming Renaissance town of around 40.000. This 45.5 km itinerary (28 miles) touches upon some of the most relevant historical and artistic locations of the area, and gives the opportunity to ride through a beautiful natural landscape. Three climbs, all set within its central part, make the itinerary of medium difficulty. The first stop is Monte Santa Maria Tiberina, the highest point of the ride, from which you will enjoy an amazing view on the Umbrian and Tuscan valleys below. The village is pretty and characteristic, so it may be worth taking a ride through its streets. Take up the road again in the Arezzo direction: it is here you will encounter the other two climbs of the itinerary. Neither of them is longer than 1.5 km (just under a mile), so your attention will not be taken away from the nature around you: we are within the most quintessential of all Tuscan-Umbrian paysages here, enjoy the views!
After climbing it up, the path give our legs some respite with a short downhill ride leading us into Tuscany and more precisely to Monterchi, birthplace of Italian art genius Piero della Francesca. From here, you will reach Città di Castello following the easy SS 221 for about 10 km (just over 6 miles). Of course, a visit to the city centre of Città di Castello is a must, but, considering you may be staying overnight here, you may like to leave for later on, maybe after a refreshing shower.
Città di Castello is a place to visit, but there are other interesting locations along this itinerary worth a stop: the medieval borough of Monte Santa Maria Tiberina, as we said already, is certainly one of them, but there is also Citerna, a village of ancient Etruscan origins characterized by the outstanding medieval architecture of its main Church dedicated to San Michele Arcangelo, the Church of San Francesco and Palazzo Vitelli.
CIttà di Castello is reached through the Autostrada del Sole (A1). From Rome, exit at Orte then take the Superstrada E45 in the Perugia-Cesena direction, to Città di Castello. If you are coming from the Florence-Bologna direction, exit at Arezzo and then take the SS 73 and SS 221 to Città di Castello.
If you decide to spend the night, try the Residenza Antica Canonica, which offers self-catering accomodation, centrally located. Or you can opt for a more traditional hotel and pick the Hotel Park, which is also conveniently situated in town. If you would like a more bucolic location, check out the Country House Santa Felicita Paterna.
Cycling through Tuscany and Umbria is a truly reinvigorating experience for all visitors loving nature and sport, but also history art and, of course, delicious cuisine. It is certainly a perfect vacation to escape the stress and noise of our everyday's life, even if just for a few days. A lovely alternative to more commonly chosen options, such as beach vacations of large art cities visits, a countryside holiday should be tried at least once in a lifetime: Umbria and Tuscany are possibly the best places in Italy to do it.
By Mary M. Alward
Updated by Francesca Bezzone