Italian Travel and Tourism:
Life In Italy is not a comprehensive travel and tourism site. We offer two general categories of Italian travel information. First we provide useful general information for foreigners traveling to Italy, including many helpful points not always offered by the normal tourism web site. For example, we have pointers to help you use your American telephone in Italy as well as how to drive here. We include information about summer festivals put on by many Italian cities such as the Estate Romana that includes free concerts and other festivities held in historic locations and parks in the warm summer evening.
The second category is a collection of articles about specific Italian locations. This section is growing and we are continually adding articles but recognize that our task of covering Italian tourist locations can never be completed. If you have visited an out-of-the-way location and wish to contribute with an article, please use the contact us form and inform us.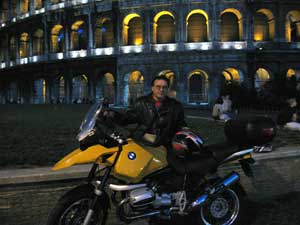 I moved to the U.S. in 1987 to finish my studies in computer science in upstate New York (Ithaca). After graduation, in 1989, I moved to the Washington DC area. I go back to Italy five times a year and I constantly talk with Italians and Italian companies for my business.
As a result, even though I left Italy several years ago, I am up-to-date on the lifestyles in both countries. A disclaimer: since I was born in Italy, my views are somewhat biased toward Italy! I am in the picture on above behind my cool yellow BMW motorcycle.
–Paolo
General Travel Suggestions:
Italy Travel |More travel Information | When to go to Italy | Driving a car | Use your U.S. cell phone in Italy |Safety tips for women |Traveling tips for single American |Gay Life in Tuscany |Italian Food Rules… |Places to Eat |Italian tourism: Romance |Italian tourism: Singles | Events in Italy | Italian people |Home cooked meals |Grocery Shopping |About Italian wines |Miscellaneous Tips|Rent an apartment in Rome and Italy – Accommodations
See Also: General Travel Articles
Italian Regions
| Abruzzo – Abruzzi | Val D' Aosta | Basilicata | Calabria | Campania & Naples | Emilia Romagna | Friuli Venezia Giulia | Rome & Lazio – latium | Le Marche / Marches | Liguria | Lombardia Lombardy | Molise | Piemonte | Puglia – Apulia | Sardinia | Sicily – Sicilia | Trentino Alto Adige | Toscana – Tuscany & Florence | Umbria | Veneto and Venice