We have dedicated quite a few words to the reasons visiting Italy during the Fall is a good idea. Flights and hotels are cheaper, cities are less crowded and there are a lot of cool fairs and festivals around the country you'd particularly enjoy if you're into local lore and good food.
Whether you're after country relaxation or artistic pleasure, you should check out these five destinations: always amazing, but particularly beautiful this time of the year. There are so many beautiful places to see in Italy, but for now, let's discuss these five particular places to visit in Italy during autumn. Italy is definitely a fall bucket list!
1. For colors, castles and food: le Langhe
Italy is definitely one of the best autumn destinations! Known for its rolling hills and vineyards, the Langhe area of Piedmont is also rich in history and culinary tradition. Located between the provinces of Cuneo and Asti, the Langhe are particularly charming during the Fall because of their amazing colors: reds, oranges and yellows meet the earthy brown of the soil and luscious greens of the many evergreens of the Alta Langa, the higher part of the region. Perfect to get a taste of the area is the Strada Romantica delle Langhe, an itinerary of 130 km, touching upon 11 villages, with more than 30 itineraries to follow. The whole journey can be taken by car, along national and local roads. The Langhe and Roero area has recently been added to the UNESCO world heritage patrimony, a reason more to visit.
As said, le Langhe are also known for their food and wines: tartufo d'Alba, wild mushroom and Barolo and Dolcetto wines are only a few of the many delicacies these lands have to offer. Many wineries are open to visitors and the proverbial warmth of these valleys' people will certainly make any Fall trip a deliciously heartwarming experience.
Langhe are also perfect for those interested in history and architecture as its hills are dotted with fantastically preserved castles: visit the Castello di Roddi, the Castello di Grinzane Cavour or the Castello di Magliano Alfieri to get a taste.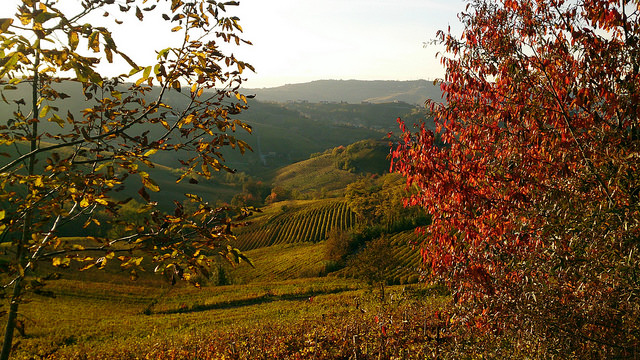 2. For history, art and old fashioned elegance: Turin
You may wonder why Turin is on this list and not another Italian city. The reason is simple: Turin and the Fall go as well together as peanut butter and jelly, spaghetti and meatballs, macaroni and cheese. The Sabaudian city, with its endless "portici," luxurious gardens and numerous, characteristic cafés, still holds within its roads and alleys the hautiness of the times when it was the royal capital of Italy. Turin exudes elegance melanged with a hint of melancholy and scents of the Fall permeates its streets like a heady and pleasantly embracing balm: coffee, hot chocolate and roast chestnuts travel in the air alongside the jingling of tramways and the silvery laughters of its university's many students.
Of course, Turin has a lot more to offer beside its timeless atmosphere. Famous are its many, beautiful museums (the Museo Egizio, the Galleria dell'Arte Moderna, the Museo del Risorgimento and many, many more) and historical locations, but also the many, lively nightlife spots, especially those in the Quadrilatero and Murazzi areas.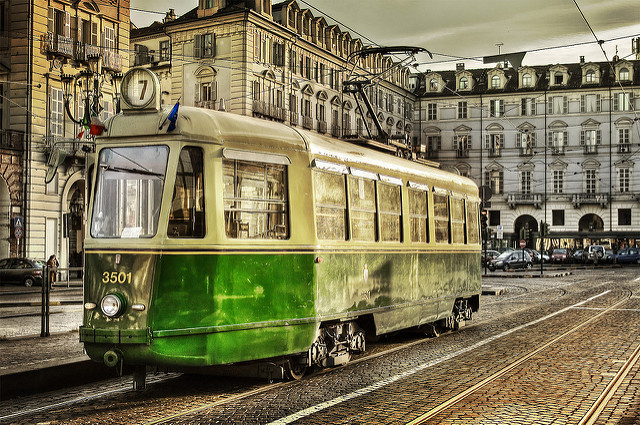 3. For apples, lakes and a walk by the Alps: Val di Non
Between the many reasons to visit Italy in the fall, here's another one! Let's stay up north and visit another great Italian Fall location. The Val di Non is the largest valley of Trentino and lays at the heart of the western part of the Trento province. It's famous all over Europe for its apples. Whether you love nature or culture, the Val di Non is perfect. Picturesque are its lakes, the lago di Santa Giustina and the lake of Tovel, which is part of the Parco Naturale Adamello Brenta. The lake of Tovel's easy to reach also by car and presents some of the most striking sceneries in the area, especially this time of the year: if you're into foliage, you should definitely check it out.
The valley is delicately set among the Brenta Dolomites, natural patrimony of UNESCO. If  you like architecture and art, the Val di Non is good for you, too: the Santuario di San Romedio is known for being located on a 70 meters high rock formation and has an interesting story behind: legend says that very rock was once home to a hermit and his only companion, a bear. The Santuario is formed by 5 small chapels joined to one another by 131 steps. Also worth a visit is Castel Thun, symbol of the Tono family's power throughout the centuries. Not far, the remains of another castle, Castel San Pietro, are surrounded by woods that turn colorful this time of the year, as they're mostly formed by deciduous trees.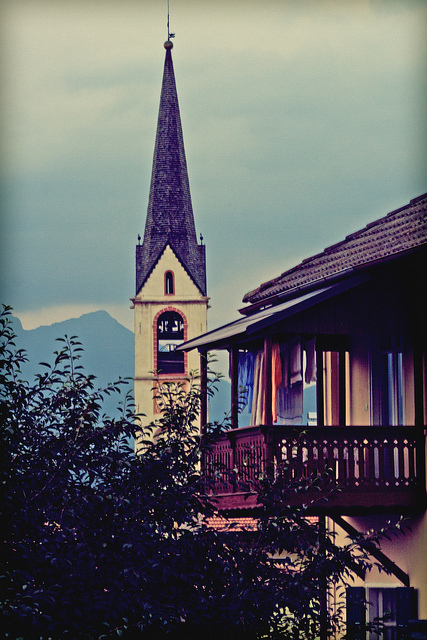 4. For the sea and the food: Positano and Costiera Amalfitana
The Costiera Amalfitana and its most amazing pearl, Positano, are worth a visit all year round (as all the other destinations of this article, to be true!), but many think Spring and Fall are the best time of the year to enjoy the area thanks to the climate's mildness and nature's wonderful colors. Colors, indeed, are a leitmotif of our short trip through autumnal Italy! Ideally, choose Positano as main location and, from there, organize daily trips around, making sure to include, of course, Amalfi, Sorrento and Capri. Positano and the Costiera Amalfitana are not only a triumph of natural beauty and art, but also of flavors: it may no longer be time to relax on the beach, but as you can keep your pants and hoodies on, get the chance to eat your heart out without worry.
A curiosity: just a stone's throw away from Amalfi – you can reach it by foot via a walking path – is Atrani, the smallest village in Italy for extension. Its territory's of only 0.12 km2 (about 393 ft2), but everything crammed within is of extraordinary beauty, so much so the village is both among the Borghi più Belli d'Italia and part of UNESCO world heritage patrimony.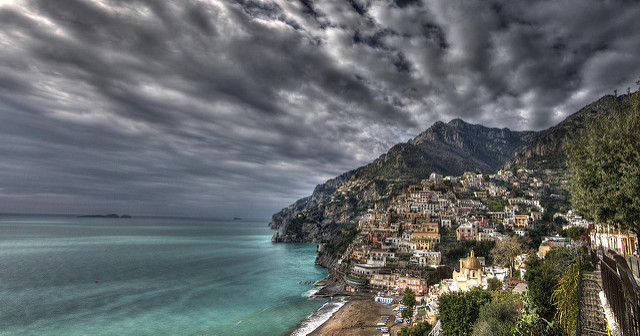 5. For atmosphere and a look at Italy's most ancient past: Taormina
Our excursion through the Italian Fall's most picturesque places ends in Taormina. Considered rightly one of the most characteristics towns of Sicily, Taormina is urbanistically peculiar, as it's considered a sea place, yet its centre lies up on a hill, 206 metres above the beach. Of course, sea and town center are connected via numerous buses and a cableway, as well as a long flight of stairs. Whichever season you choose to visit, Taormina gives its best when it comes to culture, its symbol being the Greek theatre dating back to the third century BC. The theatre is among the best preserved pieces of Greek architecture in Italy and enjoys an enviable position, opening onto the sea.
If you decide to go to Taormina this Fall, pick a hotel or B+B in the main town rather than the seafront, as this time of the year beaches and resorts are closed.