Last Updated on January 11, 2019 by Katty
Lucca, Tuscany
The Renaissance Walls, the most significant monument in Lucca, form an intact circle of about 4 km in length, with a series of ramparts, an imposing complex of defensive works, ditches, gun outposts, barriers and large underground chambers, they lost their military value and were transformed into a beautiful public walkway.
Duomo of San Martino: opening onto the piazza of the same name, the Duomo is surrounded by beautiful buildings from various periods. The facade, designed by the Lombard master Guidetto da Como in 1204, is one of the most significant examples. It is in white limestone and presents three levels of loggias, supported by richly decorated columns in polychrome marble with reliefs and intarsia (inlays). In the side chapels of the interior, there are many works of art, including paintings by Ghirlandaio, Tintoretto, Zuccari, and Fra' Bartolomeo, sculptures by Civitale, and the sarcophagus of Ilaria del Carretto, a masterpiece by Iacopo della Quercia (1408). Other attractions are the Churches of S. Frediano, with its colourful mosaics, and S. Michele in Foro.
San Gimignano, Tuscany
One of the best-preserved Medieval towns in Italy, San Gimignano served as an important relay point for pilgrims on the Via Francigena to and from Rome. The patrician families, who controlled the city, built 72 tower-houses (up to 50m high) as symbols of their wealth and power. Only 14 have survived but San Gimignano has retained its feudal atmosphere and appearance. The city also contains masterpieces of 14th and 15th-century Italian art.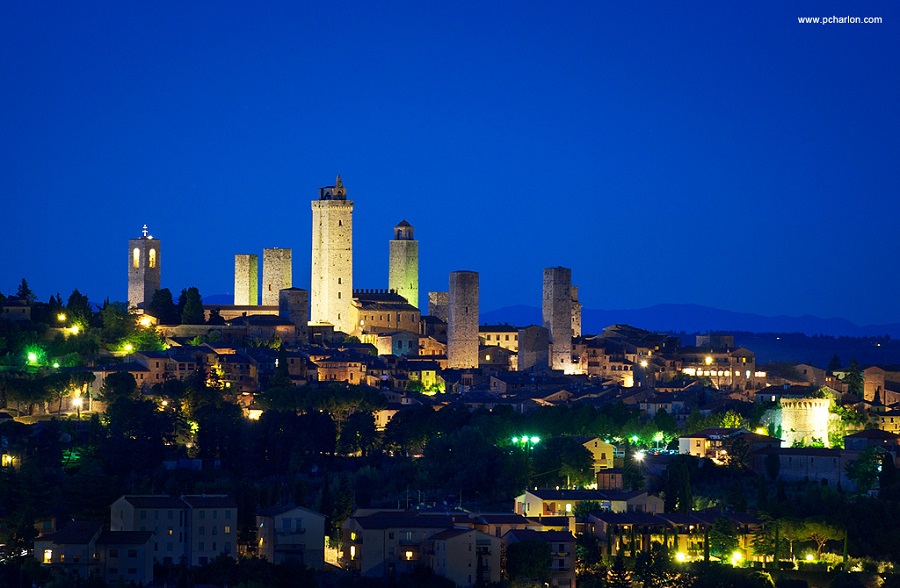 Chianti Area, Tuscany
Known throughout the world, this famous area lies between two important cities, Florence and Siena and extends from the Arno basin to that of the Ombrone. It has always been a wine-producing area – in fact there is evidence of viticultural activity from Etruscan times on. Worth visiting both for the unmatched beauty of its landscape and for the many villages, castles and farms dotted around the area. Don't miss Impruneta, where the famous cotto comes from, Greve in Chianti, Volpaia, Gaiole in Chianti, Castellina in Chianti, Radda in Chianti (headquarter of the Consorzio del Chianti Gallo Nero), Castello di Brolio (one of the largest wine estates).
Arezzo, Tuscany
An important centre for the production of gold jewellery. Within the old town lies the Duomo, decorated with 16th-century stained glass windows, and the Basilica di San Francesco, with a cycle of frescoes by Piero della Francesca. The Piazza Grande is a wonderful Medieval square, famous for its antiques market and overlooked by several impressive historic buildings, as the church of Santa Maria della Pieve and the Loggiato del Vasari, the home Vasari built for himself in 1540.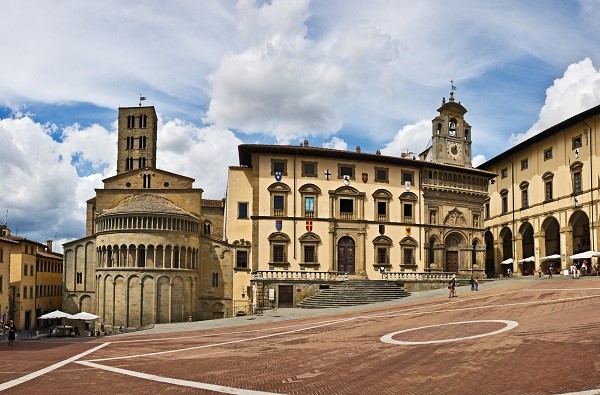 Cortona, Tuscany
A town the color of sandstone from which it is largely carved, clustered on steep slopes once enclosed by vast Etruscan walls, at the edge of the plain of Val di Chiana. The medieval past survives here, in the atmosphere and in the buildings. Renown now after the movie "Under the Tuscan Sun" was filmed here.