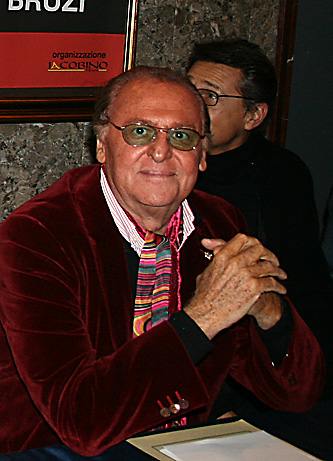 Renzo Arbore is one of the most unusual characters in Italian show business, a man who took irony, music and mixed them into an incredible way of communicating. Arbore started on the radio with his memorable duets with Gianni Boncompagni, but most will remember him for his efforts on television. At the end of the 1970s, he revolutionized Italian TV with the show "L'altra Domenica" (The Other Sunday), which was broadcast on the second public channel, while the first broadcast the more famous "Domenica In," hosted by the very popular Corrado. Arbore brought breakthrough television into the homes of Italians, introducing drag queens, a first in the history of Italian TV. He also discovered two people that would become international stars: Roberto Benigni and Isabella Rossellini.
Arbore had a new approach to tv, based on simplicity and freshness, teamed with his very own skillful ways to keep the audience hooked to the screen. After "L'altra Domenica," Arbore went on making TV history with "Quelli della Notte" (Those of the Night) a late night show that cast some funny characters hanging out in Arbore's living room. The jokes were hilarious and the ratings were very high considering the late night timeslot.
More success followed  with "Indietro Tutta" (Backwards at Full Speed). The songs and the overall spirit of the show not only entertained an entire generation of watchers, but some of the songs and characters created for the show became integrant part of Italian popular culture.
It was at this time that Arbore decided a career shift was in order. While he would return to TV from time to time, with shows like D.O.C., Arbore decided to focus on his original love: music. Arbore preformed a funny spoof song "Il Clarinetto" at the San Remo festival and then began focusing on assembling a band for world tours.
The main purpose of the band was and still is to perform Neapolitan songs, traditional of the city of Naples that appeal to Italians living across the globe and to international audiences as well. Arbore's band soon became a full orchestra and began participating in yearly world tours. These tours helped export Neapolitan culture across borders and allowed Italians to gather together to celebrate their heritage. Arbore became a cultural phenomenon and he found himself on a much more comfortable stage.
Aside from traditional music, Arbore is also a great lover of jazz, and often throws a few pieces in during his concerts. The artist is also often spotted in jazz bars watching live performances, and he is a big fan of the original American jazz musicians. Arbore has traveled to Louisiana many times to immerse himself in jazz culture.
Renzo Arbore is one of the few entertainers who reached the pinnacle of success without having to change his artistic approach and has remained true to himself ever since: he always comes across as a true gentleman and people love him for it. While some would think Arbore's traditional music would only appeal to a few, his persona and natural likability made popular and loved by many.