Nature Reserves in the Province of Arezzo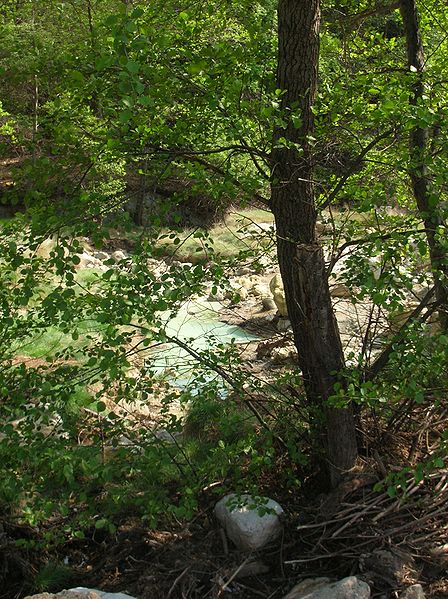 The Province of Arezzo is located on the border between Emilia Romagna, the Marche and Umbria. Though it is traditionally famous for its artistic, culinary and historical culture, it is rich in areas of natural beauty that are little known. For those who love nature, it will be difficult to decide which area to visit.
The Monti Rognosi Nature Reserve
The Monti Rognosi Nature Reserve is an area of natural beauty and a fantastic place to visit while on a tour of the art towns and cities of the Tuscan Valtiberina. The unique landscape with its rare plants and rocks is fascinating. The 172 hectares of hills is scattered with dark green rocks and sits between the tiny enchanted village of Anghiari and Caprese Michelangelo.
The dark green metamorphic rock called "ophiolite" is high in heavy metals, which has caused the area to be inhospitable for traditional flora, resulting in the development of several rare and interesting plant species.
Alpe della Luna Nature Reserve
The dense woodland area of 1500 hectares is the natural habitat for wolves and a variety of birds of prey species, including the golden eagle. Numerous rugged, rocky outcrops are surrounded by forests of centuries old beeches.
The area is protected and crossed by the Great Apennine Excursion, as well as numerous other paths, which make it an excellent adventure for hikers and nature lovers.
Sassio di Simone Nature Reserve
This area of natural and majestic beauty covers 1600 hectares between the Marche and Tuscany. The clay soil is embedded with a calcareous spur that is rich in fossils and the land creates a wide range of natural habitats. A variety of birds and mammals, including wolves, call this pristine wilderness home.
Of special interest to history buffs is the city fortress built in 1566 by Cosimo dei Medici. It is located at the top of Sasso di Simone.
The Casa del Re refuge has a beautiful panoramic view that is a perfect spot for hikers to stop for a rest and a refreshing drink. The Reserve is equipped with visitor services and has numerous paths that beg to be explored.
Monte Nero Nature Reserve
The Monte Nature Reserve is characterized by rugged, rocky formations and broadleaf forests that are alive with rare shrub growth. The 400 hectare reserve straddles the border of Romagna and Tuscany. Some footpaths are overgrown and almost impassible, but the panoramic views leave hikers breathless, particularly the one of the Valtiberina Valley.
Wolves and golden eagles find refuge in this natural pristine wilderness, which is also home to a wide variety of other flora and fauna.
Ponte Buriano e Penna
This Reserve was established in the 1950's, to give new life to marsh and lake areas after two dams were built in the area. It is located along the river Arno, and is twinned with the Valle dell Inferno e Bandella Natural Reserve. The Arno has created an unusual morphology and wetland that generates a gorge with gently sloping banks. This contributes to the reproduction of a wide variety of flora and fauna. Nesting waterfowl include species that are both rare and endangered. Footpaths take visitors over hills and through wooded areas along steep, rocky walls of the Rodine and Velle dell Inferno. The two areas combined cover 1199 hectares of pristine beauty that is the combined efforts of man and nature. This has taken place over centuries and is a unique wilderness experience where artistic, historical and natural beauty abounds.
If you plan on visiting the Arezzo area, be sure to visit these remarkable natural wonders for a great wilderness experience.
By Mary M. Alward
Arezzo ( Intro ) | Arezzo and Surroundig areas | Arezzo Food Wine | Nature Reserve in The Arezzo Area