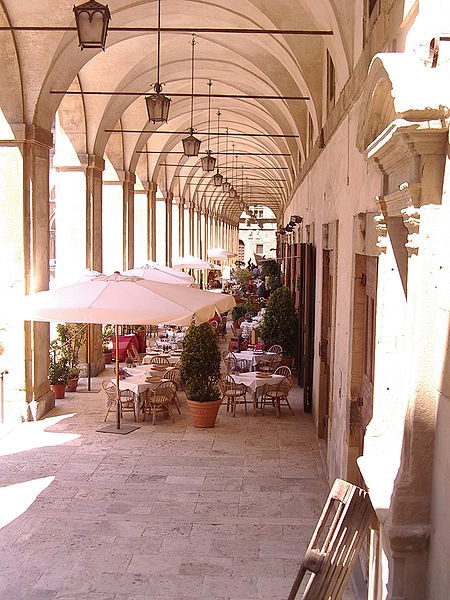 The Strada del Vino Terre di Arezzo traverses the Valdarno, an area characterized by wonderful gentle rolling hills, medieval villages, hamlets, villas, and castles. This extensive Chianti sub-zone covers some 675 hectares of vines and is home to 86 producers, over 15 communes. Here's all you want to know about Arezzo food and wine!
Arezzo food and wine
The Colli Aretini wines have a unique character, which is typified by a bright violet hue due to the slightly acid soils of the area. According to Carlo Ferrini, winemaker consultant to "Tenuta Sette Ponti," the wines have more length than width, with good body, yet not as full and round as other classic Tuscan wine-making areas.
In recent years, the area has attracted big investors such as the Ferragamo fashion magnate, owner of "Il Borro estate" who favors a modern, polished bordelaise blend to the traditional Sangiovese. Antonio Moretti of Sette Ponti has recently channeled his dynamic energy from the world of fashion to producing some of the areas top 'crus' with his Crognolo 90% Sangiovese and Oreno a blend of Sangiovese, Cabernet, and Merlot.
Traditional quality wines can be found at the well-established estates of "Tenuta San Fubiano" with its classic Chianti Putto, "Villa La Selva" with its elegant Sangiovese, Felciaia and Petrolo's Sangiovese Il Torrione and fine bottling of Merlot, Galatrona. New emerging estate "Mannucci Droandi," producing a good organic Chianti Colli Aretini, Campolucci, has done extensive research into the conservation of old vine varieties of the area, setting up an experimental vineyard for micro-vinification.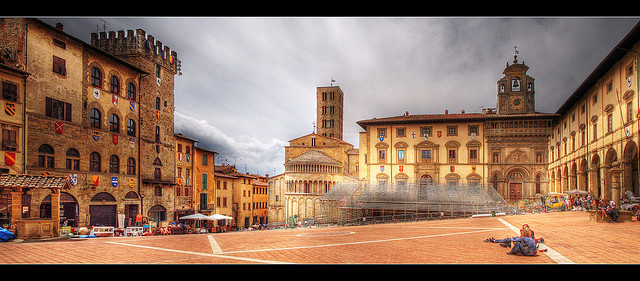 Key players in the production of wine in the Colli Aretini areas are, certainly, "Tenuta Sette Ponti," "Fattoria di Petrolo," "Villa La Selva," "Fattoria di San Fabiano," "Il Borro" and "Manucci Droandi." More about Arezzo food and wine?
Wine in and around Arezzo come under the Chianti Colli Aretini DOC and DOCG and include the following denominations: Chianti DOCG, Chianti Colli Aretini DOCG, Colli d'Etruria Centrale DOC, Valdichiana DOC, Cortona DOC,Vinsanto del Chianti DOC e Vinsanto del Chianti dei Colli Aretini DOC.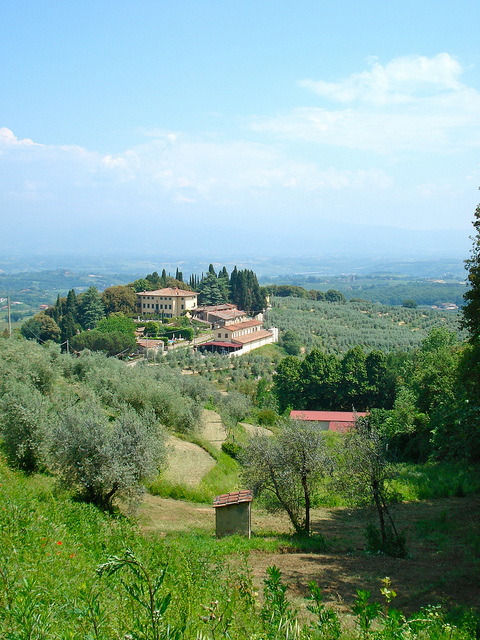 Arezzo's typical regional food products and recipes
Tuscan food is a triumph of nature: it is simple country cooking and it may lack a bit in imagination, but expresses an almost mystical symbiosis between a people and their land. The elaborations exported to France by the Medici are long gone and mostly forgotten. Also vanishing, sadly, are the inspired dishes that used to take cheerful Tuscan mamme all morning to create. So what more to know about Arezzo food and wine?
But the basics are still there: country bread baked in wood-fired ovens and the emerald-green extra-virgin olive oil that combines so well in bruschetta and pane unto; exquisite vegetables and greens that make a minestrone easy (Tuscans have always been more resourceful with hearty thick soups than pasta); rosemary, garlic, onion, sage, basil, bay leaves, and tarragon that heighten flavor; and, of course, the bean, so adored that when detractors couldn't think of anything worse they called Tuscans mangiafagioli (bean eaters).
Tuscans are big meat eaters and Tuscan food is greatly characterized by grilled or roasted meats: chicken, pork, duck, pigeon, and Florence's legendary bistecca alla fiorentina (a hefty slab of Chianina beef – a real one weighs about 1kg with bone and all). Boar and game birds are also prized in this most wooded Italian region. Some of Italy's tastiest Pecorino cheese comes from sheep grazed in the stark hills of Siena.
Famous recipes and food of Tuscany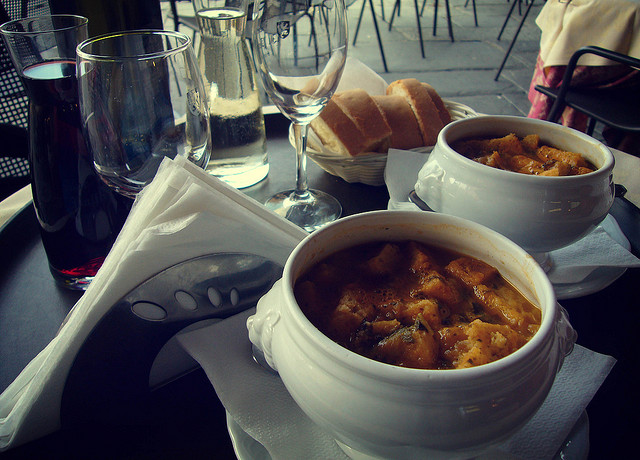 Arista Pork loin: roasted pork, flavored with rosemary and garlic.
La Chianina – Bistecca alla fiorentina: thick T-bone steak charred on the outside, pink inside, served with white beans.
Cacciucco alla livornese: a piquant fish soup, served with garlic toast.
Cinta Senese: a special pig breed typical of Tuscany, and of the Siena region in particular, from which cured meats, as well as steaks roasts, are derived.
Crostini di fegatini: breadcrusts with Tuscan style chicken-liver paté.
Fagiolo zolfino: we mentioned Tuscany's love for beans and the fagiolo zolfino is one of the region's typical varieties, originally of the area around Terranuova Bracciolini.
Gramugia: a traditional soup from the Lucca area, of very ancient origins. It mixes together onions, artichokes, fava beans, asparagus, and bacon.
Panzanella: a hearty salad made with stale bread soaked with water and crumbled with chopped tomatoes, onions, basil, oil, and vinegar in a sort of salad.
Pappardelle alla lepre: flat wide tagliatelle with rich hare sauce.
Pappardelle al cinghiale: flat wide tagliatelle with rich wild boar sauce and pecorino toscano.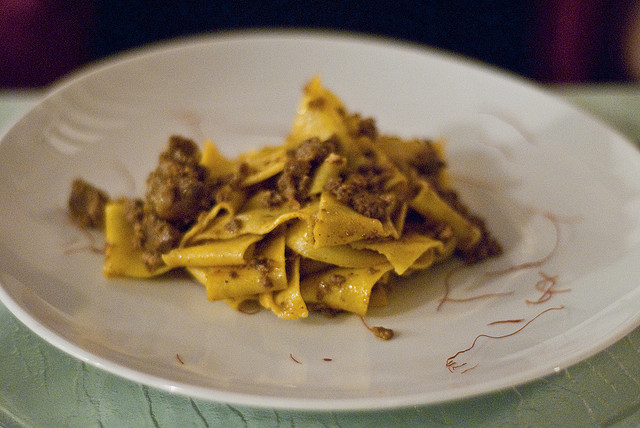 Pici: home-made pasta, thicker than spaghetti, usually served with a rich meat sauce.
Pollo del Valdarno: Valdarno chickens are a special breed typical of the Arno Valley, renowed for the tenderness of their meat.
Ribollita: hearty soup with beans, black cabbage, and other vegetables, thickened with bread.
Tordi allo spiedo: spit-roasted wood thrush.
By Michele Shah
These would be our highlights of Arezzo food and wine. If you are interested in Tuscany and more specifically in the Arezzo area, you should check out our other articles dedicated to this beautiful land: Arezzo ( Intro ) | Arezzo and Surrounding areas | Nature Reserve in The Arezzo Area