Going to the Source: Buffalo Mozzarella 101
An INTERVIEW with Luisa di Fumoso Pietro ( owner of Caseificio Aziendale Luisa ) by Patricia Edwards
Buffalo Mozzarella Cheese is one of Italy's most celebrated culinary masterpieces. For me, it was "love at first taste".
In finding "All Things Italian" I follow a strict mantra – I must go "directly to the source"!
My interest is in unveiling the process and secrets! As a local, I choose my routes away from a tourist's"'beaten trail". I go along the country road, Via Paternocchio, in Montefiascone and I arrive directly at the source! I meet "Luisa", yes, the "Luisa" di Fumoso Pietro!
INTERVIEW:
Hello Luisa! I've come right to "the source"! She greets me with her welcoming smile and says, welcome, come, let's go! And our "giro" (italian word for tour) begins! We move through a variety of production areas; the mill (il molino), the grain rooms, (il frantonio), the modern olive oil presses rooms, all supported with a backdrop of a lush, pastorial landscape. I hear the quiet; the tranquility.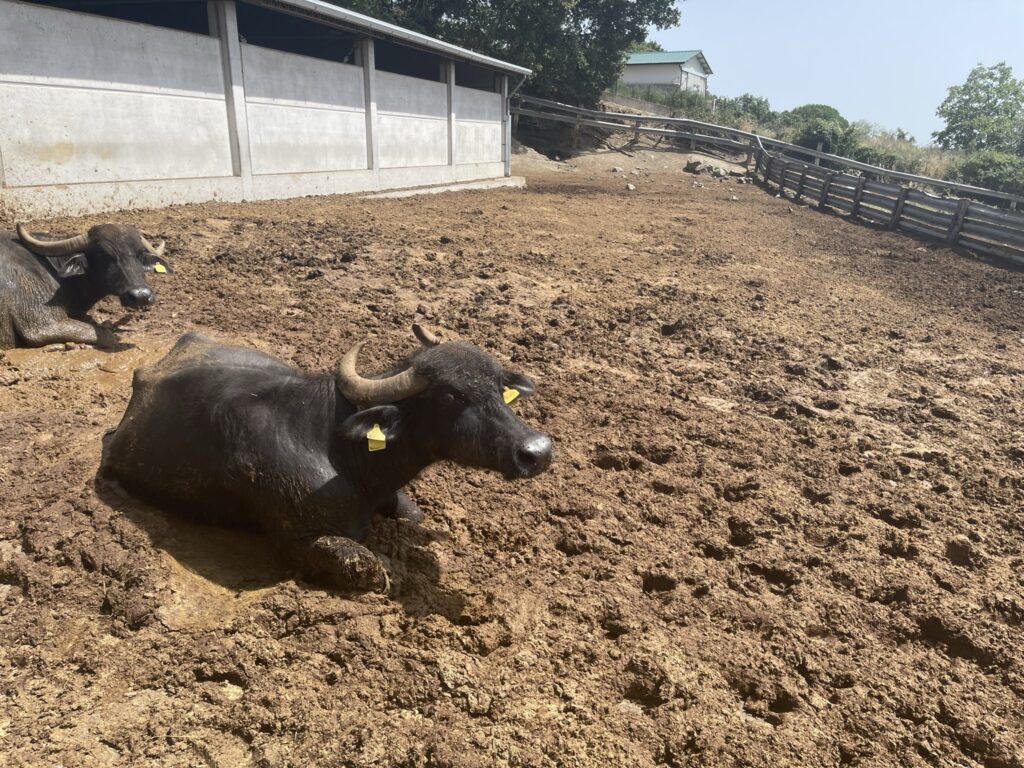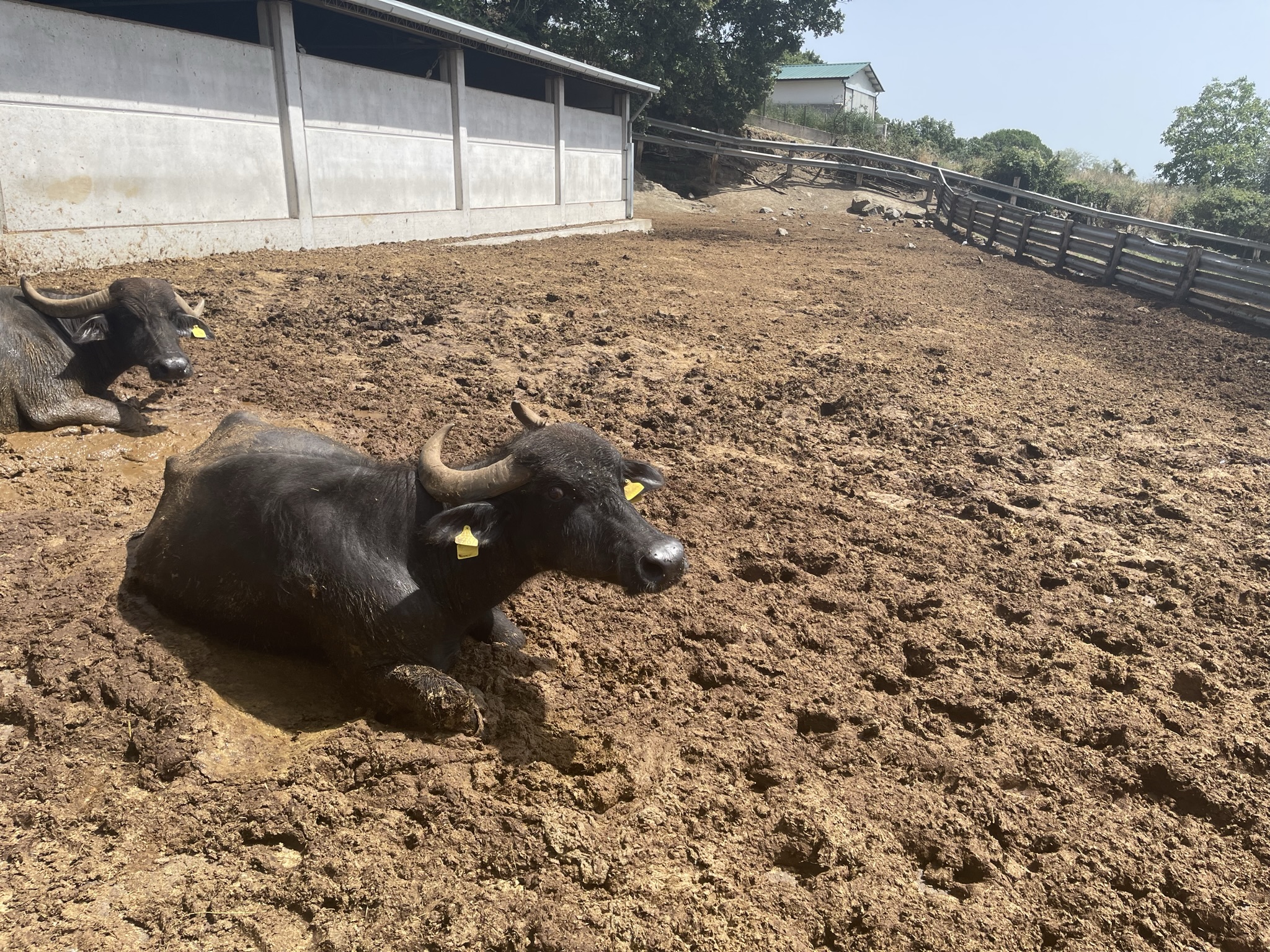 It is morning and Luisa's majestic water buffalo are found below the diary, just a few meters away, calmly bathing, reclining, in mud baths. "This looks like a tranquille 'spa'! I say with glee. The animals are relaxed, surrounded by each other's company in what seems like: bliss.
PE: Tell me about the buffalo, are these animals native to Italy and the region?
Luisa: The buffalo are curious and very intelligent animals, with a completely black coat, large black eyes, with horns up to 60 cm long with furrows and reliefs. They love water and mud. They come from Asia and the buffalo are bred in Italy (particularly in the southern area of the peninsula). Ours are a Mediterranean breed belonging to the River family.
PE: What makes a water buffalo different from normal "dairy cows"?
Luisa:
Well, the answer is very simple! They are two different species, one is a bovine, the other a buffalo! It's like talking about a cat and a dog!
PE: "When was Luisa's farm and shop founded?"
Luisa: "In 1999, with 27 heads of thriving buffalo, gradually increasing over the years until reaching about 350 heads. The dairy was opened in 2004 when we decided to turn our animals' milk into cheeses!"
Luisa leads us through the prestine milking areas. The dairy farm is a well-planned organization and I observe calmness and peace. Daily routines, all within a few meters apart are nestled securely, under the watchful dome of Santa Margarita of Montifiescone.
Luisa: "Shall we go inside and meet the buffalo?" I embrace her invitation. As we enter, Luisa instructions us to enter quietly and "do not speak". Her respect for the animals, and her gentle lead, teaches me to follow suit, in a method of silent, gentleness. Her own peacefulness and grace is reflected in the animal's own ease and interest with us, as we enter their private stable. Luisa points out the youngest animals resting on generous beds of straw, only five days old! I am delighted and awed.
PE: Is there a special diet and lifestyle?
Luisa: The diet is purely herbivorous and varies according to age, production and the physiological moment in which the animal is found.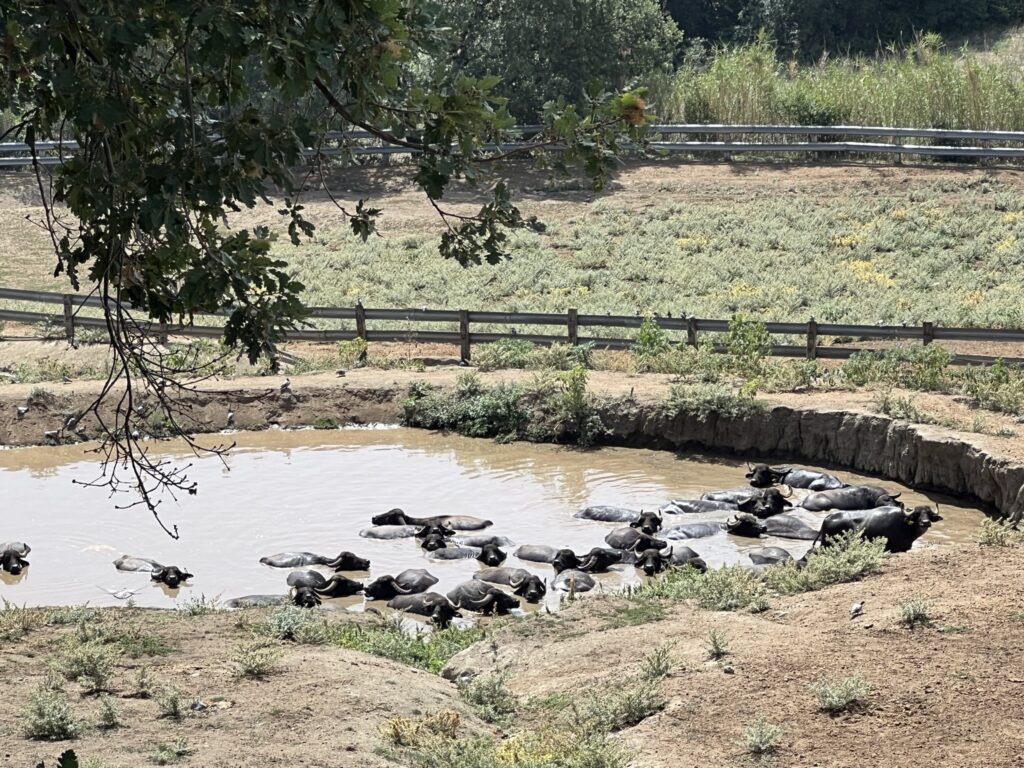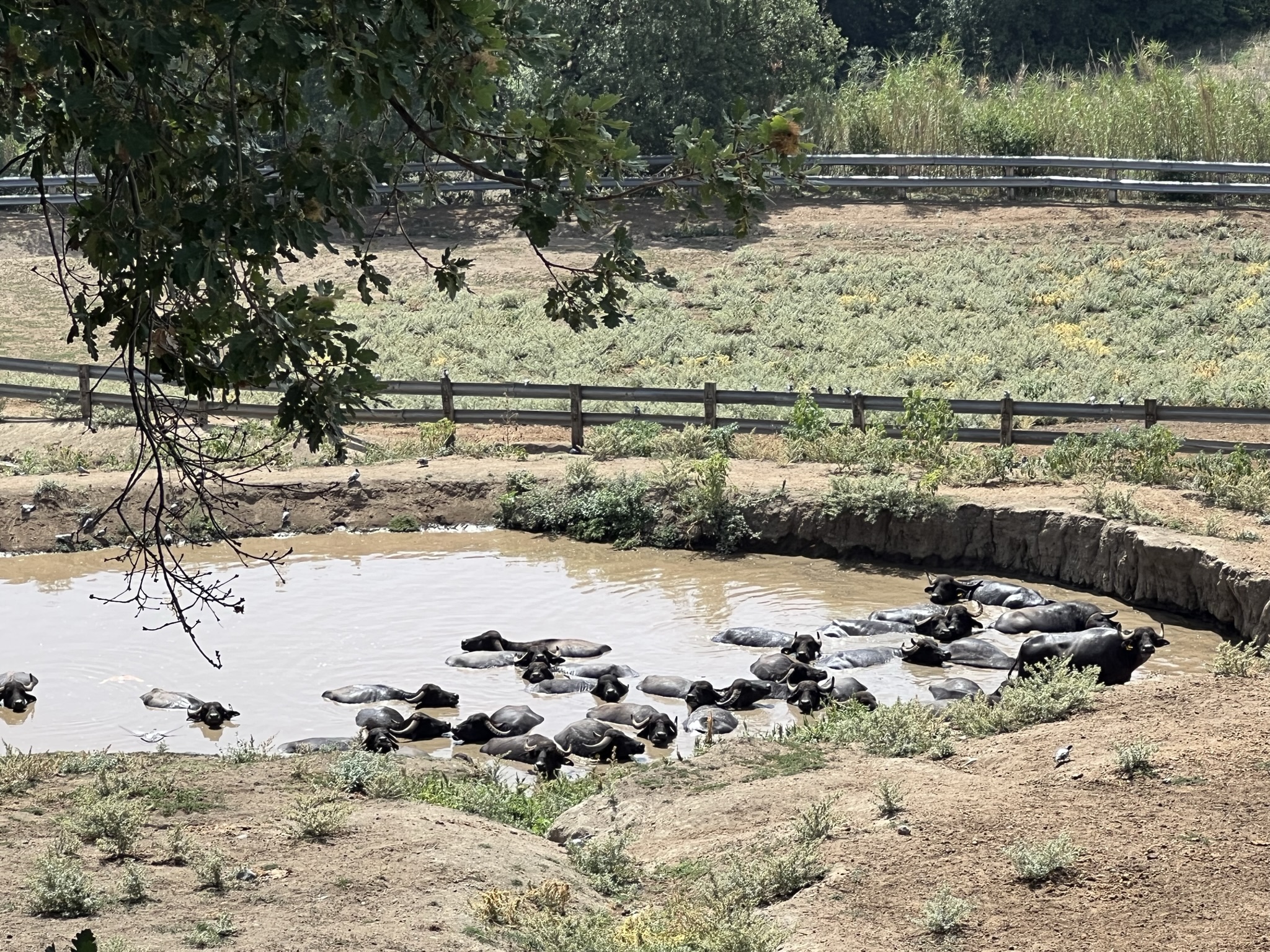 Luisa: "The calf is fed with the mother's colostrum for the first 4/5 days, twice a day, so that it assumes the necessary immune defenses passively. Then they are fed with artificial milk through a bottle for about 4 months. The average daily quantity of milk is about 2 liters. After about two weeks, hay and weaning feed ad libitum is added to the diet so that the animal gets used to solid food. From 7 months the weaning feed is replaced with the farm feed which is made up of barley, corn and field beans."
The hard working staff prepare the pristine milking room for the next session. I learn that "the lactating buffaloes are fed with 10 kg of clover hay, straw and 2 kg of farm feed, with the addition of calcium and phosphorus in a 3: 1 ratio. During milking, industrial feed is administered individually with different quantities based on milk production, around 4 kg per day. The buffaloes that do not produce milk have a daily ration of 2kg of farm feed and straw ad libitum. In addition, to avoid uterine prolapse there is an integration of calcium and phosphorus with a ratio of 1: 3 in the form of mineral salts mixed with the feed."
and I learned that milking is twice a day.
Finally, we enter Luisa di Fumoso Pietro's shop; the large windows welcome us into the production scene like a film scene!
PE: "The process of making the "buffalo mozzarella" seems a bit mysterious. Can you guide us through the process, step-by-step?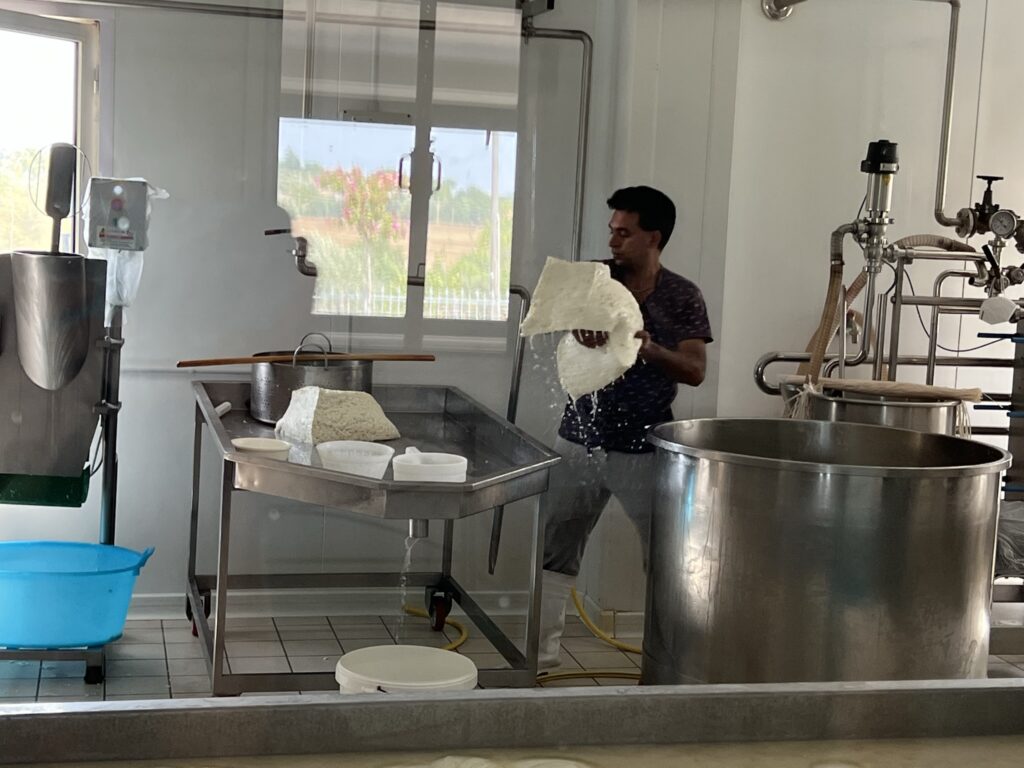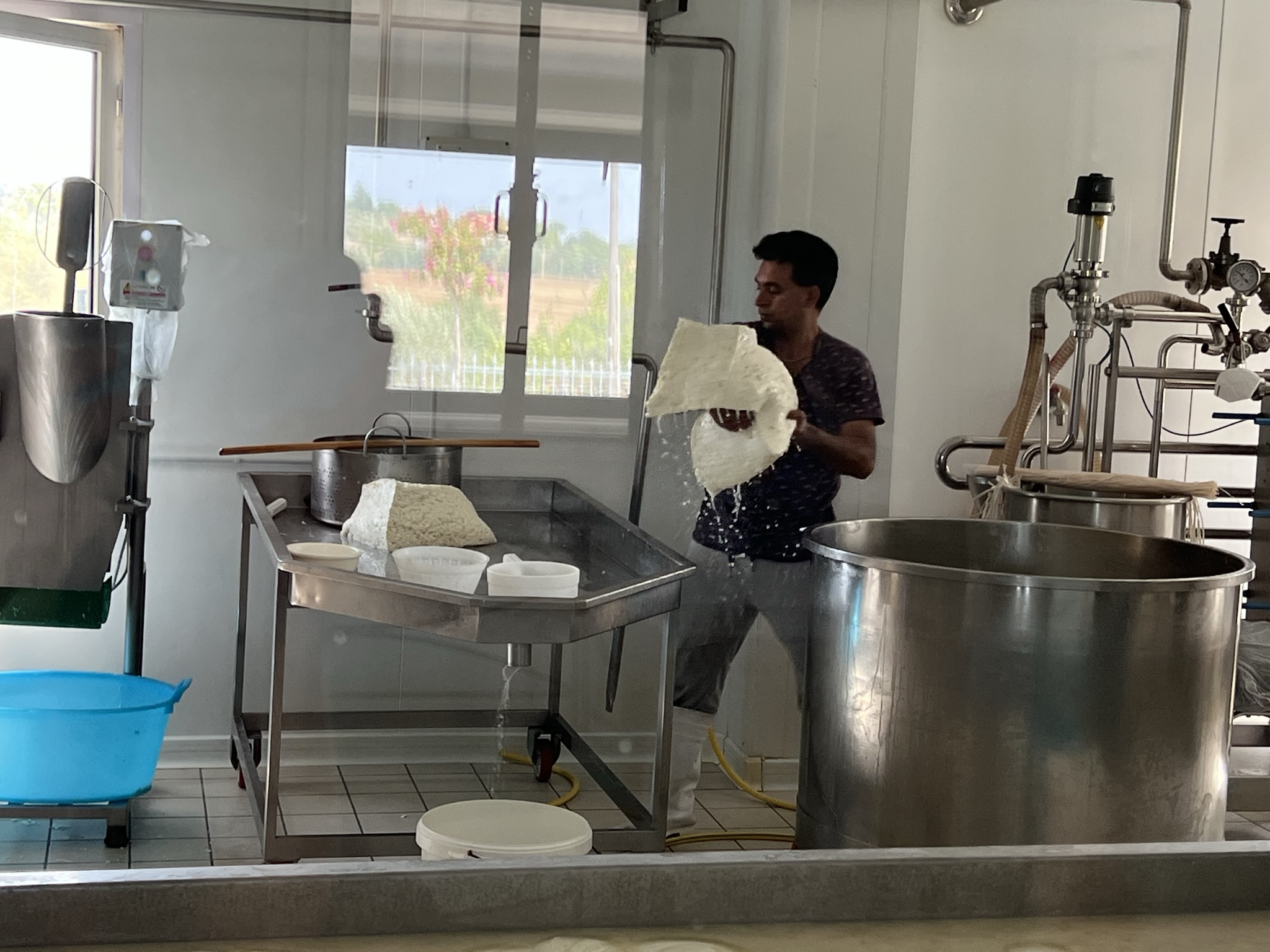 Luisa: "Well first … the milk/raw material is transported from the milking parlor to the tank and is subsequently stored, filtered to carry out subsequent measurements of the acidity of both the milk and the whey graft. The graft whey is derived from the curd of the day before. It is added to the milk, grafted whey and brought to a temperature of 36 degrees and then calf rennet is added. The coagulation phase begins and is completed after 1 hour. Then the dough is broken with the thorn. The whey is removed and the ricotta is obtained at a temperature of about 90 degrees. After a part of the whey is left to maintain the curd and after about 4 hours the cheesemaker does a test which consists in seeing if the curd dough is row and therefore it is ready to be worked. The pasta is taken, it is inserted into the pasta grinder and then it is placed in the vat adding water at 98 degrees, and the spinning begins. The dough can be stretched and collected in a container where it is hand-cut, in water, at room temperature. (artigianale: italian hand crafted, produced) The mozzarella is placed in brine for about an hour with citric acid and salt to preserve the food.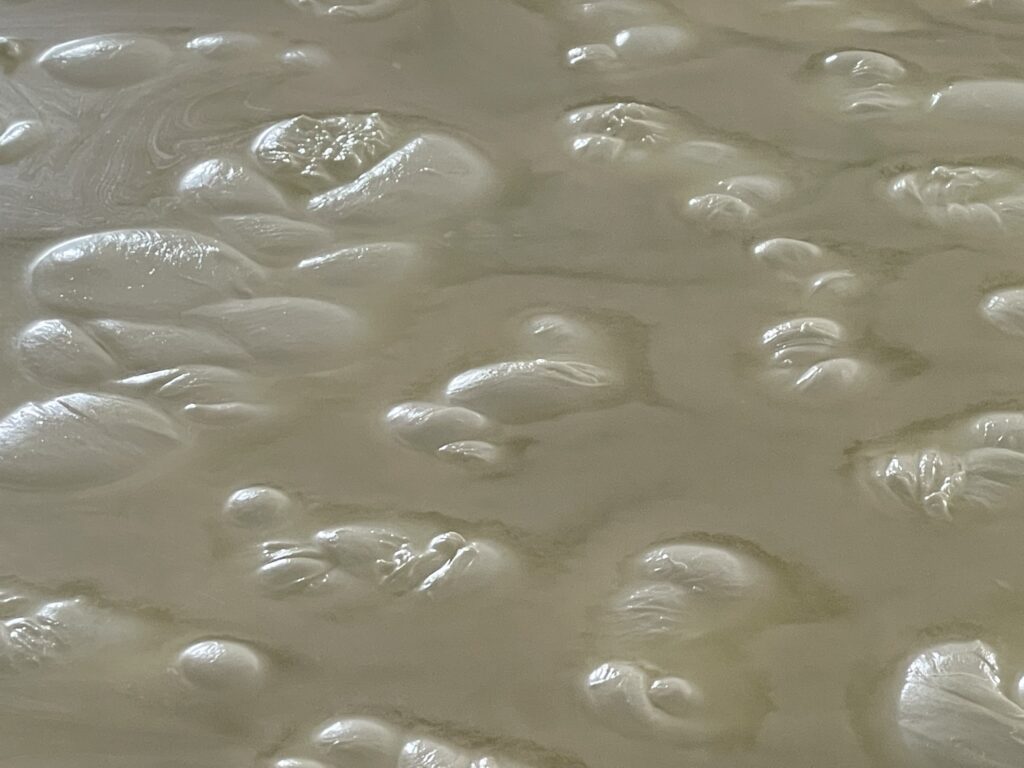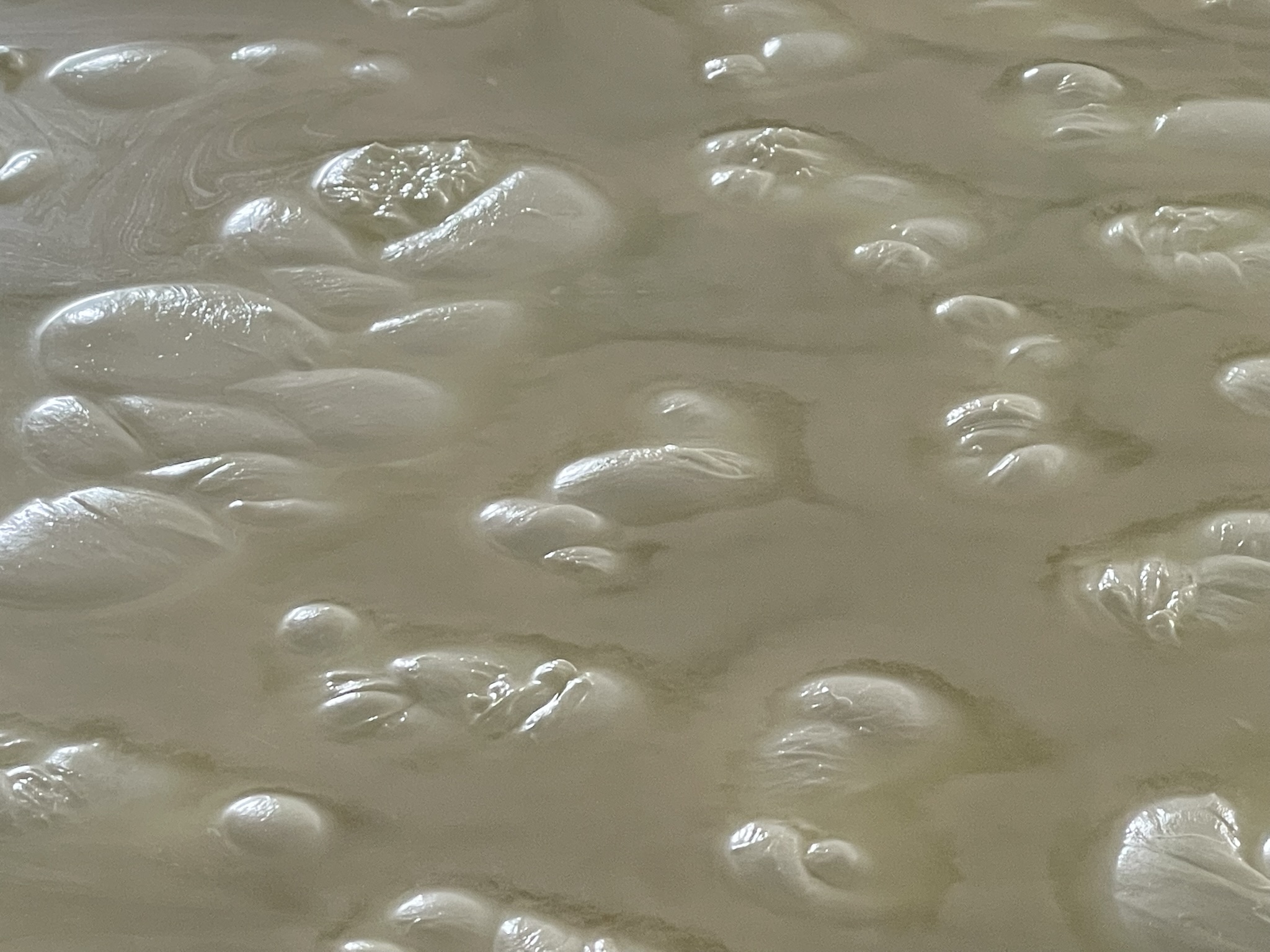 PE: This process is complex and simple, resulting in cheeses that are spectacular!
In your opinion, what distinguishes your cheeses?
Luisa:
Thank you for your compliment! Our cheeses are always fresh! The milking and processing are the same day to guarantee the quality of the product! The attention in our stables from food (using foods that come only from our countryside), to the care of the animals, guarantees us a good final report on the organoleptic characteristics of milk (such as fat and proteins)!
I am impressed as Luisa tells us that "the dairy boasts the experience of master cheesemakers, the efficiency of modern equipment and health checks, thus ensuring a healthy cheese!"
PE: There are many types of cheeses. Can you list what is available to us?
Luisa: Mozzarella reigns supreme in the wide choice!
But we can also find treccia, burrata, ricotta, yogurt, primo sale, smoked products and aged cheeses such as scamorze and caciotte.
Today I tried burrata; my new favorite! With a slightly firm outer edge, the inside holds a tangy consistency that is full-bodied and delicious!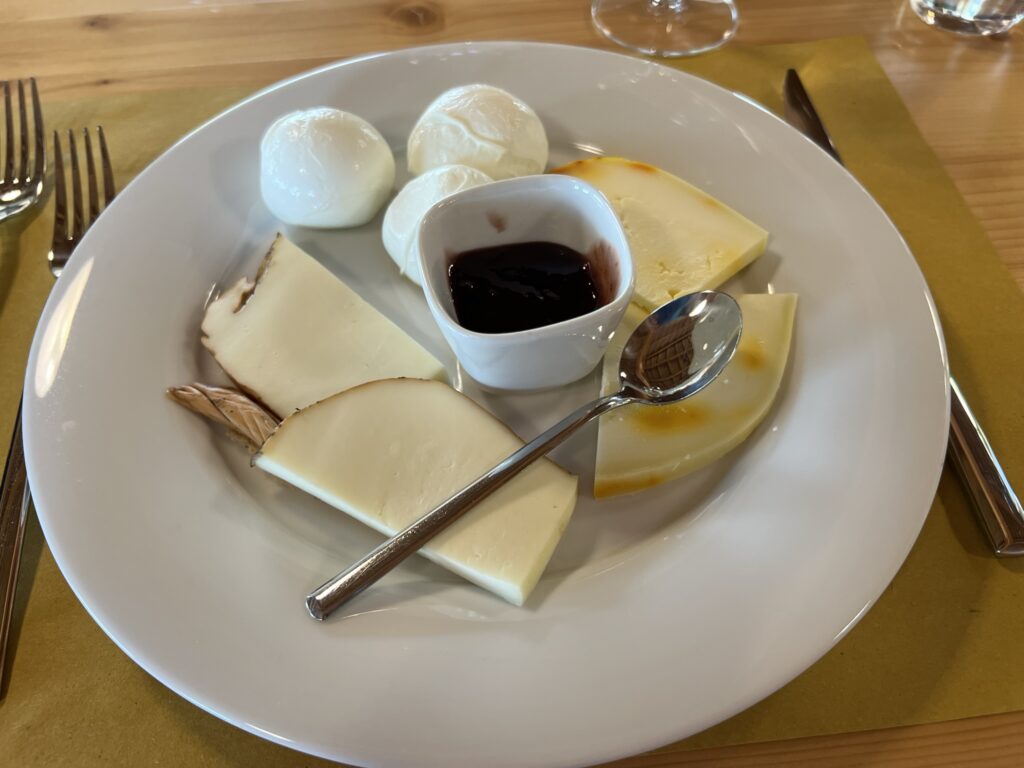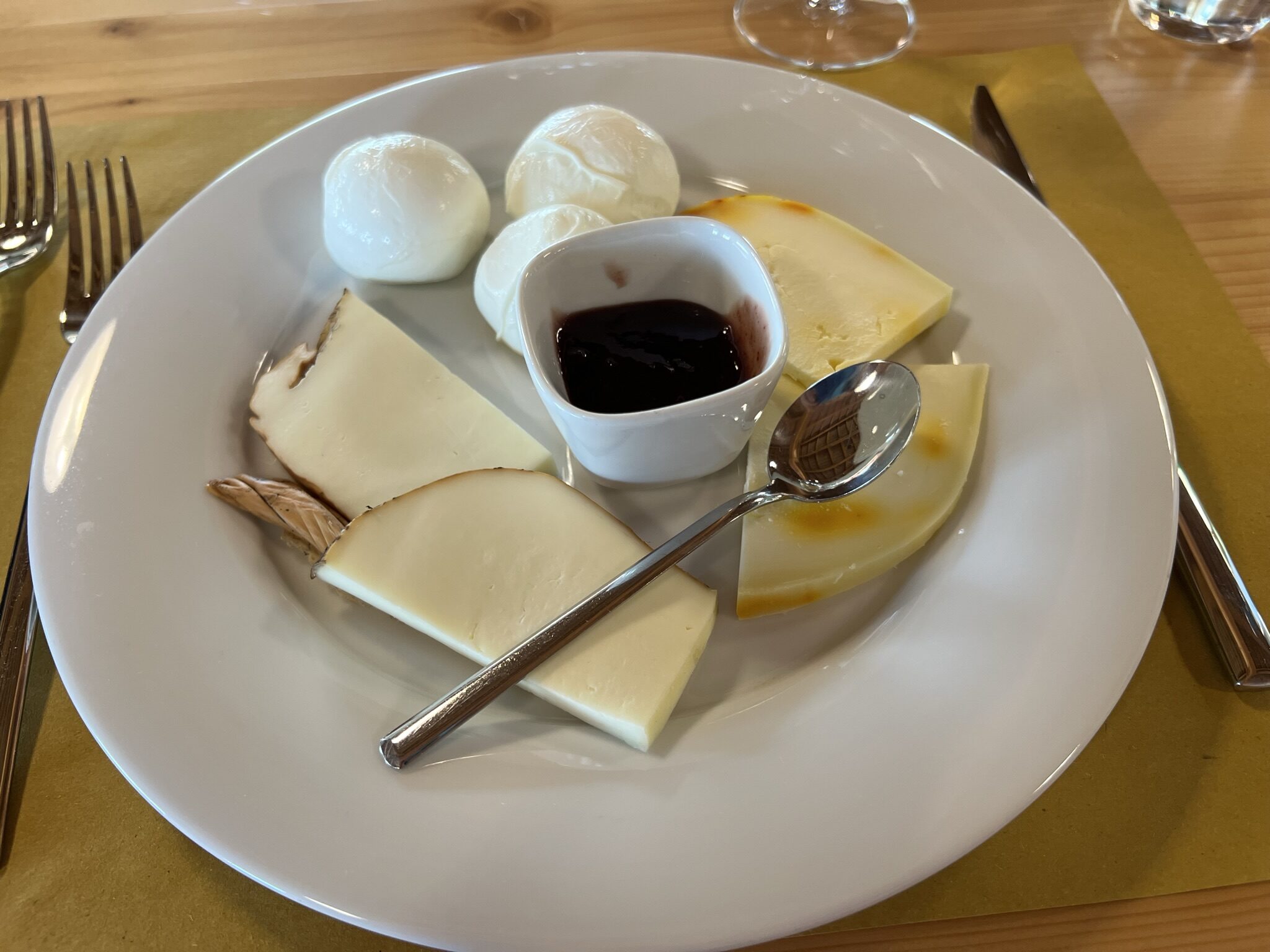 PE: Food, from "farm to table", seems to be within walking distance in most of Italy. It is all here – – and your new tasting room and restaurant is adjacent to the shop .. can you tell us about it?
Luisa:
The tasting room was born with the idea of making people savor after a visit to the farm, meeting the buffaloes up close, seeing them on their journey from small to adulthood, to make it clear where those products come from. We find ourselves tasting a dish and not knowing where it comes from … The tasting is the final part of the visit, it is an experience that must be lived with relaxation, accompanied by excellent cheeses and a good glass of wine. For those who simply want a good meal, without immersing themselves in walks that could be tiring, they can simply sit outside on beautiful summer days or simply inside our cozy restaurant. We cook all dishes, from appetizers to desserts with our farm products, from cheeses to meat using the flours of our mill and the oil of our mill!
PE: For me, personally, I find that Italy shows evidence of both the "ancient" and "contemporary". I see this juxtaposition so often. Do you agree that your products draw from both the past and today?
Luisa: I come from generations of farmers, I grew up listening to stories, of how things were done by hand, of the effort and commitment that went into first getting what was needed for the house and then selling it. I grew up where there was decent land ownership, fields to cultivate and a sheep farm. I saw these animals being sold, moving to buffaloes, increasing the land, building stables with large outdoor fences and puddles of water to cool off, modern means to ensure that the effort was different and more manageable, and the commitment became the desire and passion, not a "job". All this to be the reality of today. If there had not been certain teachings from the older generations, if the ancient wisdom had not been the strength, I believe that my parents would not have had the potential to understand what agriculture was, today they have found their way to make it modern, stay in step with the times and love it.
PE: Thank you for our amazing tour today. For those interested the process and more information and a visual overview is well explained on the website but I caution readers, it is mouth-watering!
Luisa: I welcome your readers, and I hope it was all interesting. For those unfamiliar with the environment I hope I have created an interest, a stimulus!
PE: Thank you Luisa!
Luisa: Thank you for the time that has been dedicated to me! If you pass by these parts, come and see me!
"If there had not been certain teachings from the older generations, if the ancient wisdom had not been the strength, I believe that my parents would not have had the potential to understand what agriculture was; today they have found their way to make it modern, stay in step with the times and love it." – Luisa

PE: For more information, please click on the website link.
https://caseificioaziendaleluisa.it/
Article by Patricia Edwards
Read more about Water Buffalo Mozzarella