I guess this was the primal website. I but train tickets online all the time and it works well. So I un-published this article.
Katty Piazza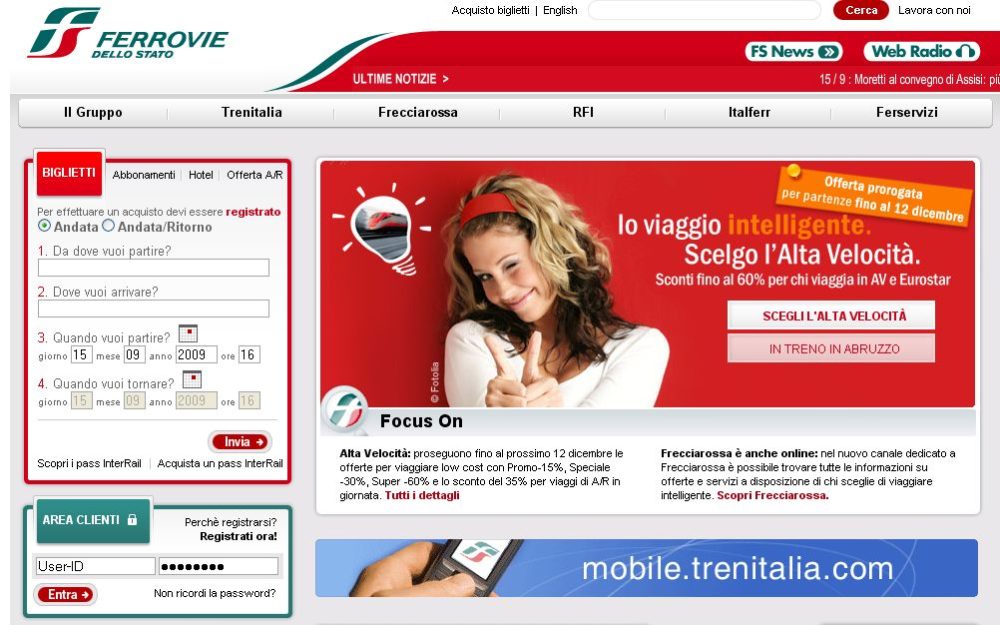 Trenitalia's website
Well, the experience trying to buy train tickets on Trenitalia has been very informative. The web site is well designed, in both English and Italian, and easy to use, finding the schedules, choosing the train, class and choice of seat. Of course, first you have to set up an account, change the site-issued password to one of your own, and create your client space, but even this is easy. In fact, everything flows quite smoothly. Until it's time to pay.
At first it's attractive. The standard forms make it easy to choose what credit card you want to use and fill out all the information. Then the wheels spin and a message comes up: For security reasons…. So, no ticket.
But wait, there's a call center. You can call and get a real human 24/7. Really convenient. You can even call from abroad, number provided.
Except the number to call inside Italy is a pay number, and your personal telephone service must be authorized to provide it. So normally, no call center, but if you could reach it, it would cost you 55 centimes/minute. For help buying a ticket on the Italian transportation system.
In the end buying a train ticket on the web was impossible, but one can't discover this without wasting a fairly large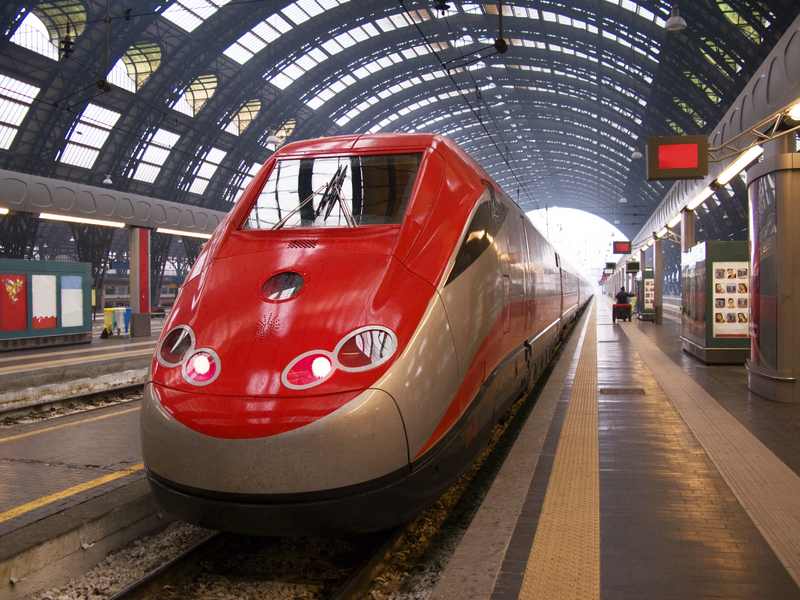 Train in Milan station
chunk of time discovering all these interesting things. Oddly buying a ticket at the station with a ticket machine is quite simple and the machine has no problem accepting the same credit card.

How to Book Train Tickets for Italian Train.
This email denied my credit card payment unless I fax the documents below !!
Dear Customer,
the transaction has not been authorised by the payment circuit.
You can request authorisation to buy on the site of Trenitalia with your credit card by sending the documentation indicated below, by either fax (06/44104036) or e-mail ([email protected]):
– the content of this email,
– your User ID,
– a contact telephone number,
– the photocopy/scan of a valid identity document of the person associated to the User ID,
– the photocopy/scan of the tax code number
Within 48 hours you will receive the outcome of your request on your e-mail address.
With reference to the data you give us to enable the service, please remember that your privacy rights are safeguarded by Trenitalia in the respect of current Legislation (Italian Legislative Decree 196/2003).
The call center :
Trenitalia Call Center 89 20 21 (from abroad +39-06-68475475 )
Operates 24h, seven days a week
Access procedure
Due to ministerial decree, to call numbers starting with 892 from land line requires being specially enabled. In order therefore to continue using the services of the Trenitalia call center, please contact your telephone provider for information on how to enable it.
To access all types of Trenitalia service or information, the number 89 20 21, is available to customers. To dial without area code, the number is operative every day of the week.
By calling the Call Center and following the simple instructions given by the menu, you will be able to access the following services: