The region of Lazio is located in central Italy. The region is also known as Latium and the world-famous city of Rome is located in the center of Lazio. Apart from Rome, there are plenty of other good places to visit in the region. There are several fascinating landscapes, good countryside, hills, several lakes, cities, and a coastline that is lined with many good beaches. The are several good fishing villages and excellent restaurants in the region. So where should you go shopping in Lazio region?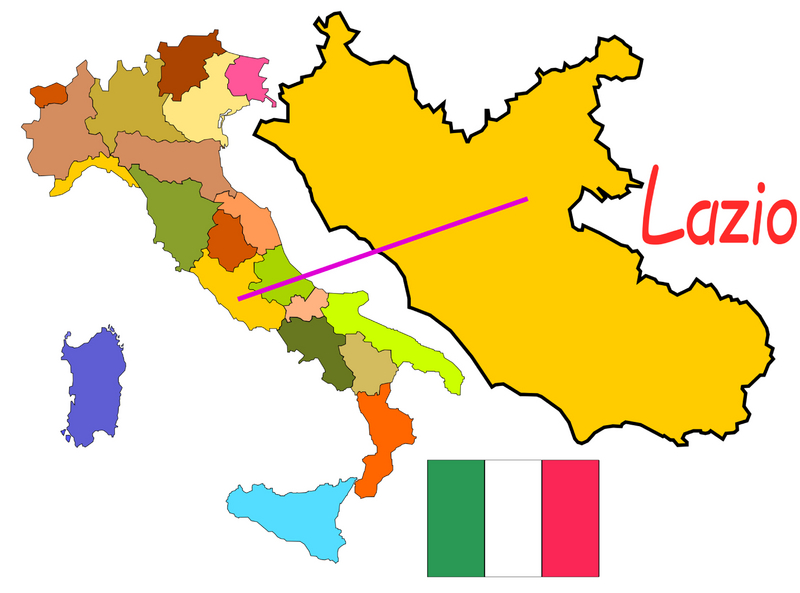 The economy of the region is based mainly on fishing, animal breeding, handicrafts, and agriculture. Agriculture in Lazio is mainly done for the cultivation of olives, vegetables, fruits, and grapes. Lazio has plenty of good vineyards and wineries that produce good quality wines.
Outdoor Shopping in Lazio
Outdoor shopping in Lazio, like in all regions of Italy is the best way to purchase traditional local products for reasonable prices. Though almost all towns and cities in the region have shopping streets and many shops that sell handicrafts, souvenirs, antiques, and gift products, these are generally sold in shops for a high price. In outdoor markets and flea markets, the same products can be purchased at bargain prices. Given below are the details of a few outdoor markets in Lazio:
The most important city in Lazio and even in Italy is Rome. Rome is home to many good open-air markets and handicraft fairs. The most important market is held weekly on Sunday in Porta Portese. This is known to be one of the most famous flea markets in Europe. Visitors from all over Italy and even Europe make it a point to visit this flea market if they are in Rome.
Visitors would be able to find almost anything in this market like Kilim rugs, Russian phonograph records, handicrafts, and several artifacts. The market is spread over miles so visitors would have to walk a lot in order to be able to check out all the items on sale. Also, it is advisable to reach there early in order to get all the priceless products before they are sold off.
In Rome, on weekdays there is another outdoor market which is held on Via Sannio. This market is best for those who want to purchase, jewelry, accessories, and clothing items at good bargain prices. Bargaining is a tradition here, like in all flea markets and visitors who are good at bargaining would be able to get a good deal on the items.
In Campagnano every month on the last Sunday there is a market which is held in the historic center of the town. Campagnano is quite a different experience altogether in comparison to Rome since it is still quite medieval in nature. It is only located a few miles away from Rome so even those who are visiting Rome can drive down for the market. There are a hundred or more stands in the market where the local vendors sell different items like silver, jewelry, antiques, furniture, pottery, and ceramic items for home decoration.
Bracciano – The Odescalchi Castle
In the town of Bracciano, every month on the second Sunday a flea market is held in the historical center of the town. The market remains quite busy and crowded so visitors would have to be ready for that. The market is located quite close to the historic castle of Bracciano which has appeared in a few movies. The vendors in the market sell antiques, furniture, handicrafts, and various souvenirs and odd trinkets. There are also several good restaurants nearby.
Shopping in Rome
Rome is known to be one of the best places to shop in Italy. Rome has almost everything that visitors would want to purchase. From large modern shopping malls to more traditional stores, Rome has it all. The most famous shopping areas in Rome are via Condotti and Via del Corso.
Rome – Via Condotti
Via Condotti is lined with the best-known designer stores where the latest trends in fashion are sold. Visitors would find clothing, bags, shoes, sunglasses, jewelry, and various other things, but these are all definitely quite pricey. For those who are looking for affordable items, Via del Corso is a better place. Via del Corso is lined with shops where visitors would be able to find affordable clothing items.
Via del Tritone, Pantheon, and Campo dei Fiori are the places where those who are looking for the cheapest items should go. Upim store is a good place to find very inexpensive clothing items. Brands like Furla and Miss Sixty are also located on the shopping street. Leather bags and shoes of very good quality are available at great prices in comparison to the US and UK.
The Euroma2 mall is a very large shopping mall which has more than 200 shops. Visitors would be able to spend the entire day at the mall looking at various accessories and clothing stores. The mall has several good food stores and restaurants as well. Rome is also home to many stores where visitors would find fake designer bags and shoes which would be available at next to nothing prices.
Shopping in Lazio – Frosinone
Those who have had an experience shopping in Rome would find Frosinone to be not quite impressive. Though Frosinone is quite a small location, there are many places where visitors can shop. Frosinone does not have designer stores or very chic boutiques but it does have more affordable shopping options when it comes to clothes and accessories. Visitors would also be able to find plenty of food stores in the province and in the city where good local food items can be purchased. Cheese, olive oil, and wines are available almost anywhere and they are of quite good quality. Apart from that, there are plenty of good bakery shops in the town where visitors would be able to sample quite a lot of traditional sweets, desserts, cakes, and pastries. Locally made pasta packets and spice mixes are commonly found in many food stores.
Outlet Shopping in Italy: Lazio
Clothes, Sports shops, Accessories, Shoe shops, House & Home, Gastronomy, Lingerie shops, Kids. Here are some more tips for shopping in Lazio, Italy.
*All shops closed on Sundays unless otherwise indicated

Balloon Stock
Via Terenzio 12-14
tel 06-68806404
Roma
Mon-Sat 930-730
Save 30-50%
The outlet of name brand "Blunauta" which was a short time ago called "Balloon." Here, you'll find the top-of-the-line "not for sales" in the various shops throughout Italy.
There's a grand choice of outfits, skirts, shoes, shirts, pajamas, and linens in silk, but also in cotton and linen. You will find tops from 2,50 euro- 34 euro. Golfing clothes and cashmere scarves at half price.
There is another Balloon Stock in Rome at; Largo del Pallaro 19\4
tel 06-6876671
Outlet Biagiotti
Via Marco Simone, 82
tel 07-74401311
Guidonia (Rm)
www.laurabiagiotti.it
Wed & Thurs 230-7 Fri & Sat 10-7
Save 10-50%
For sale from the previous season are clothing items from these lines: LB Mre. LB Jeans, LB Junior, and LB Uomo. You'll find here, articles that are not sold in shops; umbrellas, ties, tops, purses, shoes (sportive & elegant), and tops in cashmere.
Cisalfa
Via Boccea, 496
tel 06-61523441
Roma
www.cisalfa.it
Mon-Sat 930-1\330-730
Save 50%
The outlet of the Cisalfa group, who specialize in sportive articles.
Skiing, soccer, fitness, boxing, tennis, and cycling. Besides clothing, there are shoes and accessories and collections for children from 0-14yrs–the line "La Cicogna." All products made by Cisalfa. The shop is only a few short km from the highway. Happy Shopping in Lazio!
Diffusione tessile (MaxMara)
Strada Statale (SS) Pontina, at the 28,400 km mark
tel 06-9105673
Pomezia (Rm)
www.diffusionetessile.it
Tues-Sat 10-730 Mon 330-730
Save 30-50%
The entire of Max Mara's collection from the previous season is here! Other lines at the shop include; SportMax, Max & Co.," Blues, Pianoforte, Marina Rinaldi, Weekend, Penny Black, and Marella. You'll find coats, tailleur, jackets, complete outfits, skirts, pants, evening wear, and tops of high quality.

Marzotto Factory Store
Via Emanuele Carnevale, 48
tel 06-72630021
Roma
Tues-Fri 10-7 Saturday 1030-730, Sunday 10-7, Monday 3-7
In Località "Romanina." Exit 20 off the Grande Raccordo Anulare (Rome's Highway Loop)
Save 40-70%
Pick from the name brands here; Borgofiori, Uomo Lebole, UL Trendy, UL Sport, Principe by Marzotto, Marlboro Classic, and Missoni Donna. Clothing and accessories –sport, shoes, boots, belts, and hats from the previous year.
Sergio Tacchini
Via Tiburtina, 1115
tel 06-41205558
Roma
www.sergiotacchini.it
Mon-Sat 10-8 Sundays 10-7
Save 20-70%
Find top of the line clothing in sportive and caual, shoes and accessories.
Accessory shopping in Lazio
Luxury and more!
Bulgari Outlet
Via Aurelia,1052
tel 06-6617071
Roma
www.bulgari.com
Everyday 10-6
Save 40%
Collections arriving from the Bulgari Boutique. Accessories; silver and leather, clocks and porcelain, ties and perfumes. You also may find crocodile purses for 1,000 euros. They speak English and Japanese.
Timberland Outlet Factory Store
Centro Commericale Arcom, Via Orvieto, 36
tel 06-91602237
Pomezia (Rm)
Mon-Sat 9-1 \ 4-8 Sundays 9-1
From Rome take the Via Pontina, exiting at Pomezia-Torvaianica
Save 20-50%
NOT ONLY boating shoes and moccasins, but boots and clothes too! Jeans, Bermudas, tops, jackets, and purses.
House & Home
Cè Bassetti
Via Cristoforo Colombo 454
tel 06-54223069
Roma
Mon-Sat 10-2\4-8
Save 30%
The store is half an outlet and half a regular shop. You'll find the remainders and past collections of bedding, comforters, towels, and down comforters!
Divani & Divani
Viale Togliatti, at the corner of Via Fernando Santi
tel 06-4060300
Roma
Tues, Wed &Sun 10-1\4-8 Thur, Fri & Sat 10-8 Mondays 4-8
Save 30-50%
Couches and armchairs from the previous season.
La Murrina
Grande Raccordo Anulare (Roma's Loop) 4687, Appia Tuscolana
tel 06-7235389
Roma
Tues-Sat 930-1\ 4-730 Monday mornings closed
Save 20-50%
Lamps, chandeliers, wall lamps, and plafoniere in Murano glass..you'll find crystal glasses, plate sets, and tea & coffee sets. Some articles slope down to 70% off. Ready for more shopping in Lazio region?
Gastronomy
Francia Latticini
Via Argine Amaseno
tel 07-7394961
Sonnino, Località Capocroce (LT)
www.francialatticini.com
Mon-Fri 830-6 Saturday 830-2 Sunday 830-5
Save 20%
Francia is Lazio's producer of the famous "Mozzarelle di Bufala" Mozzarella made from buffalo's milk. This is the outlet that sells directly to the public- They also sell homemade ricotta, yogurt, caciotte (fresh soft Roman cheese), provoloni, stracchino (a creamy white spreadable cheese), and other cheeses from the Lazio Region.
Other locations include; Via Angelo Emo 23a\b tel 06-39740785
Via Tommaso Fortifiocca 72-74 tel 06-7800159
Viale Angelico 84\d tel 06-372 4933
More Outlets
Castel Romano Outlet
Via Ponte di Piscina Cupa, 64
tel 06-5050050
Castel Romano (Rm)
www.mcarthurglen.it
Mon-Thurs 10-8 Fri, Sat & Sunday 10-9
Take the "Grande Raccordo Anulare " and exit 26 at Pontina and follow the Statale (state highway) 148
The tiny city of McArthur Glen! After the Serravalle Outlet, it's the second Outlet in the capitol to open. A grand mall where you'll find the top Italian and International brand names. And they carry jewelry, cosmetics, sports items amongst the endless shops of clothing.
Valmontone Outlet
Via della Pace, Località Pascolaro
tel 06-9599491
Valmontone (Rm)
https://www.valmontoneoutlet.com/
Mon-Fri 10-8 Saturday & Sunday 10-9
From the Autostrada-Highway A1 Milano-Napoli exit at Valmontone
Follow the rotary to the Gemella di Mantova. It's about 40 Km from Rome
There are over 30 famous brand names mixed among the shops in this district.
So this would be our guide for shopping in Lazio, Italy! Enjoy!