Interview to Maria Liberati, Author Of The Basic Art Of Italian Cooking – Part 1
Today, Bookpleasures.com and Sketchandtravel.com, are pleased to have as its guest, Maria Liberati, supermodel and author of the soon to be released cook- book The Basic Art of Italian Cooking.
The cookbook will contain recipes Maria discovered as a guest of various agriturismi (country farms), as well as her family's vineyard. It also includes her encounters with chefs of some of Italy's trattoria (dining establishments). In addition, the cookbook contains stories about Maria's travels around Italy.
Maria is a former Miss Pennsylvania and Miss International World, however Maria has confided in me that she wouldn't consider herself a pageant junkie. It just gave her a great deal of experience and self-confidence. She holds a degree from Temple University in Foreign Languages, and is now in demand by many European type food companies to serve as marketing consultant, as well as spokesperson on TV and in print ads.
The following is an interview conducted by Norm Goldman, Editor of Bookpleasures.com and Sketchandtravel.com, with Maria, who provides us with some very timely information pertaining to romantic getaways in Italy. Maria now lives six months of the year in Italy.
Norm: Please tell our readers something about yourself and your expertise pertaining to romantic getaways in Italy?
Maria: My grandfather and his family owned a vineyard in the mountains of Abruzzo, and I practically grew up learning a great deal about Italian cooking. Moreover, due to my modeling career, I spent a great deal of time in Italy.
When I was not modeling, I had the opportunity to study regional Italian cooking at what are known as agriturismi. This is the Italian word for country farms that are also bed and breakfasts serving meals produced from the fresh foods grown and produced in many different regions of Italy.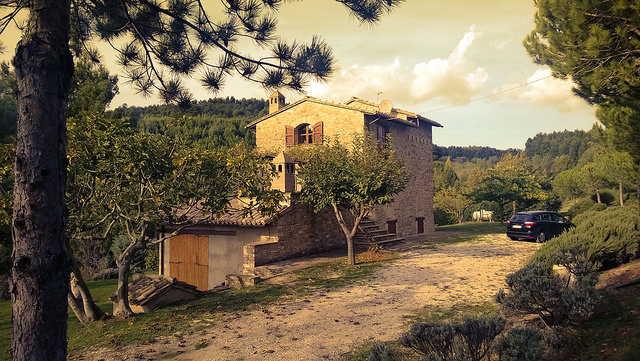 Generally tourists tend to know about the popular and crowded places that can be very impersonal. Traveling by car and foot throughout Italy has provided me with windows to some of the most spectacular venues.
Norm: You mention that you have a great deal of experience of staying in bed and breakfasts on organic farms in Italy (agriturisimi). Could you tell our readers something about these B&Bs and why you consider them to be appropriate as romantic or honeymoon destinations?
Maria: The agriturismi, aside from being great places to learn about Italian foods, tend to be some of the most romantic vacation spots in Italy. They are usually located high up on a hill with breathtaking views of a town. If located in a city like Rome, they would be found away from the principal areas. Consequently, they are usually situated in peaceful, serene and picturesque settings. What could be more romantic than staying on a vineyard, and being able to take a peaceful walk picking a fresh piece of fruit to munch on while you're walking?
Moreover, staying in an agriturismo you are guaranteed to always have an abundance of the best quality freshly prepared foods. No doubt, this is far superior to eating at restaurants that cater to tourists and which often are very pricey.
All-inclusive packages are generally available and in most instances will prove to be much more economical than a stay in a hotel.
Norm: Why would you consider Italy a good choice for a romantic getaway or wedding and honeymoon destination?
Maria: Italy is beyond doubt one of the best places for a romantic getaway or honeymoon- not only because of the variety of breathtaking beauty and romantic views surrounding you, but also the Italian lifestyle.
Italians love romance, their songs are all based on romance and about love. People love to see couples walking hand in hand or arm in arm. Even just the simple ritual of eating a meal has a romantic feel to it. When you sit down to eat dinner at a restaurant or even at a bed and breakfast it is meant to be a long, drawn out ritual. In other words, an activity that is shared and enjoyed between two people, and not something over within 10 minutes.
Take for example picnics in Italy. If you opt to have spontaneous romantic picnics, you have access to some of the most romantic locations in the world. Moreover, at your disposal are a variety of fresh bread and pizza at the local forno (pronounced for-noh), as well as cheeses found in local cheese shops or supermarkets.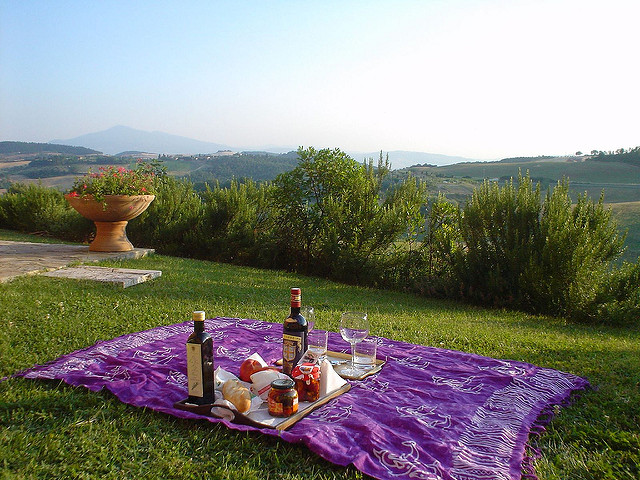 Even some of the major cities such as Rome, Milan or Florence, all have their quiet venues, where you can savor your food and enjoy the romantic ambiance.
The center of Rome has the Villa Borghese, and of course, if you don't mind the noise and crowds, there are the Spanish Steps.
Not to omit the Coliseum and the Roman Forum that are popular areas for impromptu picnics.
If you are in a small town, it is certainly not difficult to find a beautiful view in a quiet place. One word of advice, please always remember to respect the property you are on and clean up after your picnic.
Norm: Why have cooking classes in Italy become so popular?
Maria: Actually it is a new trend and my own company has received many requests to put together these packages for couples. In fact, I am working with a journalist on an article that will shortly appear in February 2005 in Women and Fitness Magazine. Of course it is themed around St Valentine's Day. Anyways, it is a trend for couples to take cooking classes not only in Italy but also in the USA. What better way to share a wonderful experience and create something together, and then enjoy the romantic experience of eating what both of you just created?
It is time that Americans catch on to what the Italians have known for years- that cooking is a wonderful romantic experience. It is non-threatening in that you can be creative at your own pace together- and then partake in a romantic meal together. It can be a prelude to watching a romantic movie. You can even go shopping together at a local fresh food market before you cook the meal. So it is a wonderful romantic trend and it is becoming more and more popular.
Norm: What is the best time to visit Italy from the point of view of weather, costs, and crowds?
Maria: I have visited Italy during every season and there is almost no bad time to be there. However, if I had to select my favorite time it would be summer and fall, when I can enjoy the beautiful Italian sun shining down on the colorful scenery.
August is usually the most the sunniest, however it is also the busiest.
If you don't want to chance the crowds of August, July can be a great month because the weather is usually warmer.
Early fall can be great cost wise, and usually by the end of August the Italians, as well as the tourists, are back to school and work. Late fall you would be into the rainy season.
Christmas is another possibility, and a very beautiful season. However, it can be crowded and pricey, unless you stay in agriturismo. It is less commercial than in the States, as houses are not all lit up with Christmas bulbs. The foods you will experience and the feeling in the air are so romantic! Spending New Year's Eve in the center of Rome and watching the spectacular fireworks display over the Coliseum is something that I do every year and is an experience like no other.
Interview by Norm Goldman
Click here for Part II.