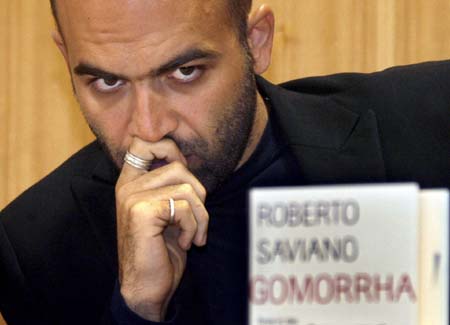 Roberto Saviano is probably one of the most discussed Italian writers since Umberto Eco and his Il Nome della Rosa. His book, Gomorra, published in 2006, has created much controversy, and is a very strong stand against the camorra — a mafia-like criminal organization operating near Naples — that forced Saviano to live under constant protection. In addition to the novel, a film shortly followed, making the author's popularity soar.
The controversy surrounding both the book, the film and Saviano himself, is mainly based on the fact his work not only loudly and clearly attacks organized crime, but also pictures Naples as a city ruled by terror and criminality. Many honest neapolitans felt offended, hurt even.  And it wasn't only your everyday's citizen to be appalled by Saviano's view of Naples: even Italian soccer celebrity and former captain of the national team, Fabio Cannavaro, publicly disagreed with Saviano's description of the city.
Saviano has tried in many instances to work on other material, even engaging the stage, but the shadow of Gomorra haunts him. He is worshipped by  left-wing, intellectual crowds, which somehow undermines his talent, distancing him from what could otherwise be a broader dialogue to an entire nation; this seems to be a problem for many an intellectual in Italy. It is difficult to take sides but clearly many aspects of Saviano's actions are interesting to study. One important aspect is the fact that his political stance is often in opposition to those who are actually, and for the most part successfully, fighting organized crime. Ironically Saviano's book was published by Mondadori, the number one Italian publishing company that belongs to the Prime Minister, Silvio Berlusconi.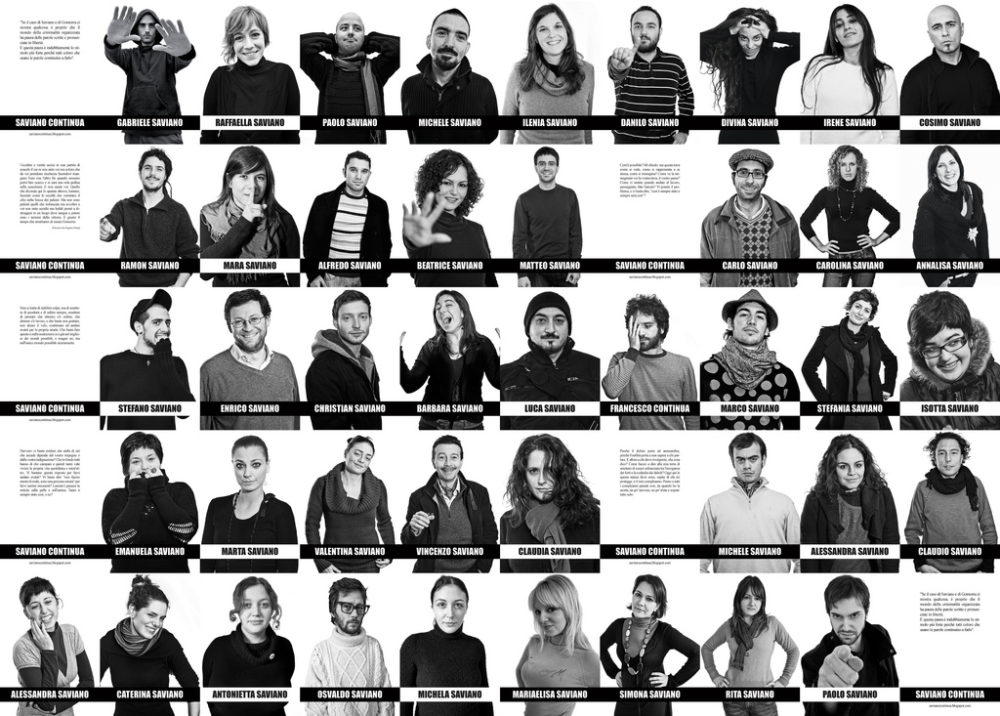 Saviano's work has created a huge level of political controversy, which neither he nor his advisors truly managed to handle or address positively towards the promotion of the book.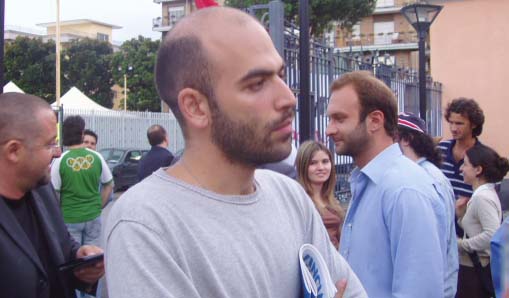 A perfect example is the TV show Saviano prepared with primetime TV talk show host, Fabio Fazio. The idea was to cover some hot topics and invite prominent figures of Italian culture as guests on the show. Oscar winner Roberto Benigni gave his availability along with several others.Everything around the project buzzed with rumors that the 'powers that be' didn't want the show to air as intended, yet once again, it was  the at-the-time Prime Minister's company to produce the show. In other words, the same people he claims don't want to give space to his voice did in fact  showcase it. After a long dispute, the show aired on Rai Tre over a week in November 2010, registering very high audiences. The Saviano-Fazio duo was so popular they have been hosting a new show on La7, since May 2012.
One thing is for sure: Saviano has gained international fame, especially overseas. In America, a country seldom open to international content, Gomorra met the interest of many . The movie certainly upset some Italian American communities, often labeled as "Mafiosi", while actually contributing in fundamental ways to American society and to the United States as a nation. Cristoforo Colombo, Vespucci, Mazzei, and LaGuardia are just a few examples of influential or important Italians in the U.S.
Albeit it is not my intention to undermine Saviani's credibility, his attacks to those very organisms fighting against Camorra successfully seem to be uncalled for.  Saviano is a victim of a his own sometimes contradictory approach to politics and reality, which is in conflict with his literary production. The next few years will tell us if Saviano was a fluke or not; meanwhile we continue to follow his appearances and look forward to reading more interesting material from him. In today's world, where everything is fragmented and happens at speed, a phenomenon like Saviano makes us think. We know it is good to rationalize, slow down, and try to see what surrounds us, but on the other hand if our source is not intellectually honest, then our time is wasted and its message lost.
Roberto, we would like to give you a second chance because so far we are not quite convinced. A bad pair of jeans and an unshaved face are out of fashion and we need a little more than that. Yes, better Gomorra than the omerta' — code of silence — but let's see what else you can tell us.