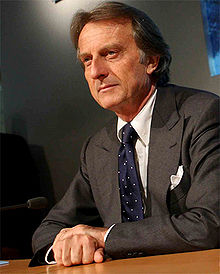 Luca Cordero di Montezemolo is one of Italy's elite businessmen, successful and powerful and very well connected. From a noble Italian family, Montezemolo is a driver of fancy cars (and even a pro race car driver in some smaller races) who was groomed by the Agnellis and Fiat. While many have wondered whether Montezemolo's success came from his connections or his own abilities, it is likely that the truth is somewhere in the middle. In the shadow of the Agnellis, Montezemolo has proven himself a capable corporate man, handling prestige and great responsibilities equally well.
As part of the Ferrari team in the 1970s, alongside Enzo Ferrari himself, Luca developed the business and entrepreneurial skills that would come in very handy a few decades later. Throughout the 80s, Montezemolo had important assignments within the Fiat empire, and was appointed president of the organization in charge of putting together the Soccer World Cup of 1990 in Italy. Many believe that this project ended up costing double what it should have. Still, the tournament was a success and is seen as a great achievement on Montezemolo's part.
Montezemolo was then hired to resurrect an ailing Juventus team, and while he failed in this regard, Montezemolo soon moved on to other projects in Fiat.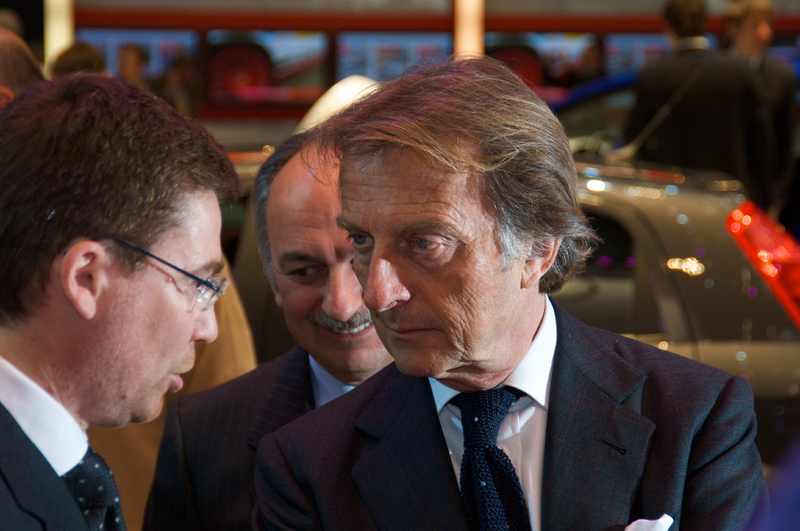 For the longest time Montezemolo had reknown, but very few actual achievements. While dating the beautiful French actress Edwige Fenech, Montezemolo developed a certain profile and became known for a certain type of style. Still, he hadn't made any significant professional impact at the time. Not until the Agnellis made him President of Ferrari, a job he held until 2014.
HIs mission was to return Ferrari to its original standing, and to win the Formula 1 world championship that had been lacking for over two decades. Montezemolo not only did that, but he delivered the best streak of victories that Ferrari has ever had. With the help of Michael Schumacher, Luca Montezemolo's Ferrari broke every single Formula 1 record and made both of them legends. As President of Ferrari, Montezemolo has shown one particular skill that always serves him well: the ability to pick the right people for his team and get them working together properly. This skill was also very useful when, after the death of both of the Agnelli brothers, Montezemolo was appointed president of Fiat, with Sergio Marchionne as chairman.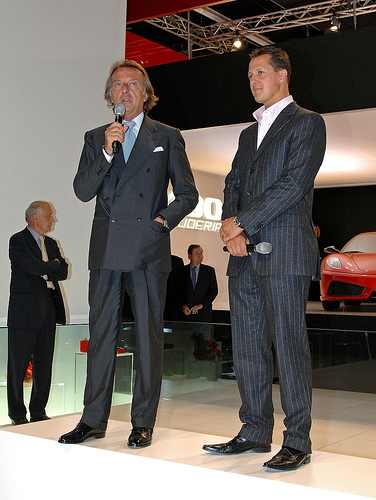 The results were impressive, and Fiat went from almost certain bankruptcy to a very successful turnaround. While President of Fiat, Montezemolo was also elected President of Confidustria, the Italian association of industrial companies. Montezemolo was at this point definitely one of the most powerful men in Italy, often speaking publicly about politics, pegged by many to be a possible future political leader. So far, however, Montezemolo seems to prefer the private sector.
As Fiat emerged quite brilliantly from its period of difficulty, and a new generation of Agnellis became ready to head the family business, Montezemolo stepped down to leave the presidency to John Elkann, grandson of Giovanni Agnelli. Meanwhile, Montezemolo remained in charge of Ferrari until 2014, when the presidency was taken by Sergio Marchionne. Although the legendary car company experienced a minor decline in its racing achievements, it has continued increasing its market share worldwide, including the opening of the first Ferrari theme park in Dubai. Since November 2014 he's president of Alitalia Sai (the national airline company) and in 2015 he became president of the Olympic Games Committee for Rome 2024.
In 2009 he founded Future Italy, a free market think tank, that in the 2013 elections joined Civic Choice supporting Mario Monti as future Prime Minister.