Jewelry Stores in Italy's Cities
Dedicated to the women of the new millennium, free
from the constraints imposed by traditional jewelry, women who enjoy
themselves and express their femininity by wearing a "jewel" like an
accessory, changing it with the ease that one changes purse or shoes,
depending on the mood of the day. In a city like Milan that is always
ready to offer the most recent innovations: It is enough to pause and
explore the jewelry stores of Milan, where metal and precious stones
are united to form handmade, unique pieces of great personality that
are dedicated to today's sophisticated women.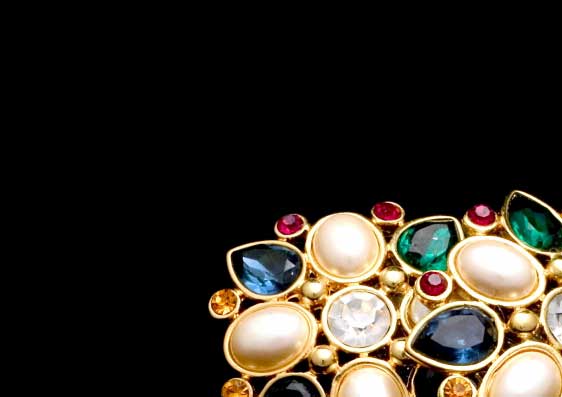 Galante Visconti Mirta Visconti and Claudia Galante
met in 1984. In common, they share creativity, love of the unusual,
the precious, and the mysterious. And so a great friendship was born.
After various collaborative experiences with prestigious names, at the
end of 2000 they opened their own salesroom in Milan. The store, designed
by Claudia and Mirta, resembles a small spaceship parked in the heart
of the old city. Each creation is unique. The gold, practically always
worked with techniques capable of rendering it similar to silk, is white,
yellow, red but also green. The metal, made more precious with diamonds,
also embraces hard stones and crystal, cut in ways to highlight its
natural glow. The results are modern and unique jewels of timeless attraction,
already greatly appreciated abroad.
Anaconda This is a store away from the main shopping
circuit. In passing along a small street behind the public university,
one is struck by the particular atmosphere of this store. Over the years,
it has become well known to the Milanese seeking a piece of jewelry
with personality. This is the result of the singular union between precious
metals of the most unexpected colors, and stones with unusual and harmonious
design – the mark of unmistakable style and elegance.
Maria Grazia Baldan The quest for elegance is the
first impression that one gleans from this store's showcases. Jewelry
lying on silk velvet or hanging on antique oriental statues is shown
in a setting which highlights the unique aspects of these creations
of precious stones, enamels and gold. Pearls, antique jade and coral
are combined knowingly in a highly artistic manner. Upon request, boring
or forgotten pieces of jewelry can be mounted in new and personalized
settings. The building where the store is located is very attractive
in "Madison Avenue" style.
Anna Vicenzini Anna is an extravagant and delightful
Milanese lady who for many years has created humorous jewels of various
forms, all decidedly large, with colored stones. New collections are
in continuous evolution. The ring is without doubt the distinctive piece
of this designer's output. One can chat with Anna over a cup of tea
in her lovely home located in the historic center of the city. This
is surely a pleasant and interesting visit.
Cornelia Paola Micheletto was born and bred in a
family of four generations of jewelers. Having scant interest in academic
studies, in 1989 she opened with a partner a jewelry store "I Gracchi".
The subsequent years were golden ones for her, finally free to express
her creativity. After 12 years, however, destiny brought a separation
and Paola, being sentimental at heart, decided to leave "I Gracchi"
and open instead "Cornelia" to provide continuation for her creativity.
Green and fuchsia are the colors of the store, which has some brick
decorations and a large crystal chandelier. Bizarre and eclectic, each
piece has its own story, like the branches of coral found by chance
and mounted with diamonds as earrings. Unusual pieces are made with
materials such as wood, ebony, stone, antique Chinese lacquer, and finally
ivory and ebony "teeth" mounted in white gold are dedicated to men of
spirit and humor.
By Francesca Legnani
See also :
Milan
Tour Milan by Tram