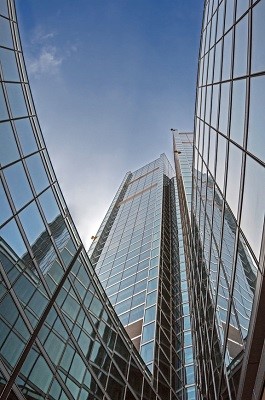 Milan is considered by many to be the fashion capital of Europe and thus the world. It is also the transport hub for Italy with Italy's largest international airport. It is also Italy's hub for business, finance, commerce and media. It can be likened as the New York City of Italy because it too is a city that never sleeps. Milan is also the home to two of Italy's world premier soccer teams. Although Milan is so big for so many reasons it lacks in tourism. This is due to the greater appeal of visiting more historical and world famous Italian cities such as Rome, Venice and Florence. Regardless your reason for taking time to tour Milan, you will not be disappointed with all this great city has to offer. A trip to Milan with kids could also be fun! So what should you do in 3 days in Milan?
Day One, Milan Tour – Castello Sforzesco and Duomo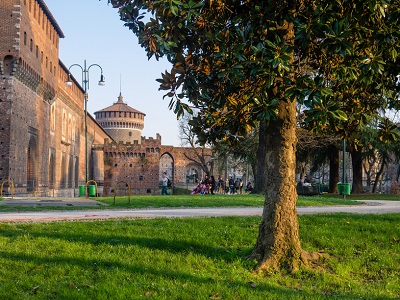 Castello Sforzesco. In our modern times, the Castello Sforzesco has been a place devoted to museums featuring antiquities, ancient paintings, instruments and sculptures. The building had been closed for years for reconstruction and restoration but reopened in 2005 for the public. One of the most important things to see is what is believed to be Michelangelo's last work, the unfinished Rondanini Pietà. The Castello also contains the Sala delle Asse, which is most widely attributed to Leonardo da Vinci. There are many works on display from the medieval 18th Century. The artists include Messina, Canaletto, Mantegna and Bellotto. Castello Sforzesco is also one of the free things to do in Milan if you're not entering the museums. You can enter the courtyard of the castle without any fee.
Duomo. The Duomo of Milan was built by Galeazzo Visconti III during the 15th and 16th Centuries. Since the time it was built to now, it attracts large crowds of tourists and nationals alike. This Dome is fascinating and impressive beyond many of Italy's other Dome structures. It is the second largest dome structure in the world, next to Rome's Duomo. The dome can hold up to 40,000 people but very rarely will see that many people in a year. The Dome acts as a bubble to outside world, filled with noise, business and commotion. Inside you will find a world of peace and quiet, set apart as a place of contemplation.
The building is lined with marble spires and over 2,000 marble statues. One area you'll want to see is the apse. It is three bodies of water right outside the stained glass windows. It is a magnificent sight to see. This dome also provides you with walking upstairs to see the city from its rooftop. Unfortunately on a stagnate day, the pollution will limit visibility of the city.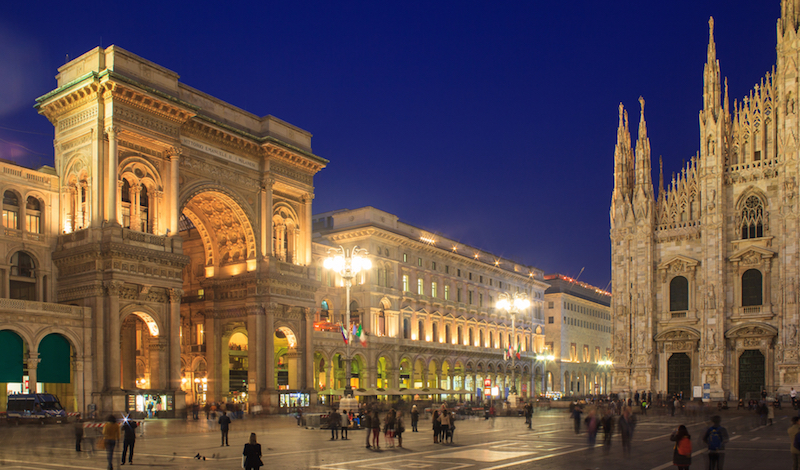 Day Two, Milan Tour – Galleria Vittorio Emanuele and Pinacoteca di Brera
Galleria Vittorio Emanuele. Uniquely, this was the planet's first indoor shopping malls dating back to the late 1800's. This interesting experience is used for many different reasons, not just shopping. Unlike American shopping malls, this gallery is the heart of the city. It serves as the central point between the Duomo and La Scala. It is the place to be – everyone finds great enjoyment and browsing through the stores and participating in the Gallery's great history. It is fascinating to step foot in the world's first indoor mall. It's covered with a domed, glass ceiling to invite the outside, in. Through the years it has been repeatedly renovated and revitalized. In this mall you will find some Italy's greatest fashion known around the world. A few Italian designers have their anchor stores in this mall. They include: Prada, Gucci, Tod's and Louis Vitton. Even if you're not into fashion, just the experience of visiting these home stores is worth it.
While visiting this outrageous mall, take time to visit one of its famous and oldest retailers, Caffe' Zucca. This café has been welcoming shoppers since 1867 and still maintains its origanl counters, mosaics and iron fixtures. Take some time to enjoy its excellent coffee and pastries and take a moment to sit down and watch the people go about their business.
Pinacoteca Di Brera. A must see art gallery. The collection gathered within its walls is priceless. Room 1 showcases 20th Century sculpture and painting and from there your journey will begin backwards in time. Every room is a step further back into the centuries. All 40 rooms will surprise and entertain your artistic mind. The most holy and stoic room is Room 6 which houses the Cristo Morto (Dead Christ). This painting by Mantegna is a graphic detail of Christ dead on the cross. The painting is very precise in the depiction of Christ's wounds, his beard and even his face. This room is very solemn and it is not recommended for young viewers.
Another highlight of the tour is Room 24 which houses two masterpieces. The first is Sposalizio della Vergine, which depicts Mary and Joseph marriage where Joseph is holding a rod that has begun to bud. The second masterpiece is La Vergine con il Bambino e Santi. This was an altarpiece showing Federico da Montefeltro knelling, in armor, before the Virgin Mary. This painting has a great theme of mercy and was directly connected to the events of the author's life. I highly recommend buying a museum tour map for this stop – it will be worth the money.
Milan is very compact, and it's one of the most walkable cities in Europe, much like Florence, and has a very efficient subway system. Buses and trams will also provide great transportation as well if the subway doesn't go by your destination. Like Manhattan, driving is crazy and there is no where to park in the city center so defiantly takes mass transit. If you can find a hotel that is either in the city center or close by, do it because there isn't much you can't walk to once you're in the center. You can find the tourist office at Via Marconi 1, near Piazza Duomo. Also, ask your front desk person for any free local publications to get a good handle on the events taking place during your stay in Milan. One of the most popular magazines to pick up is called "Hello Milano". If you can't find it, ask for it. Almost every vendor will have one (plus it's also online). Good luck and God speed.
By Joey Papa