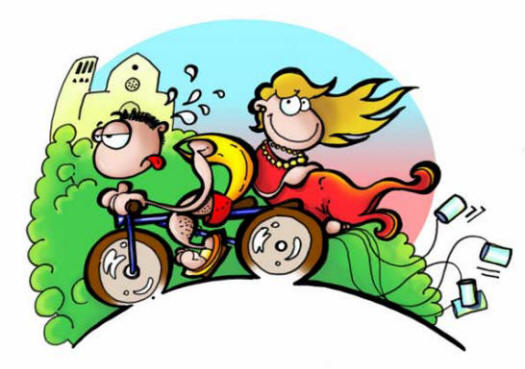 Biking, in the form of traveling on a two-wheel vehicle with pedals and transmission chains, gets you to your destination after a lot of huffing and puffing, and honest-to-goodness exercise. But this is also the form of transport that gives you the time to look around and to savor the silence and beauty of your surroundings.
One area where biking of the traditional sort is highly practiced in the southern part of Tuscany, in particular in the province of Siena where there are many beautiful winding country roads connecting lovely medieval towns, and where there is less car traffic. The latter is a very important aspect that you should take into account when selecting an area to go biking: always avoid large, very trafficked roads and stick to smaller, country ways and you're guaranteed to have a nice time. You just need a great cycling kit, a bike, and hit the roads!
Getting back to the Siena area, this is definitely a region where cycling is a joy. The Tourist Office of Siena has issued publications that outline the best areas and roads for bicycling. See for example www.terresiena.it: this site provides lots of poetic descriptions and promotional gushings, but if you want some solid facts, here is where to find them:
Tourist information is available from these tourist offices:
Siena ([email protected]),
Chianciano ([email protected])
Mount Amiata ([email protected]).
These offices can provide information about the cycling associations active in the various areas. They also have information about bicycle rentals and repairs. There are specialized centers in Siena (at least 4), as well as in other towns like Asciano, Chiusi, Colle di Val d'Elsa, Montepulciano, Monteriggioni, Pienza, Poggibonsi, Sarteano, Sinalunga, and Torrita di Siena.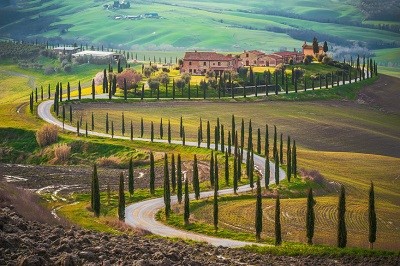 If you are planning to take your own bike, then you should bear in mind that your choice of bicycle should reflect your touring interests. In general, a comfortable, all-terrain bike, sturdy enough to travel over rough country as well as paved roads, is the best choice. Also, the bicycle should be equipped with gears like those of mountain bikes, because the Tuscan country side has many hilly areas. Experts sometime put thinner tires on mountain bikes to give them the versatility of an all-terrain bike. Don't forget to equip yourself with the necessary items for emergency repairs. It can be bikes for women or men, it's always important to prepare it properly.
In regards to hotel accommodation, this is no problem for cyclists winding through the magnificent Tuscan countryside. In the last few years, many agritourisms have opened, and finding lovely, converted farmhouses to receive guests in extremely comfortable and attractive rooms has become pretty easy. These enterprises offer bed and breakfast, and often also have meal facilities for the evening. Staying in an agritourism provides a wonderful opportunity to experience the reality of life in what continues to be a predominantly agricultural area (aside from the tourist industry). In addition, the small medieval towns of the southern part of Tuscany, all have lovely accommodation available at all prices. For example, one can sleep in an imposing 13th century cloister or in one of the many attractive bed and breakfast establishments.The Antica Locanda (our sponsor), with only 4 guest rooms and 2 miniapartments, is located in a palazzo that was once a papal secretariat building. It is siutated only 100 meters from the central square, and while it has antique furnishings, don't worry about it, the plumbing is modern!
In all the towns, even the smallest, there is a Tourist Office that has a list of  hotels, bed and breakfast, and agritourism facilities, and often the offices themselves are able to advise some nice location.
One word of caution in planning your trip: by all means, try to avoid the main holiday dates for Italians, because Tuscany is a very attractive destination for short vacations. For example, during the long Easter weekend, all accommodation is usually fully sold out, even in the most remote bed and breakfast establishments. So make sure to avoid such periods, or else ensure well in advance that you have a reserved room.
You should also make sure to get specific touring and cycling maps that can be found in most well furnished newsagents. Alternatively, the tourist offices listed above can provide brochures specifically designed to meet the needs of cyclists.
A number of itineraries for bicycle trips are classics. In the words of Andrew Hampsten, the only US cyclist to win the Giro d'Italia in 1988, quoted in the Tourist Board's publication "Terredisiena in bici", "A cyclist couldn't hope for anything better. You can pedal along spectacular, traffic-free roads in an environment that combines breathtaking scenery and attractions of historical and cultural interest. The roads are almost totally safe due to the lack of automobile traffic and you are able to discover just how beautiful Tuscany really is." To list just a few, there are the magnificent tours in the Chianti area, on traffic-free roads through the countryside covered in woods and vineyards. Those in the Val d'Elsa, dotted with  inspiring medieval towns, and others in the Val d'Orcia, designated as a nationally protected park area because of its natural and cultural importance.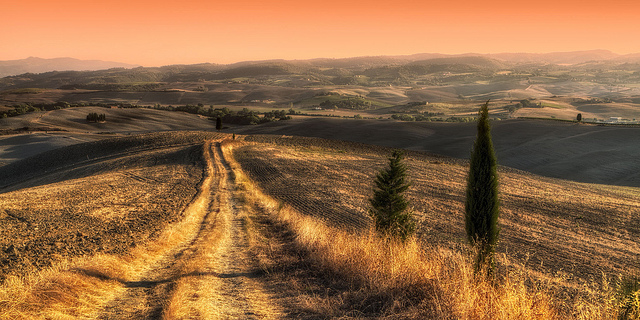 The best time of the year to tour southern Tuscany on bicycle is in the Spring, from mid-April onwards until early summer, say mid-June. In July and August the climate becomes very hot (but dry), so bicycling can become difficult in the mid-day hours. Similarly, the autumn is wonderful until about early November. After that, you can have some wonderfully bright and sunny cold winter days, but you also run the risk of very grey, cold, wet and windy days. It is best not to run this risk, unless you have lots of time for your tour and can sit out the bad weather in a country inn tasting some of the local red wine that, consumed in moderation, is reported to do wonders for one's heart and circulation.