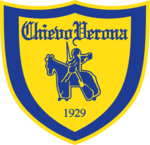 Chievo is a small neighborhood right outside of Verona in Veneto.
About 15 years ago it became famous when, in one of the most amazing underdog stories of Italian soccer, its Cinderella team was able to reach Serie A, the top league, and after that to carry its game beyond any believable expectations. Chievo dominated the first part of their very first season and defeated some of the best teams, including Inter Milan. Their coach was Gigi Delneri and midfielder Eugenio Corini led the team, but their real strength was the re-introduction of the sidelines Eriberto and Manfredini. Chievo shocked Italy and the world, and at the end of the season qualified for a seat in the upcoming U.E.F.A. cup, an extraordinary result.
The whole story behind Chievo is very romantic. It started at the entry level of professional leagues and had to get promoted every year to finally arrive at the Serie A level. Paluani, a famous brand mainly specializing in Christmas food products, owns the team. The company is owned by Luca Campedelli who, at the age of 23, inherited the company and the entire team. Although very young, Campedelli was able to manage the team extremely well. He had a magic touch and put together a group of people who were very strong and capable. This magic touch is reflected on his face; he is nicknamed "Harry Potter" for his great resemblance to the famous character, and Campedelli indeed wears round eyeglasses and truly looks like Harry Potter.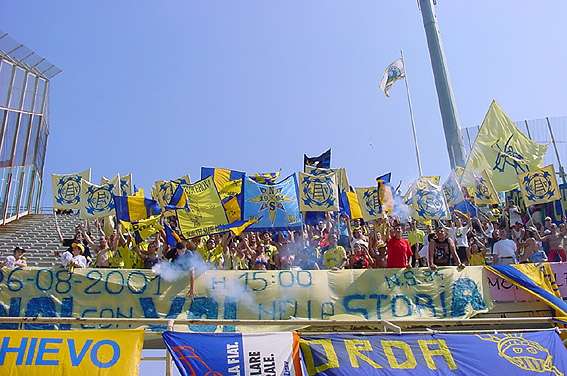 After the first amazing season, Chievo didn't stop and continued to play great soccer, occupying the best positions even after changing key players and several coaches, a sign that the management was very strong and truly understood the potential of the team every season. After a 2006 scandal and some turmoil, Chievo ended up in the Champions League, the highest  European tournament in professional soccer for clubs. Unfortunately, that same season, but on the national front, Chievo ended up being relegated to Serie B. However, after only one year of second division the team was able to regain its spot in Serie A and continue the dream.
Chievo achieved two main results: to out-shadow the bigger team of Verona, Hellas, which after serious financial problems is now in the minor leagues; and to become an example of clean soccer and moderate fans. Most of the Chievo supporters are regular families and young people who just want to enjoy watching a good game, a rarity at European level, when it comes to soccer.
The amazing thing about Chievo is that all its great results are achieved with funds far lower than most of the other teams. In fact the entire team spending is less than 10% of Inter Milan, proof that sports need not be so expensive and that with an accurate strategy, great results will come. Chievo may not achieve the lustre and great success of Juventus or AC Milan, but it certainly represents a beautiful example of a clean and well managed team.
Another amazing characteristic of the team is its ability to always find the right coach and replacements for those who leave. Age and nationality seem not be an issue; no matter what, the team works every time. In the past few seasons, the Chievo Verona has managed to keep mid-group positions in Serie A, and always performed excellently with the major teams.
We wish Chievo all success in the years to come and we hope they will be able to win some titles, as they surely deserve it. Regardless of their official standing, Chievo Verona is a team difficult to dislike, which is usually well loved not only by its fans, but also by those of other, more important ensembles. More about football and football players.