We usually go to the restaurant to celebrate a special event, have a romantic dinner, or out of curiosity, to try dishes from another country or that we don't usually cook at home.
But what about going beyond the ordinary idea of restaurant? What about subverting our routine and habits to try something different like ristoranti a tema (theme restaurants), or folklore-inspired ones? From shows and traditional dances, to real themes around which the whole dining experience is based, Italy offers curious, interesting and challenging options for all those who are in to rise their dinner time one notch above the ordinary!
Dinner at Cencio La Parolaccia
The thrill of the slightly vulgar: i ristoranti della parolaccia (where people curse at you and serves you delicious food all at once)
Yes, you read it right: this type of restaurants founds its success on the premise we are all secretly into getting shouted at. The best known of them all is probably the Cencio La Parolaccia, in Rome. Although other restaurants followed in the wake of this historic restaurant, it still remains the most famous in the country. Besides offering typical Roman cuisine, its staff also entertains customers with local folk songs and swearing contests. Be aware that insults and vulgarities are du jour, they are in fact, the reason people visits Cencio's.  Don' t go if you are particularly touchy because you must be able to play along.
A Blast from the Past: Medieval Theme Restaurants (where history, reenactment and good food all meet)
If you love the Middle Ages and have a keen interest in it, there are several restaurants in Italy focusing on medieval dinners and events. Their menus are usually traditional, and diners are served their food in an extraordinary atmosphere, usually aiming at recreating those times. Expect women in medieval gear, minstrels, jesters and flag throwers. The best idea is to have a dinner in a restaurant set in a Medieval borgo in order to spend a more evocative evening. You can try the Restaurant Il Castellaccio in Brianza, North of Milan, or Al Mastin Vecchio in Verucchio, Rimini.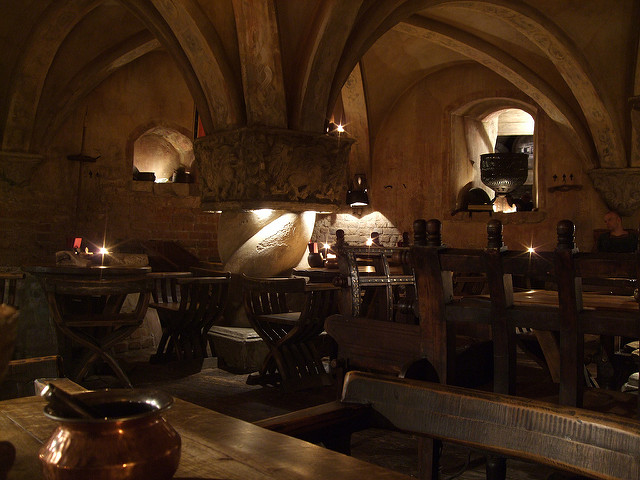 Folk Restaurants (where dances, singalong and performances entertain you)
If you really want to understand more about the place you're visiting and combine this interest with your love for good, traditionally oriented food, choosing folklore-inspired restaurants may be the best option. These restaurants give you the possibility to enjoy the performances of traditional dancers and musicians, all while having your supper.
They're not so easy to find because they're usually  situated in remote corners of the territory. You'll often find traditional dishes and the entertainment's provided by people in the form of local dances like tarantella, pizzica or other, popular variations, typical of the area. Very often, guests are invited to join in!
Karaoke Restaurants (where you'll need some dutch courage to perform)
Although karaoke is not traditionally Italian and this trend boomed in 90's, if you love singing there are still pubs and restaurants with karaoke entertainment, pretty much everywhere in the country, especially in very touristic areas.
Organic Restaurants (where everything you eat has been loved and cherished)
The presence of ristoranti biologici, that is, restaurants serving only and exclusively organic produce, has boomed in the last few years. People have become more and more aware of their health and their desire to avoid processed foods became just as important as eating only produce that has been ethically sourced.
(Last but not least) Concept Restaurants
Not to be confused with the above mentioned Theme and Folk restaurants, these are places where everything revolves around an idea rather than a tradition or a theme. This idea's reflected in the atmosphere of the place and developed in every single details. There are restaurants inspired by the world of fairies and dwarfs or restaurants where you can have dinner in the dark. If you are romantic and want to organize a special dinner for your partner, you can also opt for the restaurant Solo per due which, as the name suggests, only accepts two guests at a time.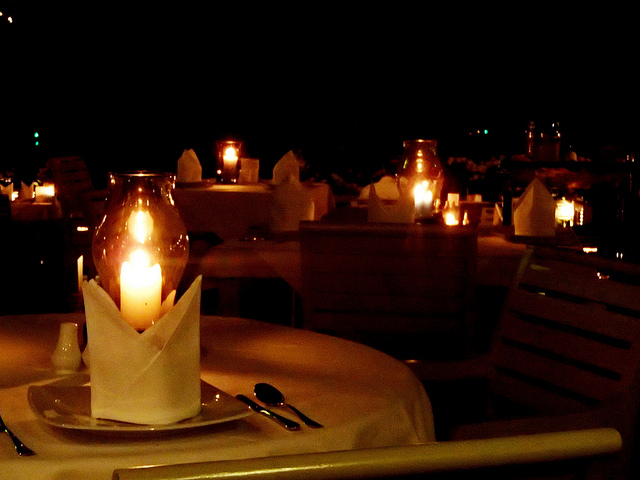 Author: Anna De Filippo
Edited by Francesca Bezzone
You might also be interested in: