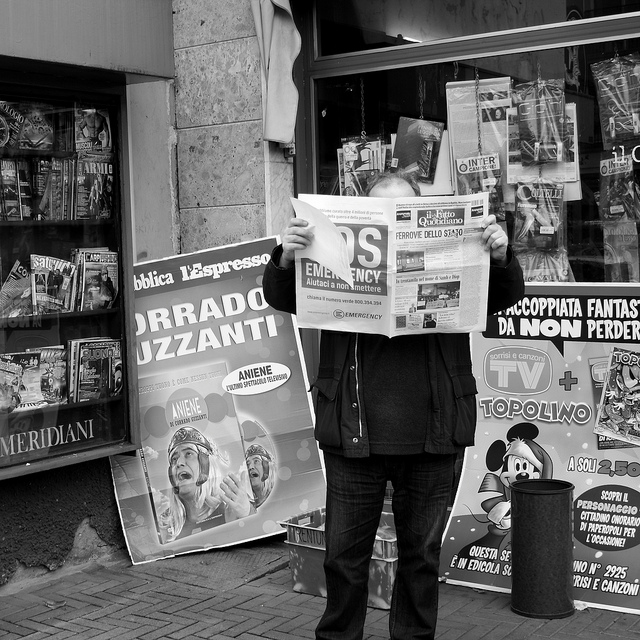 Il Fatto Quotidiano
One of the youngest Italian newspapers, Il Fatto Quotidiano was founded in 2009 by Antonio Padellaro; since 2015 the editor is Marco Travaglio, one of the most pungent Italian journalists. It claims to be independent, as its only income is from sales and advertising, while most other Italian newspapers also get public money.
La Nazione
Of course as one the most important cities in Italy and former capital of the country, Florence has its own newspaper, founded in 1859. Merged with "Il Resto del Carlino" and "Il Giorno" to expand its reach nationwide, it is famous for its coverage of Florence. Among some of its historical collaborators is Carlo Collodi, the author of Pinocchio.
Il Mattino
If Florence deserves its paper, so does Naples. 'Il Mattino" has been such since 1892 and keeps up with Napoli happenings. Owned today by the Caltagirone group, the same that owns "Il Messaggero," it features a centrist political editorial angle.
L'Osservatore Romano
Since 1861, Vatican City and the Catholic Church have had their own daily news, often giving the Christian view on everyday events. The newspaper is also a voice to let people know the new official documents of the Vatican, as well as its interpretation of the current issues. Since 1968, a weekly English edition is sold worldwide.
Avvenire
Founded in 1968 in Milan, Avvenire is a catholic newspapers but independent from the Church and the Vatican. It is written and directed by catholics, but intended for everyone, with the aim to spread the human and moral values of the catholicism.
Il Secolo d'Italia
This paper has an interesting history. Founded in 1952 in Rome, years after the fall of the fascism, this newspaper was created to give words to the ideas and opinions of the extreme right wing. The Movimento Sociale (Social Movement) was the far right wing party and then when it turned into Alleanza Nazionale (National Alliance), the newspaper remained the official voice of the party. Since its founding it has moved some distance from radical right wing ideas, and it is now more focused towards a more modern vision of the future.
La Padania
Founded in 1997, la Padania stopped publishing in 2014. Strictly under the control of Lega's leader Umberto Bossi, this newspaper represented the ideas of the Lega movement and it was based in Milan. It was actually the only paper in Italy directly controlled by a political leader. Strong criticism surrounded the paper when it put forth the controversial position of splitting Italy into two different countries. Such extreme agendas has lightened up in the last few years, but from time to time it comes back.
Il Manifesto
Founded in 1969 and based in Rome, this is an extreme leftist paper though not affiliated with any party. The unique characteristic of "Il Manifesto" is that the newspaper is actually financed, edited, and published by its journalists in a communist-like way of doing things. Unfortunately for them, the system and their content seem not to be paying off, and the paper is constantly under financial pressure.
Il Giornale di Sicilia
Based in Palermo since 1860, this is the most popular paper in Sicily. From a political point of view, it stands on a conservative position, in strong conflict with the left.
La Sicilia
The second most popular Sicilian paper is based in Catania, and was founded in 1945. This one also keeps relatively conservative positions. With very local coverage, it doesn't truly get national exposure.