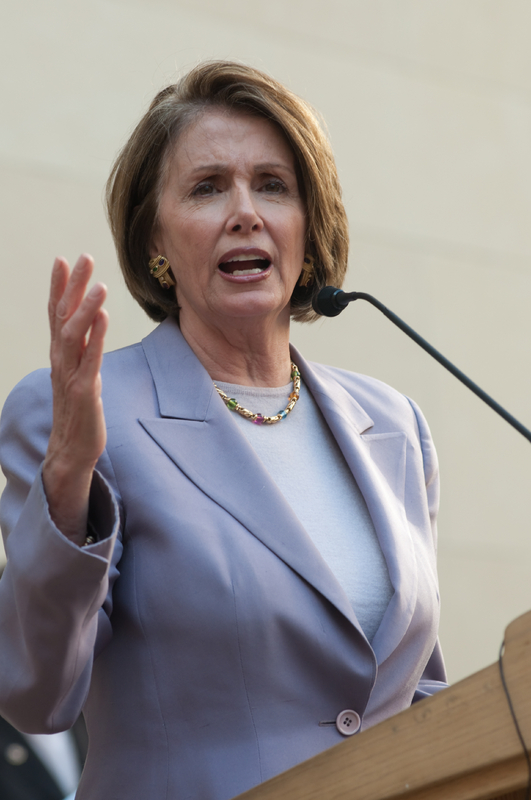 The American political scene is filled with famous politicians of Italian heritage. Names like Nancy Pelosi and Ella T. Grasso, not to mention Mario Cuomo and his influential family, evoke a tremendous sense of respect amongst other American politicians.
The Trailblazer: Nancy Pelosi
Nancy Pelosi is the first ever woman to be elected Speaker of the U.S. House of Representatives, so it is not surprising that when thinking of Italian Americans in office her name is one of the first to spring to mind. Pelosi seemed destined to enter into politics as her own father, Thomas D'Alessandro Jr., was Mayor of Baltimore and a U.S. Congressman from Maryland. Pelosi's brother, Thomas D'Alesandro III, was the Democratic Mayor of Baltimore between 1967 and 1971. So it came as no surprise when Nancy herself, by then married and living in San Francisco, decided to run for office, something she waited until her youngest child was a senior in high school to do. Nancy gradually worked her way up the Democratic party leadership and on January 30, 1977 was elected as party chairwoman for Northern California. In addition to being the Speaker of the U.S. House of Representatives, Pelosi is also a board member of the National Organization of Italian American Women.
As of 2007 the Pelosi family was said to have a net worth of about $19 million from investments. Pelosi and her husband own prime real estate in San Francisco's Bay Area and they also own a vineyard in St. Helena, California. This vineyard itself is estimated to be worth between $5 and $25 million dollars. Nancy Pelosi enjoys a coveted reputation of being one of the richest Congress members.
Pelosi gave a very emotional speech when she was elected as Speaker of the U.S. House of Representatives. It was indeed a historic moment–Pelosi was not only the first Californian to be elected as Speaker, but also the first woman and Italian American. "I accept this gavel in the spirit of partnership, not partisanship, and look forward to working with you on behalf of the American people. In this House, we may belong to different parties, but we serve one country," Pelosi said during her speech, which took place during a very divisive time in the United States' political history. In regards to being the first woman to hold the prestigious position Pelosi remarked,
"This is a historic moment – for the Congress, and for the women of this country. It is a moment for which we have waited more than 200 years. Never losing faith, we waited through the many years of struggle to achieve our rights. But women weren't just waiting; women were working. Never losing faith, we worked to redeem the promise of America, that all men and women are created equal. For our daughters and granddaughters, today, we have broken the marble ceiling. For our daughters and our granddaughters, the sky is the limit, anything is possible for them."
Pelosi is known for voicing her opinions against the Partial-Birth Abortion Ban Act and earlier bans along similar lines and was against criminalization of specific situations where minors had to be transported via state lines to get an abortion. Pelosi was also in favor of the Abortion Funding Amendment, which allowed usage of district funds for promotion of abortion relevant activities. She is also in favor of recent bailouts of the auto industry as well as banks. Pelosi is known to have voted against the 1995 Balanced Budget Proposed Constitutional Amendment, which was passed by the House via a 300-132 vote.
With regards to the subject of contraception, Nancy Pelosi has stated the following opinion, "Well, the family planning services reduce cost. They reduce cost. The states are in terrible fiscal budget crises now and part of what we do for children's health, education and some of those elements are to help the states meet their financial needs. One of those – one of the initiatives you mentioned, the contraception, will reduce costs to the states and to the federal government."
Pelosi has also gone on record as being in favor of the No Child Left Behind Act, which facilitated testing in order to track the progress of students as well as authorize increases in total education expenditure. Liberal in her views, Pelosi has a long track record or supporting gay rights, reform of marijuana laws and the medicinal use of marijuana. The Speaker has also earned a reputation of being a fighter and anything but a pushover. When President George W. Bush attacked the records of the Democrats, Pelosi immediately responded by calling the President "a total failure, losing all credibility with the American people on the war, on the economy, on energy, you name the subject" and that Congress had been "sweeping up after his mess over and over and over again."
Regardless of political affiliation Nancy Pelosi will be remembered as a woman who was able to rise to one of the highest positions in the country, the first female to do so, and for breaking that glass ceiling for women and Italian Americans alike.
The Governor: Ella T. Grasso
Another famous Italian American political personality is Grasso, the very first woman elected Governor of Connecticut and the first woman elected Governor completely on her own steam, not as the widow or wife of an earlier Governor. After a long and eventful career in American politics, Ella Grasso was forced to retire due to ovarian cancer. Grasso resigned on December 31, 1980 and unfortunately passed away within a couple of weeks of leaving politics. During the latter part of 1981, President Ronald Reagan posthumously awarded Grasso the coveted Presidential Medal of Freedom and she was also inducted into the National Women's Hall of Fame during 1993.
The Italian American Grasso once famously said, "I am having trouble managing the mansion. What I need is a wife." A strong, intelligent female Ella Grasso was one of the first women to pioneer the reality of "women having it all"–success, career, family–and handling it with grace and dignity.
An Italian American Dynasty: The Cuomos
Mario Cuomo, the Governor of New York from 1983 to 1994, was born to Italian immigrants who operated a store in Queens. Cuomo hadn't intended on a life in politics and studied to be a lawyer; he became a well known name in New York while defending "The Corona Fighting 69" homeowners in the 1960s. Cuomo was elected Governor of New York in 1982 and came into the national spotlight when he delivered the keynote speech at the 1984 Democratic National Convention, sparking talk that he would run for President. Cuomo never did run for President despite his popularity and his reluctance earned him the nickname Hamlet on the Hudson.
Mario Cuomo was well known for his liberal political position on issues such as abortion and his fight against the stereotypical depiction of Italian Americans. The mayor's stance against capital punishment will also be remembered and was what he was most attacked on while running for a fourth term in 1994, during which time he was defeated by Republican George Pataki.
During his time as Governor, Cuomo was instrumental in improving overall public safety by implementing the first law on making seat belts mandatory in America and was also known for creating useful approaches to the criminal justice system as well as helping to construct more prison space. Cuomo will also be remembered for his outspoken nature. When describing Republicans he once said to Martin Higgins, "There are few things more amusing in the world of politics than watching moderate Republicans charging to the right in pursuit of greater glory."
Cuomo's children have carried the family torch by continuing in politics and the public sphere. The eldest Cuomo son, Andrew, married Kerry Kennedy (a scion of that other famous American political family) and was later named New York State Attorney General. Cuomo and Kennedy later divorced and he is now dating Food Network star chef Sandra Lee. Mario Cuomo's younger son, Christopher, is a well known journalist who works for ABC, and his daughter Maria is married to the designer Kenneth Cole. Collectively the Cuomos represent a healthy portrait of an Italian American family that has contributed greatly to their community.
The Bridgemaker: Paul Cellucci
Paul Cellucci is one of the most highly respected and noted Italian American politicians. Though now no longer in office, during his lengthy career he was the U.S. Ambassador to Canada as well as Governor of Massachusetts. Cellucci, much like Nancy Pelosi, was born into a political family and served with the U.S. Army Reserve between 1970 and 1978.
A Republican, Cellucci has the distinction of never having lost a single election during his 30 years in public office despite the prevalence of Democrats and liberal views in Massachusetts. Between 1991 and 1997 Cellucci was the Lieutenant Governor of Massachusetts and became the acting Governor of Massachusetts in 1997 when William Weld resigned. In 1998 Cellucci was elected as governor defeating Scott Harshbarger by a narrow margin. Cellucci then won the governorship again in 1999.
One of Cellucci's fortes lay in being able to work in a very bipartisan manner, necessary because he had to deal with a largely Democratic legislature. Cellucci was a fiscal conservative and against high taxes. The Cato Institute's 5th Biennial Fiscal Report Card gave Cellucci an "A" grade for his state money management. Cato said Cellucci "earned the distinction of having the best record of reducing taxes and restraining spending growth" in the country. Cellucci was also able to maintain high standards of education for public schools in Massachusetts. One of the major controversies surrounding Cellucci's time as governor were the huge costs associated with the "Big Dig" project, which was meant to replace the central highway in Boston with an underground tunnel. Despite the controversey Cellucci was instrumental in removing Jim Kerasiotes, who was the project manager, and appointing Andrew Natsios who was the Secretary of Administration and Finance.
Cellucci was also very conservative in terms of crime and was instrumental in signing one of the toughest laws in the U.S. regarding control measures for gun ownership. Despite his conservative leanings Cellucci was supportive of abortion rights, which did not gain him any friends in the Catholic Church. Cellucci is also known for having appointed several women, like Chief Justice Margaret H. Marshall, to high ranking positions. In 2001 Cellucci became Ambassador to Canada and was the ambassador during the important days after 9/11. After retiring from public office Cellucci wrote a book titled Unquiet Diplomacy, in the tome he praises Canada as a "great nation," although he did have some criticims for then Prime Ministers Jean Chretien and Paul Martin. Cellucci also recalls having second thoughts about the Iraq invasion and his mixed feelings about placing pressure on Canada to join in on the U.S.-UK offensive.
Italian Americans have been instrumental in the development of the United States of America in many areas including politics. The names above are just some of Italian origin who have helped shape the history and laws of the nation by holding public office.