Following is a list and brief description of the most important newspapers in Italy.
Corriere Della Sera
This is considered the most prestigious newspaper in Italy. Founded in Milan in 1876 it has been the home of some of the finest pens in Italy and has always kept a certain neutrality. Published by RCS, it belongs to some of the most powerful groups in the Italian financial universe, including Fiat, Mediobanca, and Della Valle. Besides journalists, many poets and novelists have found space in this paper that in today's Italian information turmoil is still highly respected by society in general.
La Repubblica
Founded in Rome in 1976 by journalist Eugenio Scalfari, "la Repubblica" is considered the second most important newspaper in Italy. Its editorial choices are very different from the "Corriere della Sera," especially since businessman Carlo De Benedetti took ownership in one of the most controversial financial/publishing operations in Italian history, against Silvio Berlusconi. That operation initiated a 25-year war that is still continuing today. "la Repubblica" often concentrates its content on more cultural subjects, and its theatre, cinema, and overall culture sections have gained the appreciation of readers, while the political content seems more affected by political agendas.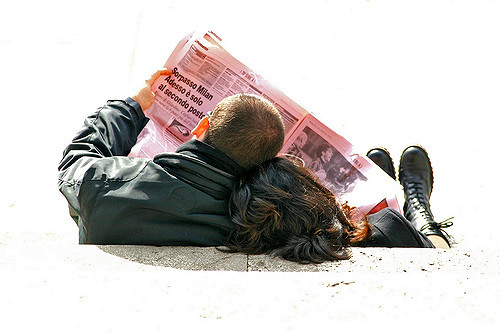 La Gazzetta dello Sport
Famous for its pink pages, this paper is solely specialized on sporting events and it is one of the most read papers in the country, often the most read. Published by RCS, like the "Corriere della Sera," it is based in Milan and was founded in 1896. The "Gazzetta dello Sport" is the organizer of the cycling race "Giro d'Italia" since its first edition in 1909, the second most important race after the Tour de France.
Il Giornale
This paper was founded in Milan in 1974 by one of the most important journalists that Italy has ever had: Indro Montanelli. The big controversy started when Montanelli left his editor's office in conflict with the owner Silvio Berlusconi, who purchased the paper from Montanelli a few years earlier. In recent years "Il Giornale" has truly taken a very defensive, some say purely propagandistic, position in favor of the politics of Silvio Berlusconi. Berlusconi voters and supporters see this newspaper as the only way to have some clarification in the media that Berlusconi says are almost entirely controlled by the left – this despite the fact that he directly controls three TV channels and two newspapers, plus had indirect control of public TV thanks to his role as Prime Minister. The opposition claims that "Il Giornale" is merely a propaganda machine.
Libero
This newspaper follows very close in its DNA and content "Il Giornale." Founded by Vittorio Feltri, who had replaced Montanelli at "Il Giornale," was later edited by Maurizio Belpietro who replaced Feltri at "Il Giornale." Feltri himself is now back at Libero after replacing Belpietro at "Il Giornale" for a short while. It is very clear the strong relationship  between the two papers and they have the same criticism and support.
Il Messaggero
Founded in Rome in 1878, "il Messaggero" is considered of very moderate content and, although dealing with national issues, is mainly bought in Rome for its dedication to the city's problems. Traditionally owned by some of the powerful families in the country, it now belongs to the Caltagirone group, after being property of the Ferruzzi group in the past. The funny thing is that this very "Roman" paper was founded by a Milanese, Luigi Casana.