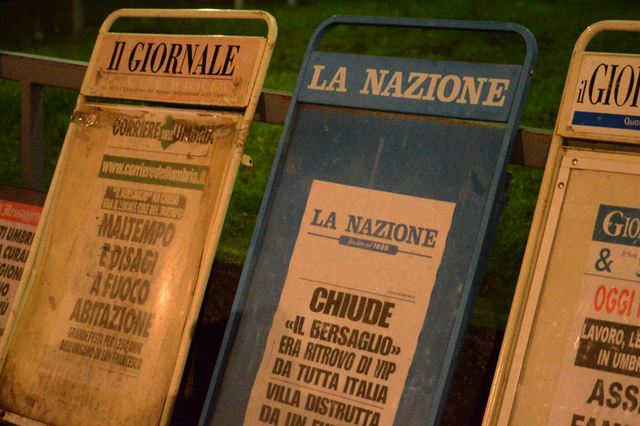 Il Secolo XIX
This Genoa newspaper was founded in 1886, and it traditionally keeps a position that is very moderate and closer to the center. It introduced the six-page format when most papers had four and in recent years was also among the first newspapers to adopt color printing. Due to its local concentration of readers, although very respected for its history, it doesn't always get the national attention that it deserves.
Tuttosport
Tuttosport is, along with "La Gazzetta dello Sport" and "Il Corriere dello Sport", another sport-driven newspaper. Based in Turin and founded in 1945, due to its geographic location it focuses a lot on the two Turin's soccer teams Juventus and Torino, and therefore is less generalized than the "Gazzetta." However, all the other sports are regularly featured.
Corriere dello Sport – Stadio
A similar paper, but based in Rome, is the "Corriere dello Sport-Stadio." It is the result of the merger that occurred in 1977 of two glorious papers, "Corriere dello Sport" (1924) and "Stadio" (1945), both originally from Bologna. Like "Tuttosport" in Turin, this paper focuses on the Roman soccer teams, Roma and Lazio, but like "Gazzetta dello sport" goes deeper into other teams and sports as well. One interesting note is that this newspaper is the first to have broken 1.6 million copies sold in one day.
La Stampa
This newspaper has a very distinct history. Founded in 1867 and based in Turin this paper is national and very respected; it has a strong legacy and a great bond with its city and its owners. Fiat took over ownership in 1924, and although Fiat represents capitalism and is the richest company in Italy, the paper's editorial line has always been more center leftist, giving voice to social issues while negotiating with governmental finance related matters. This is a tradeoff that looks good on the company's portfolio and is effective in the great scheme of industrial negotiations.
Il Resto del Carlino
Another historical paper, founded in 1885, this paper is based in another glorious and very important Italian city: Bologna. Originally it focused very much on local themes; it merged with two other strong newspapers, "La Nazione" and "Il Giorno," they now share international and news of national content.
Il Foglio
Italian top star journalist Giuliano Ferrara founded this paper in 1996 to give a voice to a more objective and analytical view. Slightly close to Berlusconi's positions in the past, it has taken a position far from the right since the fallout between Ferrara and Berlusconi. Still, it continues to advise the government rather than critiquing it, trying to be more of a constructive advisor. Sometimes it goes right to the point, but by the extreme left it is still seen as too friendly to the right.
Il Sole 24 Ore
Since 1965, Italy has its own Wall Street Journal type of newspaper. Published by Confindustria (the association of the Italian Industrials), this paper is mainly focused on economy and finance. It is really a lot like the WSJ, as politics and other subjects are treated from an economical angle.
Il Tempo
With "Repubblica" and "Messaggero," this is the most important newspaper of Rome, but is the only one of the three that has sympathy towards the right wing. A terrible strike almost killed the paper in the early 1990s, but thanks to perseverance and good will, "Il Tempo" found its way back where it belonged.
L'Unita'
Founded in 1924 and based in Rome, this has been the official voice of the Communist party since its beginning. It has functioned as a propaganda machine more than a news supplier, however, in recent years, and even though still siding with new evolutions of the Communist party, it has taken a more democratic tone. Most of its editors were directly appointed by the party and often ended up being the party's leaders afterwards. Two examples of that are Massimo D'Alema and Walter Veltroni. The newspaper closed twice for financial problems: in 2000 for 8 months and again in 2014 for bankruptcy; most of its debts were paid for by the Government and the newspaper is published again since June 2015, but its crisis is not ended.