The beauty and the magic of Italy has often come to represent the idea itself of romantic love, so in a way there is no better place to celebrate it: the sea, the countryside, art, good food, all concur to create the perfect atmosphere for a couple getaway in this amazingly charming country.
After a long, relaxing day under the Italian sun with your sweetheart, time comes for a delicious dinner: a good restaurant is not only a great place to sample the best Italian cuisine, but also to create complicity and have a good time in the spirit of love. Nothing is better than a dinner by candlelight in a restaurant serving delicious Italian food and good wine to make you fall in love all over again!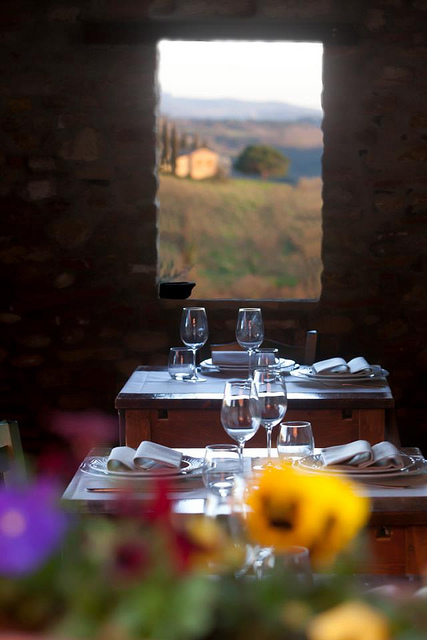 Making the right choices
When choosing a special, romantic restaurant in Italy, people should bear in mind that, although the location plays a very important role, some restaurants may not be the right choice for a proper romantic dinner: perhaps their target customer base is not right, or the food is just not that good. Think about the overall experience, not simply about the location.
Every Italian town offers a number of romantic places where to have dinner with your partner, but the seaside seems to be everybody's favorite location: waters lit by the moon seem to make everything truly more romantic. Restaurants offering panoramic views from their terrazze, terraces, make you feel just as you were living in a fairytale.
If you wish something different, there is no reason to worry: inland towns have enchanting alternatives such as restaurants situated near historic places or monuments or restaurants placed at the top of the highest buildings, where to enjoy breathtaking views. In the last few years, other appreciated places where to have dinner are rural yet elegant casali or cascine, farmhouses, set in the countryside: thanks to the beauty of nature and their relaxing atmosphere, they could represent a good option not only for a good dinner, but also for a longer stay, as many of them offer bed and breakfast services.
Romantic ideas
Other factors play an important role in creating the right atmosphere for a romantic dinner…
music: a lot of restaurants offer live music, but the height of romanticism is having musicians coming to your table for a personal serenade. Violinists or, very often, traditional instruments' players, will let you choose the song you want to dedicate to your partner; very often you can just ask for any song you wish, maybe depending on the occasion of your dinner (an engagement, a wedding) and they'll more than happily play that for you.
castles: wining and dining in castles has become a very popular choice for couples vacationing in Italy. Usually, castles with restaurants can be easily found in each region. The timeless atmosphere of these beautiful buildings is perfect for the helpless romantic in each of us: castles are currently so appreciated and well organized for special events they are now a popular choice for wedding receptions.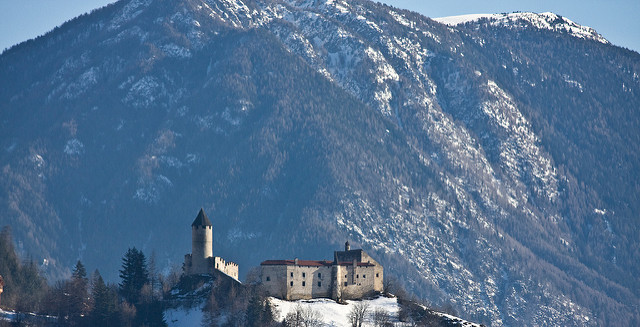 flowers: if you forgot to get flowers, worry not. It is very common in Italy to find street vendors just in and out of restaurants for a last minute purchase.
renting one of the restaurants' rooms: some restaurants offer the possibility to rent whole sections for private dining. Obviously, you have to be ready to spend quite a bit on it, as such a service does not come cheap, but it is a definite winner, especially for a special occasion such as the night of a marriage proposal.
special menus: Italians usually like to go for special dishes and menus for a dinner date. Many choose seafood, chic and aphrodisiac: what can you ask more from a night with your love? And don't forget about wine! Champagne, spumante or prosecco are usually the favorite drinks for oysters, hellfish and other delicate, light dishes. In occasions like Valentine's day, special food is served and romantic decorations, having as main theme hearts and love, are offered. However, if you prefer a meat menu you can choose a wide range of dishes accompanied with red wine.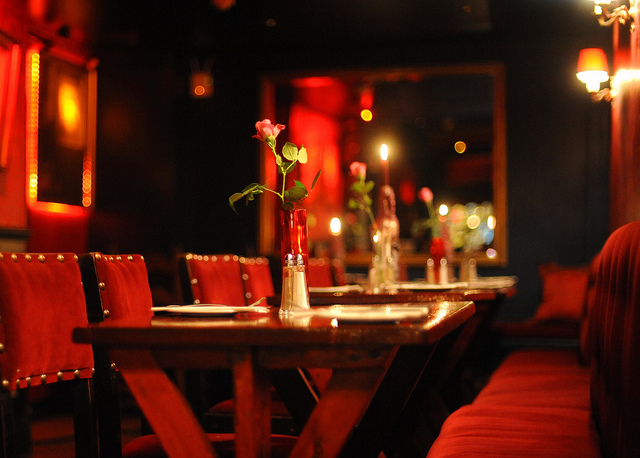 These are only some ideas, but a wise decision is certainly that of asking local people some advice about the most romantic restaurants in the area: by doing so, you'll avoid the risk of ending up in a place with bad food or reputation. Always remember to reserve a table, as the most fashionable and famous restaurants are often crowded. Whichever place you choose, whichever type of food, be assured that Italy will not disappoint the romantic – and the food lover – in you.
Author: Anna Defilippo
Edited by Francesca Bezzone