Second part of the interview to Maria Liberati, Author of The Basic Art Of Italian Cooking
Norm: If you had to choose 5 unequalled venues in Italy for a romantic getaway, honeymoon or wedding destination, what would they be and why?
Maria: First, I must say that it is really difficult for me to narrow my choices down to 5 venues. Please also note that some of my picks are not the usual places people may choose. I like to find the unusual and the not highly commercial favorites.
Anyway, here they are:
-The Island of Ischia: In August 2004 I visited friends, who own and operate a wonderful bed and breakfast in the town of Forio. Located atop a 30-mile island that is divided into about 5 separate, tiny cities, of which the city of Ischia is the principal one.
Norm: Why Ischia?
Maria: It is famous for its spas as a result of the thermal waters. You find saunas that are not man made but actually exist inside a cave on the side of the volcano in Ischia.
The view of the sea, while you are at one of the outside spas enjoying a thermal bath or on the beach, is absolutely breathtaking and you will imagine you are in paradise. The blue of the water and the sky is so intensely blue that you will feel like you are in the middle of a living painting- so to speak.
It is amazing how revived you feel after taking the water cure of the thermal baths – although I am sure the soaking in of the scenery has a lot to do with it also.
There are also little towns to wander around in. Each of the 5 towns in Ischia has their own little square, which is very romantic, and the main town of Ischia has its own castle. There are also little romantic outdoor cafes, shops and coffee bars as well as the glow of the moonlight basking on the sea and an occasional outdoor musician singing old romantic Neapolitan songs accompanied by mandolin music. Oh the romance of it all!!!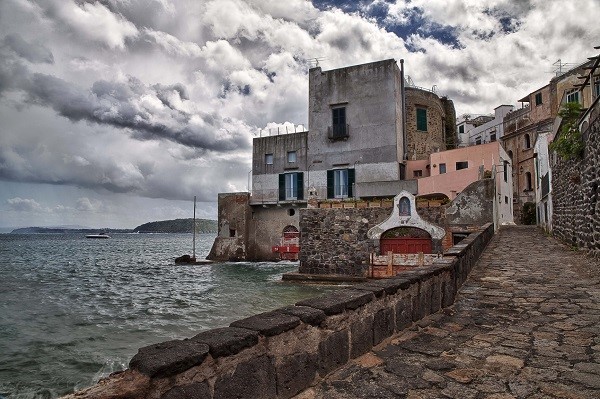 If any of you have seen the award winning Italian move -Il Postino- (The Postman), the island that it was filmed on (Procida) is right next to the Island of Ischia.
The next place I would select would be the city of Rome. Yes it is a big city, but as many well-traveled Italians will tell you- there is nothing like the city of Rome- if you know how to find your way around.
Norm: why Rome?
Maria: To walk around Rome is analogous to living in an art museum.
Rome is made up of different hills with magnificent views. My favorite is Monte Mario with its breathtaking panorama of the city. Another is the top of the Spanish Steps, where in front of the steps you have a beautiful fountain. If you go to the top of the steps you have gorgeous views overlooking the city and you can also enjoy one of those impromptu picnics here.
Don't forget Villa Borghese – it was the territory of the royal family. Borghese is now a beautiful park – dotted with beautiful statues, ponds – another great place to savor a romantic walk and an impromptu picnic.
One of the most romantic piazzas (square) is Piazza Navona, particularly at night, where you will find many outdoor restaurants and beautiful statues. There is the famous and beautiful Bar della Pace which is located at a far corner of Piazza Navona. It is a favorite of international celebrities. And if you want to have some great pizza, again ask a local for a forno and you will experience some great, freshly baked pizza and bread. The Romans are famous for a type of roll called "rosetta", which is crusty but at the same time light and airy. So ask for a rosetta, fill it with cheese and you have a wonderful picnic type lunch or snack.
Venice is a very romantic spot. I hesitate to recommend Venice; although it is one of the most beautiful and romantic spots in the world, it has just become too touristy. However, if you visit Italy and can do it, you must see Venice and experience its beauty.
Norm: what do you particularly like about Venice?
Maria: Just riding on one of the water taxis that take you to the island can be romantic as you take in the beauty that surrounds you. If you really wish to have a romantic view of the city, take your taxi ride at night, when the moon glistens on the water and the beauty of Venice is lit up by the glow of the moonlight.
You will fall madly in love with your romantic significant other, while experiencing this kind of view together.
Of course, there are the other traditional things to do, as a visit to St. Mark's Square, or enjoying one of the outdoor cafes and restaurants, and exploring the little canals and back alleyways.
As for eating establishments, the key in finding great food is to find smaller more intimate dining places that cater to the locals rather than the tourists.
Norm: What do you think about Tuscany?
Maria: Tuscany is a beautiful romantic destination. Here you can find several romantic agriturismo serving wonderful fresh foods and located in out-of-the-way places: you are away from the crowds, yet with the possibility of day trips to Florence and Pisa. In this way you avoid the pricey hotels and at the same time experience the feeling of really living in Italy.
The wines made in Tuscany are wonderful, be sure to experience them.
Florence is a city overloaded with beautiful works of art.
You have of course the Uffizi Gallery, which houses some of the world's most beautiful works of art. Outside of the Gallery there are statues of some of Florence's most famous citizens including Michelangelo and Galileo, all who had a rich Florentine patron to support them in their works.
Two romantic spots in Florence are: the main square, which is the Piazza Della Signoria, where you will find a replica of the statue of David (or as the Italians know him, the Davide), and the Ponte Vecchio. This bridge crosses over the Arno River and from the bridge you have a beautiful view of the city. Add to this the walking tours of the vineyard regions, like Chianti or Montepulciano, and you have yourself a winning spot.
I also like a lot Otranto. It is located in Puglia and is a sea resort.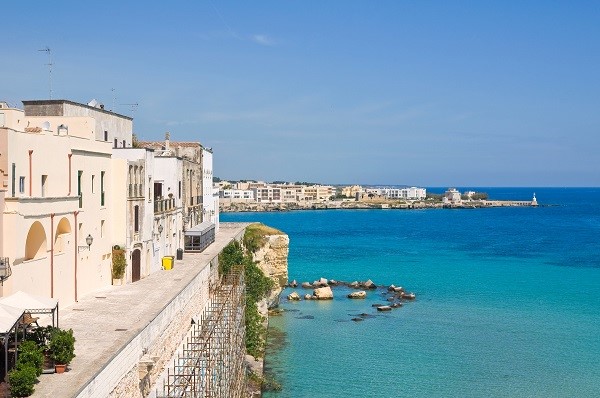 Norm: Why Otranto?
Maria: If I may use again an Italian film to give you the feeling of this landscape – see the award winning film – Mediterraneo – a wonderful comedy about the war, but the scenery is breathtaking. Most of the film takes place in parts of Greece. However, Otranto's deep intense blue of the water and stark pristine white colors of the surrounding buildings will bear a deep resemblance to the colors and waterfront scenery in this film made mostly in Greece.
Due to a lack of industry in Oltranto, the water is crystal clear.
Oltranto is also filled with outdoor cafes and shops that overlook the deep blue sky and clear water. There are many other beautiful towns nearby that are worthy of day trips. Lecce, which is about 30 minutes away, is a beautiful, elegant art-filled city, most of the churches and statues are Baroque. Lecce is a perfect spot to take a romantic walking tour. In any of these venues you won't find the crowds of tourists found in other popular venues. Also worth a day trip is Alberobello. It is a very touristy town, but worth it to appreciate the Trulli.
Trulli are these cone shaped houses that are in certain areas of Puglia. These were actually used as houses many years ago. In Alberobello most of the specialty shops are located inside the Trulli. You can really experience a lot of unspoiled countryside and the beaches are clean and not as yet commercially organized.
Norm: How far in advance should a couple prepare themselves for a honeymoon or getaway in Italy?
Maria: For a honeymoon or romantic getaway, you should really start getting your ideas and plans together at least a year in advance. For reservations, etc for hotels, destinations, you need to plan that at least 3-6 months in advance. Italy is a favorite destination for many, especially for weddings and romantic getaways.
Certain times of the year tend to be more overbooked, especially in the summer. SO it also depends on the time of the year.
Norm: What people should know about planning a wedding in Italy as far as requirements, etc.
Maria: If you are an American citizen you mainly need three documents to apply for the proper documents for an Italian Wedding:
*A US Passport *A Birth Certificate *If you were divorced or widowed- a divorce certificate or death decree
The documents that the Italian government requires are:
*The Atto Notorio, which can be acquired on your own in the USA. This basically consists of you meeting in front of an Italian Consulate (go to one in the closest city near you in the USA) with your own witnesses. Each consulate has different requirements. (Call your closest local Italian Consulate to get their requirements for the Atto Notorio).
*The next document is the Apostille. This is a document you get from your Secretary of State's office. It is just a matter of contacting your Secretary of State's office filling out a form and sending it to them and they send back to you a seal that is considered an Apostille.
*Your birth, divorce and/or death certificates will need to be translated into Italian by your Secretary of State's office.
These documents expire after three months. You cannot get these completed more than three months in advance.
Thank you Maria and good luck in all of your future endeavors.
Interview by Norm Goldman Norm Goldman, Editor of Sketchandtravel.com
Editor's note: check the Ministry of Foreign Affairs' website for updated info about getting married in Italy.
See also Romantic Getaway Part I