A Legendary Racetrack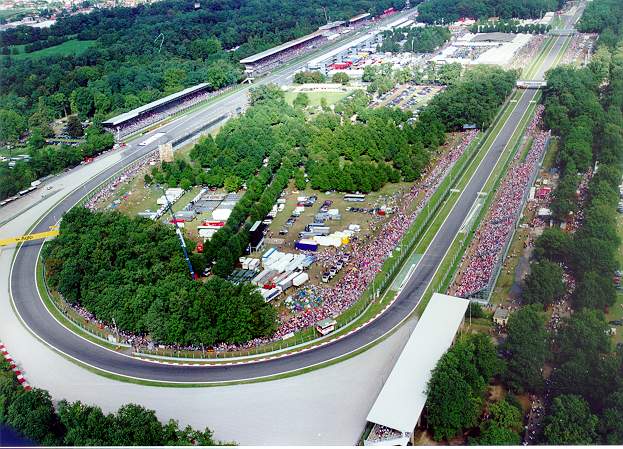 Monza is home to Formula One's Italian Grand Prix. Not only is this circuit one of the oldest in the world, it is the fastest. Teams run as fast as possible on this permanent road course built in 1922 in Italy. Located outside of Monza, Italy this track is both historic and modern.
Monza is a racing complex for both car racing as well as motorcycle racing but is best known for F1's Grand Prix races. The Monza track has been hosting F1 races for over 80 years and is the favorite racing ground of Team Ferrari and the Italian spectators. Affectionately known as the "Cathedral of Speed" and the "Magic Race Track", F1 cars routinely exceed speeds of 360 km/h. Over the last decade, Ferrari has come in first place at Monza six times.
Over the years, the performance of the race cars exceeded the track's banked curves limits. At the same time, racing grew more dangerous and changes were needed both for the safety of the drivers but the spectators as well. A fatal accident in 1961 involving a Ferrari driver and eleven spectators dictated numerous safety upgrades at Monza.
Chicanes and other modifications were made to slow the track down. By the 1990s, Monza added a new pit complex and other amenities making it one of the most modern circuits in the world. Monza has enough seating for over 50,000 spectators. In addition to the Grand Prix track, Monza has a lighted junior track as well as a speed track for technical tests and setting speed records.
Monza is a legendary race track and hosts numerous events throughout the year including the InterEurope Historic Race Festival each May. In addition, Monza opens its track to the people on selected dates allowing visitors to drive their own cars on the historic track for a reasonable price. Monza also offers seven different driving schools and even has a campground along with an Olympic sized pool that attracts a growing number of campers even when there are no races or events going on.
By Celeste Stewart