Marco Travaglio is one of the most controversial journalists in Italy, known for a brash, know-it-all style as well as his staunch position against the government. Travaglio, joined by colleague Michele Santoro, has also gained a reputation as someone in the media who cashes in on others' suffering. Marco started to gain recognition when he started at Il Giornale with Indro Montanelli, however when Silvio Berlusconi's family took ownership of the paper, Travaglio left after disagreeing with the editorial views of the new owners. Montanelli, who also left, created a new paper called La Voce and Travaglio followed his mentor. While one can't judge Travaglio one way or the other on his political views, after all everyone has the right to their own opinions, what is difficult to swallow are his constant references to conspiracy theories. While Travaglio's claims are always well articulated, they lack true proof or research to back them up.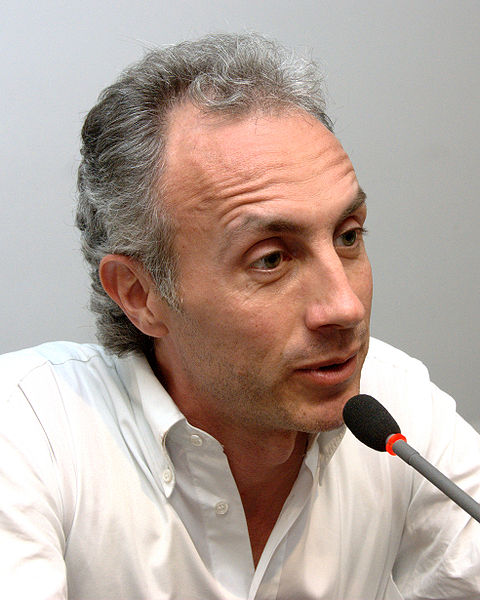 Travaglio, like so many others these days, is now a blogger with his followers eagerly awaiting every new development in his theories. While Travaglio presents his views in a thorough, thought out manner he forgets to mention the other side, therefore, one can hardly call his writing balanced journalism. This seems to be a problem with a lot of journalists today, they lose sight of what their role really is–reporting the news without pushing their own agendas.
In recent years, Travaglio has become very close to another controversial journalist, TV talk show host Michele Santoro, who has a multi-million dollar budget and an allotted time on television to air his views. While Santoro does at time invite his "enemies", it is rarely to have a fair and balanced discussion about the issue at stake; Travaglio on the other hand is often granted a monologue and several windows during the show. In 2010, RAI decided not to renew Travaglio's contract with the show, but the duo Travaglio-Santoro joined forces again the same year with the seminal mediatic event Raiperunanotte, a once off political talk show streamed live online after the government had forbidden political oriented broadcasting on national tv because of the upcoming regional elections. Travaglio was again special guest in another online streaming talk show hosted by Santoro in June 2011, Tutti in Piedi, and he has been a regular in this year's Servizio Pubblico, another Santoro's talk show broadcasted online and on cable and local tv.
Puttanopoli – Marco Travaglio.
What is of great interest when it comes to Travaglio is the way he portrays himself. Often, it seems Travaglio believes to be holding some sort of revealed truth, as well as being one of the few in Italy who can actually understand it. Travaglio presents himself in a way that is wildly appealing to his fans, but rather irritating to many of his opponents and detractors. Accused of being a leftist, Travaglio was never really officially affiliated with any left party, but his recent personal history makes him kin to leftist movements, regardless of what he says, and that goes against his original political views that were more moderate. Travaglio is also harsh to those around him who don't agree with his dogma, casting them out of his circle.
Travaglio could probably grow as a journalist if he tried to write about different subjects, challenging real problems, because with his attitude and persistence, he could move mountains. He could be very convincing if dealing with world starvation and emerging economies, but these topics don't generate a steady cash flow, therefore they are harder to pursue.